Who Will Police the Police?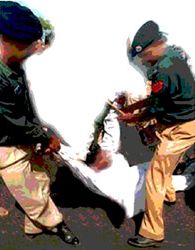 Though police involvement in crime in Karachi is an old story, recent CPLC investigations revealed that they have moved on from petty crime to greener and more horrifying pastures. The sons of senior police and other government officials were caught in recent kidnapping incidents.
Earlier, police officials had been arrested for their involvement in kidnapping cases. However, despite clear evidence of their involvement, all the officials continue to work in the same positions. "The reason that they are still working as before is because they share the money they earn from these crimes from top to bottom," says a senior government official. According to him, once the bosses get their due share, they close their eyes and give corrupt officials their tacit blessings. Even more horrifying is the fact that those police officials implicated in kidnapping cases have been reinstated into the police force because of their influence.
One of the most shocking cases of police involvement in crime was the high-profile kidnapping of Ahmed Naeem, which began in Karachi and ended in Manchester, England.
On June 11, 32-year-old Naeem was being driven home to Karachi's Defence Phase-IV when three youngsters armed with automatic pistols intercepted his car. Dragging Naeem out at gunpoint, they threw him into their car and sped away. Naeem's driver immediately informed Naeem's parents, who lodged an FIR at a nearby police station. The kidnappers made phone contact with Naeem's family the next day. The caller seemed well informed about the family background: Naeem's father was a well-off businessman and the authorised dealer of Mercedes Benz in Pakistan. The caller demanded a hefty 50 million rupee ransom for Naeem's release. He ended his phone call threatening the family with dire consequences if his demands were not met.
Enter the Citizens-Police Liaison Committee, known for its expertise in dealing with kidnappings. Staff at the CPLC advised Naeem's family to engage with the kidnappers in ransom negotiations to help track down the culprits. Taking the CPLC's advice, Naeem's parents negotiated with their son's kidnappers and numerous phone conversations later, succeeded in bringing down the ransom to 6.1 million rupees. The kidnappers, meanwhile, made an unusual demand: that the money be sent to Manchester, UK, through a private source, to avoid being traced. Surprisingly enough, despite the number of calls made, the CPLC failed to track the phone number being used. "We realised that the kidnappers were making these calls from various pay phone booths in the UK, and these calls were generated from various switches in the UK, Switzerland, Denmark, Italy and other European countries," says CPLC head, Sharfuddin Memon.
Unable to pinpoint the exact location from which the calls were made, the CPLC advised the family to arrange for the ransom. In the meantime, the CPLC contacted Scotland Yard as well as the Manchester police through Interpol, seeking their assistance in capturing the kidnappers. Keeping Naeem's safety paramount, CPLC officials also arranged for a source in London to hand over the ransom money to Naeem's kidnappers and the conduit's mobile phone number was communicated to the kidnappers. Confident that the deal was in the bag, the kidnappers grew careless. Calling the CPLC's source from a personal mobile phone, they asked him to meet them near a building in the Manchester city centre. The source followed instructions, handed over the cash and Naeem was released the next day. Meanwhile, CPLC's source in the Manchester had passed on the kidnapper's car registration number, as well as their cell phone number to CPLC headquarters in Karachi. Officials subsequently passed all these details to police in the UK. Once Naeem was released, Manchester police tracked down the kidnappers' car and raided their apartment the very next day. They arrested three men: Ghulam Murtaza Bhutto, Najeeb Bhutto and Saeed Naqvi, and also managed to recover the ransom money.
Further investigations unearthed horrifying facts: two of the three men arrested in the UK, were sons of senior government officials. Mujeeb Bhutto and Ghulam Murtaza Bhutto are sons of Ranu Khan Bhutto, a Senior Preventive Customs Officer posted at Karachi Airport. Information gleaned from the kidnappers in the UK revealed that they were part of a larger gang in Pakistan, which included two sons of a senior police official, presently posted as District Police Officer (DPO), at Larkana. The third kidnapper is the son of yet another government official, the Deputy Controller of the Karachi Building Control Authority.
This is the second time in the recent past that police have found sons of senior Sindh police officials involved in Karachi-based kidnappings. In August last year, the CPLC busted a gang of kidnappers, including the son of Mumtaz Jonanjo, presently DPO of Badin. The son of Roshan Jonanjo, who is the Nazim of Sanghar, was also part of the same gang. Implicated in several kidnapping cases, the gang was finally caught during the kidnapping of 18-year-old Syed Raza Abbas Zaidi, near his house in Karachi's posh Defence Housing Authority. Mumtaz Jonanjo and Roshan Jonanjo had both been arrested during their student days, after they were implicated in another Karachi kidnapping. The court, due to lack of evidence, subsequently released both the accused. Mumtaz Jonanjo was later appointed Deputy Superintendent of Police (DSP) in the Sindh police, due to his family's political connections.
Investigations into Naeem's case revealed that his was the second kidnapping perpetrated by the same gang. In June last year, they had also kidnapped the owner of a local construction company from his office in Clifton. He was released after the gang collected 0.7 million rupees in Manchester.
According to investigators, gang members had started to track Naeem's schedule after one of their members, Shahzad, began working for Shahnawaz Motors, a company owned by Naeem's father. "He kept track of Naeem's office hours and the routes he took to work, along with other details, passing them on to his gang," says Memon. "Once they obtained the required information, they worked out a plan: the places from which Naeem could be kidnapped, an escape route, and a suitable timing for the kidnapping. They decided that the empty street near Naeem's home was the best place. After the kidnapping was successfully carried out, they locked Naeem up in a house in Mohammed Ali Goth in Bilal Colony, near Korangi in Karachi. Mujeeb Bhutto, an engineering graduate from Mehran University at Jamshoro, travelled to London on a visit visa on June 16, five days after the kidnapping, to negotiate the ransom deal with Naeem's parents. He was living with his brother, Ghulam Murtaza, a student at Leeds University.
According to CPLC investigations, Naeem was physically kidnapped by Mujeeb Bhutto and Fida Hussain Khoso, sons of Nadir Khoso and Junaid-ur-Rehman respectively. The house he was being kept in belongs to Rasheed Khoso, an employee of Nadir Khoso. The other gang members included Junaid Ansari — the son of a deputy controller of KBCA in Saddar, Karachi.
Police have arrested several members of the gang, including Junaid-ur-Rehman, Fida Hussain Khoso, Khalid, Rashid and Ali Nawaz Bhutto, while Shahzad, Imtiaz Khoso and Ateeq, also believed to be part of the gang, are still at large. Senior police officials have stated that the UK police have released Ghulam Murtaza Bhutto and Syed Naqvi, who were charged for conspiracy and black-mailing, on bail, while Najeeb Bhutto, who was on a visit visa, is still in their custody. Given that there is no extradition treaty between the governments of Pakistan and England, police officials are still trying work out extradition formalities for all three accused. "We are trying to extradite them through other channels which include using Interpol, and we are confident we will suceed," says Sharfuddin Memon.
The involvement of the children of senior police officials posted in Sindh has been a major embarrassment for the Sindh government. Sindh Chief Minister Dr. Arbab Ghulam Rahim has warned: "I don't want police officers whose sons are criminals to be posted in my province. I want all of them to be sidelined."
The police have also taken Ranu Khan Bhutto, the father of the two kidnappers arrested in Manchester, into custody for interrogation. Meanwhile Nadir Khan Khoso, who has sent his second son Imtiaz underground, is still a DPO. Inside sources reveal that Nadir Khoso was appointed police chief of Larkana only a few weeks before the kidnapping of Mohammed Naeem and after the kidnapping of a local Hindu businessman, Santosh Kumar. Khoso was assigned the task of recovering the businessman to justify his new posting. "Khoso is seen as a man on close terms with the dacoits, who can secure the release of Santosh," says a senior police official. However, a month down the line, police in Larkana have yet to find any trace of either Santosh Kumar, or his kidnappers. Meanwhile, the Sindh administration continues to blatantly harbour the fathers of kidnappers and criminal police elements in their ranks.
Next