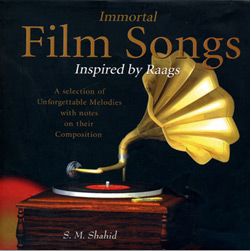 Immortal Film Songs is a music lover's dream come true — a fabulous collection of "unforgettable melodies with notes on their composition." With composers ranging from Madan Mohan to S. D. Burman and singers such as the immortal K. L. Saigal and Pankaj Mullick, the collection has a lot going for it.
But there's more — every composition in the 2 CD set that accompanies the book is inspired by a raag. The difference is clear in the faultless balance of notes in its haunting melodies.
While the music on the CDs is pure delight, the book provides an educational experience as it traces the succession of notes that distinguish one raag from the other. Some compositions are based purely on one raag, the composer and singer taking on the challenge of remaining within the ambit it defines. Others are grounded in a particular raag but a change in just a note or two — from tiwar to madham, or the use of a note the raag does not favour, is allowed to bring in an added influence.
S. M. Shahid plays detective as he analyses each musical score with painstaking care. Thus we find that Geeta Roy's 'Mera Sunder Sapna Beet Gaya' is essentially based on Raag Bilawal — although the tiwar madham — a stranger to Bilawal- makes an appearance at one point. Khursheed's plaintive 'Panchi Bawara,' composed by Gyan Dutt, reflects Kidara. Sudhir Phadke's haunting 'Baandh Preet Phool Dore' is "one of the finest compositions in Raag Kidara."
Tilak Kamode provides the ground for more than one lilting melody, including Lata Mangeshkar's 'Dekho Ji Mera Jia Churaye Liye Jaye.' Lata's faultless rendition and ease in the upper register is exploited by a number of songs in the collection while Mohammad Rafi's mastery is illustrated by 'Mann Tarpat Hari Darshan Ko Aaj,' composed by Naushad in Raag Malkauns for the film Baiju Bawra.
For every song, there is a brief biographical note on the composer. The lyrics, the scale of the particular raag the song is based on and the notes used in the asthai or opening verse are included in the text, which also identifies the accompanying instruments, and in some cases the taal. For the student of music, the book provides a handy reference.
S.M. Shahid's first book on music, The Classical Music of the Subcontinent, was accessible to students or practitioners of classical music. Immortal Film Songs, on the other hand, should be of interest to just about anyone, and could in fact serve as a bridge between fans of classical and popular music.