Alliances are being made and broken and bargaining is the name of the game now that Afghanistan's landmark presidential elections are only six weeks away. Transitional President, Hamid Karzai, as a result of his being in office and due to active US support, has more room to manoeuvre and bargain than the remaining 17 candidates. He is using his position to promise berths in his future cabinet to some of his troublesome opponents, fence-sitters and wavering allies. Offers of special development funds and government support to bag seats in the parliamentary elections next year, are allegedly being made to win over influential tribal elders, commanders and religious leaders. Slowly but surely, Karzai is building alliances and cutting deals to strengthen his chances of victory in the presidential polls on October 9. Helping Karzai achieve his ambitions is Zalmay Khalilzad, the Afghan-born US ambassador to Afghanistan. There were reports that the highly influential Khalilzad, described as Afghanistan's "chief executive" by The New York Times, contacted some of Karzai's opponents in the presidential elections to persuade them to withdraw from the contest. One such candidate is Mohammad Mohaqqeq, a Shia Hazara warlord, who resigned from the Karzai cabinet to challenge him in the polls. Apparently Mohaqqeq wanted firm promises of a number of seats in the cabinet for his party members, elevating the late Shia leader, Abdul Ali Mazari, who was killed by the Taliban, to the status of a national hero, and the metalling of the Kabul-Bamiyan road linking the Shia Hazara heartland with the national capital. Mohaqqeq stands no chance in the presidential elections because Shia voters account for a mere 10-12 per cent of the electorate. Worse still, his Shiite rival Abdul Karim Khalili is contesting on the Karzai ticket as one of his running mates for the vice-presidential office.
There was also speculation that Khalilzad was keen to arrange a patch-up between Karzai and his most formidable presidential rival, Mohammad Younis Qanooni. Although it may be too late in the day to achieve such a rapprochement, the US, on account of its military presence in Afghanistan, has a stake in ensuring that political differences between the Karzai and Qanooni camps do not culminate in an armed confrontation. Khalilzad is probably working overtime to do damage control in the likely event of Qanooni and other leading candidates refusing to accept Karzai's victory in the presidential polls. There is no way the US would accept an electoral loss for Karzai, who, according to retired US army general Tommy Franks has been working for the CIA for years. Franks wrote that the CIA station in Islamabad had long been grooming Karzai for a leadership role in Afghanistan. In fact, US Defense Secretary Donald Rumsfeld is on record for telling a Pentagon press briefing that American troops rescued Karzai from a Taliban siege in the central Urozgan province in November 2001 and flew him in a helicopter to Pakistan; Otherwise, he would have met the same fate as another US favourite, commander Abdul Haq, who was hanged by the Taliban after being captured in the Logar province.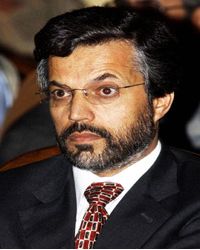 There is every likelihood that some of Karzai's electoral rivals will withdraw in his favour. Others, however, could team up against him and agree on a joint candidate to better their chances of success. In fact, all 17 candidates are challenging Karzai and finding fault with his two-and-half-year rule following the fall of the Taliban. Of them, 15 candidates have threatened to boycott the elections if Karzai does not resign within a week. They gave a similar threat earlier and then extended it by another week. As most of the contestants have no chance of victory, it seems they are looking for an excuse to pull out from the contest. But the point they are making regarding President Karzai's abuse of power is that he is benefiting from his position by remaining in office during the elections. This factor could well discredit the presidential polls and make Karzai's likely win highly controversial.
However, the fact remains that Afghanistan's new constitution allows an incumbent president to stay in office while contesting an election. There is no interim arrangement, although a constitutional amendment would have to be made in future to put in place a neutral administration for holding elections in the face of the deep ethnic, regional and linguistic divisions that continue to haunt war-ravaged Afghanistan. Afghanistan's political polarisation, foreign interference, dependence on international aid and habitual misuse of power, are serious problems that cannot be easily wished away. Its nascent democracy will need much help to cope with these and other challenges, and a rigged election is likely to plunge the country into another round of civil war.
A cursory glance at the list of presidential hopefuls shows that few of them possess the name-recognition at home and abroad that is necessary to defeat President Karzai. Abdul Latif Pedram, an ethnic Tajik, is a good Persian poet and his commitment to end Pashtun dominance will appeal to sections of the electorate, but voters cannot be expected to waste their votes on a losing candidate. Instead, they might vote for Qanooni, who is likely to garner more votes from the non-Pashtun ethnic minorities than any other candidate. Unlike most of the other non-Pashtun candidates, Qanooni can speak Pashto and has a Pashtun wife. That would endear him to some Pashtun voters. Also, one of his vice-presidential running mates is a prominent Pashtun, former interior minister, Taj Mohammad Wardak. His second vice-presidential candidate is a Shia Hazara, Sayed Hussain Aalimi Balkhi, completing a balanced ticket encompassing the Tajik, Pashtun and Shia Hazara sects.
Qanooni is also better placed to attract votes from supporters of the late Afghan mujahideen commander, Ahmad Shah Masood, since both belong to Panjsher valley, and Qanooni, along with defense minister Marshal Mohammad Qasim Fahim and foreign minister Dr Abdullah, has inherited Masood's political legacy. Fahim, Dr Abdullah and a number of other Masood loyalists have already announced their support for Qanooni. Though Karzai named Masood's younger brother, Ahmad Zia Masood, as one of his vice-presidential running mates, the move is unlikely to fetch him many Tajik votes. In an electoral contest that is increasingly being influenced by ethnic, linguistic and regional considerations, most non-Pashtuns would be pressurised not to vote for a Pashtun candidate. The same predicament would confront Pashtun voters. In such a scenario, the Pashtun electorate is likely to flock to Karzai, even if they don't support his policies, and the non-Pashtun voters would vote for candidates belonging to their own ethnic group. Another plus- point for Qanooni is the decision by Ahmad Wali Masood, another brother of Ahmed Shah Masood, to back him instead of his own brother Ahmad Zia Masood and Karzai.
However, Qanooni will only be able to pose a stronger challenge to Karzai after prevailing upon other non-Pashtun candidates to withdraw in his favour. In particular, he would want his fellow Tajik contestants, Abdul Latif Pedram, Dr Masooda Jalal, Abdul Sattar Seerat, Abdul Hafiz Mansoor, Abdul Hasib Aryan, Sayed Abdul Hadi Dabir, and Ghulam Farooq Nejrabi, to agree on his candidature rather than splitting the Tajik vote. If not, this is likely to snatch precious votes from Qanooni and cause his defeat. In particular, Dr Masooda Jalal would attract some votes as the lone female candidate. Abdul Hafiz Mansoor is positioned well to claim the support of former Afghan mujahideen and their sympathizers, while Abdul Sattar Seerat, a former minister in ex-king Zahir Shah's cabinet, could appeal to the royalists. The presence of several candidates in the field will help Karzai, who too would be hoping that other Pashtun candidates such as Ahmad Shah Ahmadzai, Sayed Ishaq Gailani, Humayoon Shah Assefi, Abdul Hadi Khalilzai, Mir Mohammad Mahfoz Nidaee, Mohammad Ibrahim Rashid, and Wakil Mangal will either withdraw in his favour or simply opt out of the race. Ahmadzai, an anti-communist politician who served as prime minister in the Pakistan-based Afghan mujahideen government-in-exile, will be seeking votes from Islamic-minded voters. Sayed Ishaq Gailani will pull in some votes on the basis of his family's background and influence. Humayoon Shah Assefi, leader of the pro-monarchy National Unity Party, would present himself as a representative of former king Zahir Shah, while Wakil Mangal would depend on his tribal connections in southern Afghanistan to garner some ballots. None pose a serious challenge to Karzai, but together, they will deprive him of a significant number of crucial votes.
Two other candidates, who don't belong to the Pashtun majority or the Tajiks, are incapable of winning the election: warlords Abdul Rasheed Dostum, an ethnic Uzbek, and Mohammad Mohaqqeq, from the Shia Hazara community. Both represent minorities with insufficient numbers to win presidential polls against the Pashtun and Tajik communities. They are both fortunate that they weren't disqualified on account of their association with marauding armed militias that were responsible for large-scale human rights violations. They could withdraw from the contest if Khalilzad and Karzai offered them a lucrative deal.
Karzai, meanwhile, is confident that he will win the election. He told reporters during his recent visit to Pakistan that his 17 rivals would eventually come to his side as all of them had a political agenda similar to his and were unlikely to agree on a joint candidate to stand against him. Karzai may not be wide off the mark. Several of his rivals could end up boycotting the polls following Karzai's refusal to accept their demand for his resignation. It seems the only major hurdle in Karzai's bid to retain his office is the insecurity that is plaguing Afghanistan despite the presence of nearly 30,000 foreign troops. The Taliban and their allies have stepped up attacks against the US-led coalition forces and the nascent, 13,000-member strong Afghan National Army, are also targetting expatriates and local election workers. A devastating bomb explosion in Kabul on August 29 that killed more than a dozen people, including US nationals and Afghan policemen, showed that the former Taliban mujahideen leader, Gulbaddin Hekmatyar, Al-Qaeda members and other anti-US elements were determined to sabotage the polls and destabilise the country.
Though more than 10.5 million Afghans, much more than anticipated, have registered to vote with nearly 42 per cent women, it remains to be seen as to how many will overcome their fear of the Taliban and intimidation by pro-government warlords to be able to cast their ballots. A respectable turnout would give legitimacy to the elections, which have been condemned by anti-west forces as an attempt to install pro-US rulers in Afghanistan.
Rahimullah Yusufzai is a Peshawar-based senior journalist who covers events in the NWFP, FATA, Balochistan and Afghanistan. His work appears in the Pakistani and international media. He has also contributed chapters to books on the region.
Next