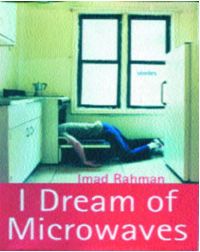 These are exciting times for Pakistani English fiction. There are talented new young writers emerging every day and making their mark in the immensely competitive world of international English language writing. This summer the Karachi-born Imad Rahman received much praise in the United States for his first book, I Dream of Microwaves, a witty, incisive and, at times, raunchy collection of interlinked short stories narrated by Kareem Abdul-Jabbar, a Pakistani American actor.
In the title story, Kareem has lost his job re-enacting Manuel, a real life Mexican criminal, in "America's Most Wanted." Because he cannot play it with enough "darkness in his heart," he declares: "I couldn't even get typecast as a criminal of Pakistani origin. Perhaps people of Pakistani origin did not commit enough heinous crimes or did not perform enough acts of extraordinary mediocrity (have sex with the psychotic baby-sitter, love the neighbor's wife and shoot the neighbour and so forth), things that might qualify for a Movie of the Week. The Anti-Pakistani Defamation League made it hard to cash in on brooding dark looks and light up the screen as a noble but savage terrorist, or some figure of disrepute."
Kareem is asked by Eileen, an ex-girlfriend, to pose as a Bosnian refugee and marry her to obtain the 30,000 dollars that Nana, her grandmother, wants to give "to a good cause." But there is strong competition from Eileen's sister. She has produced Buzz Johnson, a black American actor, to pose as her fiance, Shaka, a "needy African" and a cannibal. As Buzz and Kareem vie for Nana's money, their impersonations and clever, barbed comments become increasingly hilarious.
The entire book is imbued with references to movies, actors and acting which Kareem draws upon for inspiration to salvage his career and cope with his many misadventures. In 'Real Life, Actual Life,' the down-and-out Kareem and Valentina, his new girlfriend, are working for a video rental agency. They are despatched to Dublin, Ohio, to track down Mr. Patel, who has failed to return Forrest Gump. Kareem tries to look threatening and adopts his 'Keanu Reeves mode'; Valentina, a wannabe actress, who can only utter lines from a movie, plays a Sicilian. In a twist of fate, Mr. Patel turns out to be an aspiring Bollywood producer.
Imad Rahman has a wonderful sense of the absurd and uses it very effectively throughout. His stories speak volumes about America and the power of Hollywood's imagery. His portrayal of people in menial jobs, across ethnic communities, lampoons mainstream historical, literary and cultural narratives. The fact that Kareem is an actor also gives him great mobility.
One of the funniest stories in the collection, 'I Claudius,' takes Kareem to Pakistan. He arrives there as a foreign consultant for a re-enactment of "Pakistan's Most Wanted 1999″ which is to be shown across Southeast Asia and is "aimed at eradicating terrorism and other anti-social activities." But he finds himself stranded and impecunious in Karachi, because the local newspapers portray "the bad dudes" as "heroic celebrities." The project folds up. Kareem's employers refuse to fly him back to the US. Eventually he manages to make contact with some American actors belonging to the Oscar Storm Travelling Shakespearean troupe. They offer him the role of Claudius in a production of Hamlet which is touring Pakistan. The troupe has had its share of disasters, with misplaced papers, luggage forwarded mistakenly to Bangladesh and a cast greatly reduced by a series of mishaps. As a result, huge chunks of the play have to be excised, but the tour of Hamlet must go on and it takes Kareem to Gilgit, Skardu and an encounter with entertainment-starved dacoits.
I Dream of Microwaves is a spoof of the Great American Dream, and, of course, the great Pakistani Dream-of-America; it is a rich interplay of masks, personae, stereotype and cliché, juxtaposed throughout by the perceptions that America and its diverse ethnic communities have of themselves and each other.
Kareem's tale of optimism and thwarted hopes takes him across the length and breadth of America. 'Here Come The Dog People' finds him in New York. He is going to play the role of John Belushi in an "off-off-off Broadway" production, John, Ono, John, about a fictional affair between John Belushi and Yoko Ono, with John Lennon peeping through a keyhole. The script is bought by Hollywood. Actors such as Tom Cruise are sought for the lead. Kareem ends up as dog-sitter to a rich lady, Mrs. Germany, living in a huge New York apartment which appears to Kareem to be "out of a set from an Merchant-Ivory production." Mrs. Germany is of German origin, boasts a dramatic scar across her forehead, as well as many facelifts and liposuction, but she too is not quite what she seems.
This is an entertaining, lively and accomplished first collection. If you know your movies and your drama, you will pick up the many innuendoes quietly implanted throughout and enjoy Imad Rahman's stories all the more.
Next