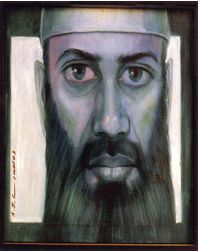 A brazen show of 'fundamentalist' art in an upbeat gallery like Canvas is certainly a shift from the norm. Orthodoxy may be rampant in the country but seldom, if at all, has it been a painterly subject or the focal point of a solo show.
Abdul Jabbar Gull's deceptively simple series of paintings, titled 'Ordinary Souls,' has many a twist to it. He has taken pot-shots, with the requisite decorum though, at certain aspects of the social and cultural behaviour ordinary folks exhibit publicly. His brand of ordinariness is liberally spiked with religio-political overtones. Monotonous, plain-faced average people in the street, his men, women and children are products of the madrassah culture. Hijab-clad, chaddar-wrapped women and the men, clean-shaven and bald, toupee-covered or sporting clerical beards, are painted with a simplistic naturalism. Gull's thrust is primarily on the portrayal of a chaste, unadorned, severe demeanour, conforming strictly to the Islamic code of ethics. He examines his subjects collectively, as a family or interactive group, and as individuals, in the light of personal religious beliefs.
By painting his figures in the act of prayer, Jabbar touches on the complex issues of sectarianism. Articulating through specific body language entailed in observing Salat, he records the intricacies of performing Niyat, Qiyam, Takbeer, Dua etc as per the dictums of various fiqahs. Religion, it seems, is concentrated entirely in the enactment of ritual. Certainly for a large segment of the teeming populace, religion is limited only to obedience and obeisance of the kind the clerics preach. Jabbar has shown that the tradition of patent beliefs travels through generations, within clannish groups and from parent to progeny. Caught in this web, ordinary souls become victims of a vicious circle.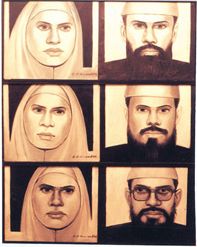 An established sculptor with three successful solos to his credit, Jabbar Gull has opted for a two-dimension surface of oil on canvas for his present show. This plunge has enabled him to break through the typecast image his work was acquiring. The advantage of pictorial narration has given his concepts a wider breadth of expression but the theoretical thread is still tied to his fascination with mysticism and religiosity. A native of Mirpurkhas, Gull's affinity with ordinary souls is genuine because he is one of them. He identifies with that mindset but his scholastic and academic regimen — a BFA from NCA, a Fordsburgh residency programme at Johannesburg, workshops at Funda Community College, Johannesburg, and on-going teaching experience at Indus Valley School of Arts and Architecture — have broadened his vision and spurred his urge to question the validity of existing reality. He says, "to me inquiry is life and while it exists, questioning is the essence of it, if one is to keep moving and evolving." His current works record reality and pose questions about the interpretation of religious beliefs, but it seems that the artist has yet to resolve his own conflicts. If one follows a line of inquiry though, the works light up as trigger- points to various live issues simmering under the fabric of life. As just paintings, however, the art is austere, stark and blunt. This is by no means a "pretty pictures" exhibition. Gull has painted tight compositions with large figures stretching across the canvas from top to toe. This upfront thrust literally accosts the viewer and the harsh, monochromatic monotony is also disturbing. Seen in unison, the works evoke a herd mentality.
Some sculpture on the side, the artist's main forte, has also undergone a stylistic shift. From solid highly finished pieces, he has moved to a takhti format mounted on a wooden base. Engraved with markings that resemble written text around a facsimile of a human face, the works seem to be contemporary versions of centuries-old primitive clay tablets inscribed with laws of the land and mounted at vantage points.
Yet another facet of this exhibition is that its viewership can extend beyond the normal art-conscious audiences, right down to the "ordinary souls," whom Jabbar Gull has endeavoured to portray.
Next