In the past decade, reality TV has gained much popularity as contestants vying for prize money will get shipped off to a deserted island, cover themselves with tarantulas, jump off buildings, sing and dance in front of audiences, and are even willing to eat maggots. Such shows are meant to challenge the contestants mentally and physically while providing entertainment for audiences.
But it is a sad day when a contestant loses his or her life during the filming of the show. Saad Khan, 32, father of four children tragically lost his life on August 19 while completing a challenge for a reality show that was being filmed in Bangkok, Thailand. Sponsored by Unilever Pakistan, the winner of the 13-episode show was to be crowned as the brand ambassador for Clear shampoo (a Unilever product). Additionally, each contestant was going to receive Rs 200,000 for taking part in the show. But things went very wrong for Khan. After being the first contestant to be eliminated, during the third episode, Khan was called back for the 10th episode on a wild card, to 'surprise' the remaining three finalists. He drowned while swimming across a pond carrying a backpack weighing 7kg.
The news of his death spread like wildfire as various bloggers broke the news online, while the print media (with the exception of one morninger) and TV stations remained silent till an official statement was issued by Unilever, which was after Khan's body was brought back to Karachi on August 22.
According to information provided by Fareshteh Aslam, the spokesperson for Unilever, the challenge had been pre-tested by Thai locals who wore 12kg backpacks as compared to the 7kg ones worn by the contestants. The challenge was carried out in Wachira Benchatat Park, Bangkok. Each contestant had to sprint about 30 metres on a slightly hilly terrain, between ropes that were set on fire and were only three metres wide, and then dive into a pond. The pond was approximately six to eight feet deep, and four feet, closer to the edge. After that, each of them had to climb a rope ladder set up against a tree, then manoeuvre across on a rope tied between trees using their arms and finally, climb down a metal structure. Unilever claims that the details provided to the comnpany are all through eyewitnesses (either the contestants or the show's host, Aamina Sheikh) as no one from Unilever was present for the filming.
The production and filming of the show had been outsourced to Mindshare, a global media buying company whose clients include major multinationals such as British Petroleum, IBM and American Express among others. Mindshare had further outsourced it by hiring a production house called Working Hands, based in Mumbai. "With big events such as the Lux Style Awards or in this case, the reality show, we are hardly involved — all of it is handed over to a third party, to those who are experts in the field. We know how to sell soap and shampoos, we do not know how to make shows," says Unilever's Aslam.
Khan drowned less than a minute after diving into the pool. "The pool wasn't very deep. The first two contestants walked across holding a rope that was tied along the side of the pond. When I asked one of the contestants whether he knew about the rope, he said that whoever got there first saw a rope along the side and literally waded across," says Aslam. According to witnesses who retold the account to Aslam, Khan called out for help, but then he flipped over on his back, which made everyone think he didn't need help. He continued for about 30 seconds when he started to go down. "Which was when everyone dived in," adds Aslam.
According to an eyewitness, about 14 people, including crew members, immediately dove into the pond but were unable to find Khan as the pond was extremely muddy and the water became murkier with so many people in it. A few critical questions come to mind. Firstly, were the contestants offered life jackets? "Yes, they were all offered life jackets but all of them refused," says Aslam. Which raises the second question: Why was wearing a life jacket not mandatory? And thirdly, what kind of safety measures were in place in case of an emergency and were there divers present? "I don't know. Mindshare, being one of the largest WPP groups in the world, we expected them to have the safety checks. We were just the sponsors of the show," says Aslam. She added that while the production crew didn't have divers or lifeguards, they did have paramedics and ambulances present. At the same time, one of the contestants was questioned by a blogger who stated that: "When there was no response from him, we dived in the pond to look for him, but couldn't find him as the water was very muddy. We started screaming and crying for help but there was no help around. After around 10 minutes his backpack came up floating. The lifeguards [of the park] came 10-12 minutes after the incident occurred and recovered Saad bhai's body."
Sources say that the contestants were not told about the type of challenges; instead, in the auditions they were asked to dance, sing and answer questions such as, "How would you ask a girl out?" No medical history was taken and the contestants were not tested for their physical fitness. In the previous challenges says, Aslam, "the contestants were asked to run through a football field with high pressure hoses trained on them while they attempted to erect a tower from cubes, find their way through a jungle in five minutes, making use of sign posts along the way, and in another challenge, they were given 20 minutes to go to a shared walk-in closet, get dressed and return."
Unilever is known to be a stickler when it concerns their brand image, which is why some people are not content with their response. "I have worked with Unilever. They shoot a single 10-second commercial and an entire team shows up; when the brand ambassador's clothes are being made and fitted, the brand manager is present and makes sure they are there for the shoot. Even if they [the brand ambassadors] appear on TV, the brand manager is always present. Why was this taken so lightly? Why didn't they ensure that there was adequate safety in place?" asks Mohsin Sayeed, a journalist who has taken a personal interest in this incident, wanting to bring awareness on the issue.
Repeated calls to Mindshare resulted in the same response: "No statement at the moment." Why isn't Mindshare giving their side of the story and letting Unilever do all the talking? More so, when they are also being blamed for the lapse in safety measures.
Each contestant signed a contract with Unilever and not the production company. The contract was a basic talent one, which was the same as the one given to host Aamina Sheikh, that only stated that the pilot was being filmed for Unilever and wouldn't be used for other purposes. Liability, insurance or accountability was never mentioned.
As people waited for an official statement from Unilever, the initial response was outrage. Many bloggers swung into action: a group titled 'Say No to Reality Shows' and another by the name of 'In the Memory of Saad Khan' were created on the networking site Facebook by friends of Khan. The former currently has over 3,000 members with many of them determined to seek justice for Khan's family as friends share their memories of him. "Miss you, Saad bhai," wrote one, while others discussed how to raise money for Khan's bereaved family.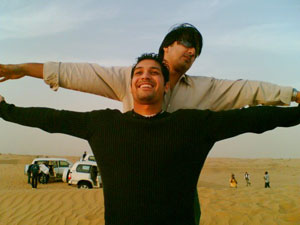 The group members and friends of Khan decided to hold a vigil in his memory in front of Park Towers on September 11. But close to the date, the vigil was postponed and an email was sent out to group members: "We, the concerned citizens and friends of Saad Khan, regretfully inform you that the vigil for Saad Khan has been postponed owing to some external pressures beyond our control which cannot be revealed at this moment."
Friends contacted by Newsline gave the same response; they didn't want the vigil to affect the compensation agreement between Unilever and the family. "We were not expecting such an overwhelming response. We were expecting around 100 people or so, but we had over a 1,000 people wanting to attend. Plus we were contacted by dozens of TV stations, print media and radio stations who wanted to cover the event. We had no permission from the police and this could have been a public nuisance," says Moiz Wali Khan, a friend of Khan's who stressed that such a large number of people could have resulted in a mob mentality. Moiz Khan added that he even received phone calls from journalists based in Sweden and Germany.
Reality shows are not new to Pakistan. A franchise of Survivor was bought by Pepsi Co. sometime in 2006 and was successfully filmed in northern Pakistan. What's essential is the safety of the contestants. According to Sarosh Sohail, account director at Interflow (the company that co-produced Survivor Pakistan), "There were 12 contestants in the show and double the crew members, out of which we had 15 safety experts. These were local people who were sent to Malaysia and Bangkok for training." Sarosh added that the contract signed by the contestants included a clause pertaining to emergency situations. The contestants were given satellite phones in case of an emergency and a sum of Rs 2.5 million was allocated for an emergency during the filming of the show.
In Saad Khan's case, Unilever, the sponsors of the show, are compensating the family. "At Unilever, we understand that this is our show and we will take responsibility for it. Liability is a very legal term right now, if we were to talk about it [liability] we would've waited for the police report and for the investigation to be completed or asked them [the family] to take us to court to establish liability. We didn't do any of that. A guy died on our set and the family has to be looked after," stated Aslam.
At the time of printing, Unilever was waiting for the family to sign the compensation agreement after which both Mindshare and Unilever will release a joint statement to the media.
Next