Interview: Ayesha Tammy Haq
"I hope to take the council to a level where fashion becomes a serious business"
– Ayesha Tammy Haq
A corporate lawyer by profession, Ayesha Tammy Haq is a well-known face on television. She anchors the hottest debates on her nightly talk show on Business Plus, and is an RJ on FM 89. She is also an avid scuba diver and skydiver, and apparently gets her adrenaline pumping not just from adventure sports but also from taking on varied projects at any given time.

Recently, she has stepped into a new and stylish robe as CEO of Fashion Pakistan, a council of designers from Karachi. So this year Karachi Fashion Week will be a huge event, organised by Fashion Pakistan while Triple E will be the event manager. Thirty-six designers will be showing over a four-day trade show, which will be held from November 3-6. Ayesha speaks to Newsline about her goals of grounding the fashion industry as a sustainable corporation and expanding it as a creative industry as she pilots the upcoming Karachi Fashion Week.
Q: Shed some light on how the Karachi Fashion Week (KFW) is organised. Is it a collaboration of the designers' council in Karachi?

A: At one point, all the designers got together and decided to set up a fashion design council to promote fashion. Everything was fabulous except that I think people had different ideas of how they wanted to do it. So there was a split and one lot set up a council in Lahore which was the Pakistan Fashion Design Council (PFDC) and the other set up Fashion Pakistan, of which I am the CEO. All the top names are there. There are about 36 designers, except for Umar Sayeed and Iman Ahmed of Body Focus, who are part of the Lahore council. But other than that, all the big designers are  part of the council like, Rizwan, Maheen, Deepak, Nilofer Shahid, Faiza Samee and Bunto Kazmi. They never joined the Lahore council.
While the Lahore council has been fairly active, Fashion Pakistan has only participated in a Karachi Fashion Week, which from all accounts, was not particularly well organised.
Q: Would you qualify last year's fashion week as a failure?

A: I don't think it failed. It was, perhaps, just a bit haphazard. I believe if you're doing something and you don't do it right then you learn from your mistakes and try to do it better next time. I'm sure we'll make a million mistakes this time as well. The idea is to not repeat last year's mistakes and hopefully next year, not to repeat the mistakes we make this year.
Q: Is Karachi Fashion Week exclusive to designers from Karachi?

A: It is open to designers from all over Pakistan. I personally called up and invited everybody in the Lahore council.
I even gave them options of how they can participate as a council, because one of them said to me, 'We have to make a decision as a council' — I have no issues. The idea is to just stop all the fighting and let Lahore show in Karachi, and Karachi show in Lahore or Faisalabad, or whoever wants to show wherever. As long as you have something to show, let's see it. And then let the public judge whether they like or don't like something. However, in the end they regretfully declined the invitation.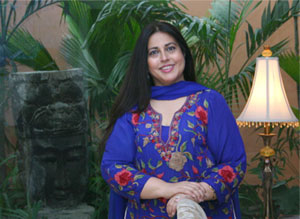 Q: Will you succeed in bringing the designers from Lahore and Karachi together on the ramp?
A: I think it's in their own interest, as a designer community, to work together because then you're a stronger lobby. I'll give you an example: the government of Pakistan has funds that it allocates to image-building exercises for Pakistan. Now if Karachi and Lahore are separate entities, there will always be this tussle over who should get [the funds], Karachi or Lahore … If it's Karachi this time, then next time Lahore will receive the money. So [each one] will end up with small amounts of money instead of a nice chunk once. I believe division is the worst possible thing — it weakens you. You need the strength in numbers.
If you look at India, their fashion industry is enormous; it's a trillion-dollar industry. Before the Davos Economic Forum, they have an India Economic Forum and they dedicate almost a full day to fashion.
Q: So there's a lot of work to be done to compete globally?

A: I think there's a lot to work to do; I'm trying to create a structure. I'm looking at it as a lawyer would look at it. First things first is to corporatise it to make it work for the designers. Fashion Pakistan is a limited company under the Companies Ordinance 1984. It needs to become professionally run, it needs to hire staff. We have accountants and we have lawyers, but what we really need is hands-on staff who take care of the nitty-gritties and make sure that the designers just do what they're good at.
Q: As CEO of Fashion Pakistan, what changes have you brought about?

A: We have built a fabulous website (it should go up immediately after Eid), which provides all the designers, who are members of Fashion Pakistan, immediate access to the world.
Then, we are working towards getting our own office. We do have an office, but we need a proper office where designers can come and meet.
The other thing is that I've talked to IBA Chairman Dr Ishrat Husain, and he was quite excited about this — I said to him, we have this immense talent in Pakistan in these fashion designers but they have absolutely zero business sense. They are so incredibly talented that I don't understand why they are not 5,000 times bigger than what they [currently] are. So we are going to get IBA students to do case studies and design business plans for the designers, for which the students will receive credit hours.
Q: Will Fashion Pakistan help designers significantly because many have already shown abroad and have opened outlets as well?

A: Yes, but they are not selling abroad. The kind of exposure that India has we don't have — and we need to build it. The only way you can do it is through websites and fashion weeks, because then we invite buyers to fashion weeks … and we are hoping and praying that nothing terrible happens between now and then, and the buyers who have committed to attend can make it.
Q: What countries are you inviting buyers from?

A: They are coming from Dubai, Bahrain, India and England.
Q: How big is the export in this sector?

A: Not that big. You can just take two or three suitcases full of clothes at the most when selling abroad. And you can display them at stores abroad if you don't have your own outlet. So it's not very significant.
Q: Will any foreign designers be showing at the KFW?

A: Yes, From Malaysia, Italy, Bangladesh and Sri Lanka.
Q: What about India?

A: India doesn't allow foreigners to show at their fashion week whereas with other countries of this region, it's reciprocal. India wants their fashion week to be about themselves.
Q: And our any of our designers showing at international fashion weeks through Fashion Pakistan?

A: Maheen, Deepak and Rizwan are going for the Milan Fashion Week that is taking place this month. They are sponsored by the government and their own money. Although the designers don't get anything out of fashion week in terms of sale, Pakistan gets a great profile. People see that you're capable and then they can encourage you and give you small orders and then that becomes bigger and bigger as you deliver. But the key is it's just a positive for Pakistan. Pakistani designers at Milan brings good publicity for the country; it takes people away from the fears, the guns and the mobs
Q: What edge do the council members have over other designers?

A: To become a member of the council, you have to meet certain criteria; you have to produce a portfolio and you need to have done a certain extent of work — it's a little bit of a guild. But then there are advantages to being a member of the council and one advantage is, of course, that you pay less to show at a fashion week. The other advantage is that you are on the website, which makes you globally accessible. And the council will continue to do things, for example the business plan [with IBA]. And when we do the shops, those who are part of the council can open their outlets in different cities across the country. It's not necessary that all 40 designers are located in one place.
Q: Where do you expect to lead the fashion council?

A: To the promised land! Like Moses! However, they are not like sheep. Everyone has an opinion.
But thankfully, they are reasonably scared of me because the fact is that I'm not a designer; I have no stake, no vested interest, I'm not threatening anybody. Tomorrow, if I set up a little karkhana, then there might be a major problem.
Seriously though, I really hope to take this to another level where fashion becomes a serious business. With 170 million people in this country, it should be a serious business. You can employ people.  You can clothe people, (you can make them look so much better — I always say, you can have good taste and you can have bad taste, the real tragedy is when you have no taste).
One hopes that you can set them on a track where [the council] becomes a serious body. You can set up a polytechnic, train cutters and people who sew, and finish. Half the battle is lost when you can make the most beautiful design but it is not executed beautifully. What's the point, then?
So I would like to see a polytechnic. I would like to see collaboration with the art schools. And promote young designers because it would cost them less to show at the fashion week. A lot can be done.
Q: Will it benefit the craftsmen?

A: I think it should. There was a project by Aik Hunar, Aik Nagar (AHAN). It started a few years ago and I got really involved in it. They had managed to get the entire fashion and design community involved. It was a government-sponsored project for SMEDA, (the Small and Medium Enterprises Development Authority). SMEDA worked with the designers and facilitated them. I would imagine that SMEDA's facilitation included taking the designers and getting them together with the communities and picking up the expenses for all this. But all the work the designers were doing themselves and they were training people on their own time. I did a television show on the project. I was so impressed by it.
Very few designers continued because the government fell and when the government's whole backing and funding is taken away, somebody has to pay for all this. And very few designers will pay for all this for the benefit of someone else. I think Amir Adnan has carried on with silver jewellery and Rizwan Beyg has continued his work in Bahawalpur and Hazara, which are both areas on the edge of the lunatic fringe of militancy.
If you are paying people proper wages, giving them good conditions to work in, their children can go to the crèche to learn, then you change lives, you prevent migration. If people can earn and live in their own community, why would they come to Karachi and live in the slums? It's a huge chain. So I felt that project should never have been let go of.
I decided to push the government in the same direction — on a different level, not through the fashion council — but I have been haranguing them on television.
Q: Where does our fashion industry stand at the moment?

A: Our industry is not tiny. Someone like Junaid Jamshed is humungous, with multiple outlets all over Pakistan, and hundreds of thousands of shalwar kameezes are sold because of the tableeghi connection — he is catering to a mass market. Then, Generation has got it right, catering to the high street. And there's Khaadi's success story. Recently, Feeha Jamshed is making beautiful clothes and keeping her prices [low], within the TeeJays model, and ethical, but they still have value.
Next