It's Sunday morning and I'm flipping through the pages of weekend magazines, some as thick as 100 pages, full of advertisements showcasing local designers' latest creations and the 'new range' of printed fabrics offered by textile companies. The society pages, meanwhile, are replete with the who's who of Pakistan's major cities wearing the clothes advertised: embroidered cigarette pants, pearl embossed flared trousers, culottes, shortkameezes, lehnga cholis, kaftans, even the traditional shalwar and dhoti shalwar trying to make a comeback, and of course, the over-the-top, long, flowy ensembles that have been around for some time. We all know that advertising highly influences the look the majority of the already there, and the wannabe everywhere, sport. But at home, it's almost dictation.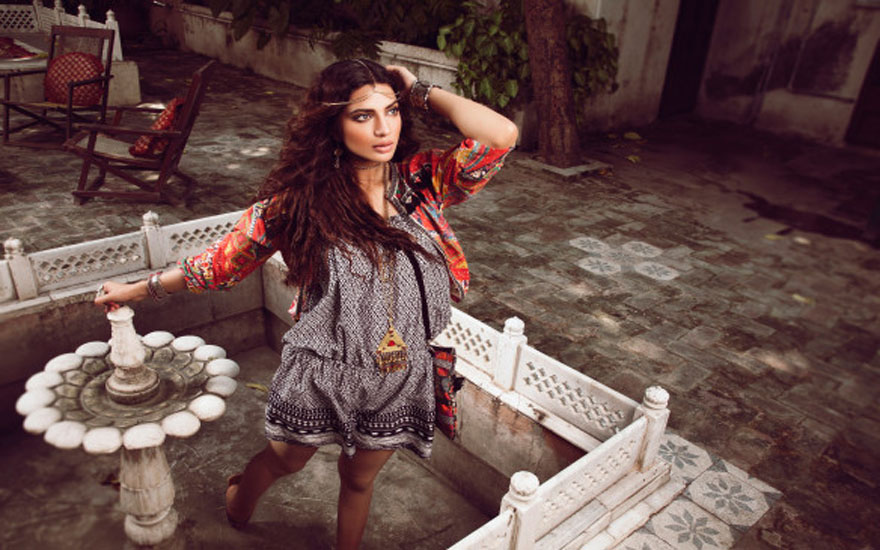 Pakistani style has always had a rich tradition to draw from: rich, beautiful textiles, a bold colour palette, embroideries and other embellishments — more than enough to inspire a vibrant fashion scene. Drawing on craft and reviving lost techniques of printing, embroidery and natural dyes like indigo have been championed for decades by Bunto Kazmi, Faiza Samee, Nilofer Shahid and Noorjehan Bilgrami — the queens of classic couture. And if the stampedes at the trade shows featuring Pakistani wear and handicrafts are indicative of the future, it is blindingly bright. But is anyone willing to push the boundaries? Will anyone be able to enter the international fashion arena and establish a lasting identity there?
Maheen Khan, Pakistan's Coco Channel of fashion, who has been in the business for 50 years is skeptical. She questions the motivation of today's designers who she contends are only creating clothes that are sure sellers. "I thought by now we would be innovative, creative, driven, but it's like a bad movie. By and large we are only making what sells — clothes that are heavily embellished or printed, or both." It wasn't always like that. Looking back to the 1960s and '70s, when she was a young woman, she says, she recalls walking into rooms filled with "sophisticated, truly stylish men and women." Similar refrains were echoed by other designers I spoke to — including some who are themselves guilty of following trends rather than creating them. They maintain that fashion has lost its edge and is now mostly bridal and printed fabric-driven.
Bridal wear and printed summer cottons may unarguably be the commercial end of Pakistan's fashion spectrum, but there is, equally unarguably, also plenty of room for the edgy creative designer — and the herd notwithstanding, there are a few of those. Feeha Jamshed is one such designer. Her 'Cargo Gharara' is an example of a traditional garment, hitherto almost exclusively in the bridal closet, reinvented as contemporary chic. "Everything is fusion," she says, "In the West they are making long shirts like ours to wear with what we call 'shalwar pants.' The cuts are the same."
Sania Maskatiya, Elan and Maheen Karim are infusing the East-meets-West theme in their designs, with capes, gowns and stunning coats. The cuts are western, but the prints and embroidery on the pieces reflect eastern patterns and designs, making them ideal as wedding wear and evening wear — East or West.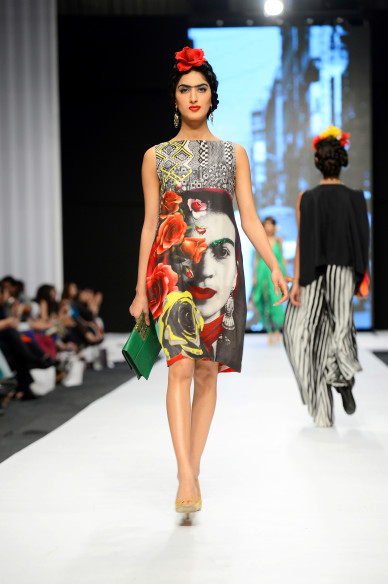 Some male designers in Pakistan have also added the oomph factor to their designs. While HSY may be the reigning king of menswear and bridal couture, it is the flamboyant Ali Xeeshan who has reintroduced creativity in bridal wear. His clothes are loud, colourful and only for those who dare to stray — even on their big day. His menswear collection consists of bright, well-tailored kurtas and pants for the modern man, with the addition of a colourful waistcoat, screen-printed with traditional motifs in a variety of colours. He adds extravagant turbans and shawls to the mix, ensuring he sticks to the traditional rather than the modern in respect of these items. Then there is Mohsin Ali, the creative genius at retail giant Sana Safinaz, who has noticeably changed the aesthetic of the brand. The designs include colourful, digital-print patterns, bold matching separates and silk tunics. These are clothes that could grace any ramp or soiree anywhere. Some designers have, in fact, already been there done that: Nilofer Shahid, Rizwan Beyg, Deepak Perwani, Kamiyar Rokni, Iman Ahmed of Body Focus, Sonya Battla, Fahad Hussayn and Zaheer Abbas, to name a few. Shahid has showcased her designs at the Paris Fashion Week alongside bigwigs such as Balenciaga, and was also awarded the Grade de Chevalier in the Order of Arts and Letters by the French government. Rizwan Beyg has shown at the Milan Fashion Week and Lakme Fashion Week Mumbai, as well as in Colombo and Sarajevo.
Deepak Perwani presented his designs at the Milan, Miami, Colombo, Singapore, Malaysia and Bangalore Fashion Weeks, and garnered 'best international designer' awards in Miami and Malaysia in the process. Maheen Khan also showed at the Milan Fashion Week, and Tayyeb Bombal in Atlanta.
Says Feeha Jamshed, "The potential to take our fashion to Europe and other international markets is huge, but we need to be in sync with them and their fashion calendars."
Syncing fashion calendars would be the job of the fashion councils organising fashion weeks. If we want to bring in foreign buyers and sell abroad, collections have to be not just seasonal, but the right season so orders can be delivered in time. They also need to provide younger designers an environment in which they can grow, and provide established designers with the platform where they can showcase what it is that merits their having a designer tag, not just what is commercially viable. Sanam Chaudhry and Wardha Saleem, who run Fashion Pakistan, the Karachi-based fashion council, say the council provides young designers with a platform, but fashion schools need to harness talent and encourage creativity in all elements of design. They contend the runway is there for designers to show their creativity, but the majority play it very safe. Even the new 'stars' on the horizon, they maintain, are focused on plying the safe route.
All, however, is not lost. Most in the business believe Pakistan's fashion industry has many facets; that there is enough to not only keep everyone in business, but to give expression to creativity as well.
Deepak Perwani's D' Philosophy line, Kamiyar Rokni's colour-blocking, and Sonya Battla's innovative cuts do push boundaries. But Perwani maintains designers cannot be the sole arbiters of the fashion trade. He contends fashion publications, including the weekend diet of newspaper magazines, and journalists also have a responsibility towards promoting innovation and new, young designers. "It's not just about what's wearable, it's about fashion," says Perwani. "Where are the editorial shoots? Content is either paid for or personality-focused. You need fashion editors to do their own shoots. It also gives designers the confidence to put themselves out there."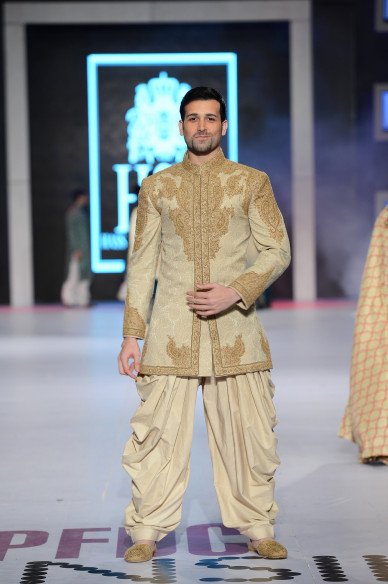 And anyone with a smart phone is a journalist these days. It takes a few seconds to click and upload an image. Instagram is the new runway. Some 44 million people viewed images from the last New York Fashion Week. By that yardstick, fame and fortune are just a hashtag away. The danger is a complete lack of ethics. This new breed of social media journalists are given questionable incentives to promote individuals and even companies. It's a bit of subliminal messaging: a stamp of approval from the right quarters feeds the herd. The result: everyone looks like a clone of the next person. "All these young girls are clones of each other. Same long blow-dried hair with curls, same kurtis…even Dolly the sheep has now died," says Maheen Khan in exasperation. "A woman should evolve and change her look every decade of her life."
Kamiyar Rokni is more upbeat. He is of the opinion that "the future of fashion is brighter than anything else in Pakistan."
And then there's retail…giants like Khaadi and now Sapphire, who have teamed up with designer Khadija Shah of Elan, have brought smart affordable clothes to the high street. They have changed the way women, particularly in the cities, look.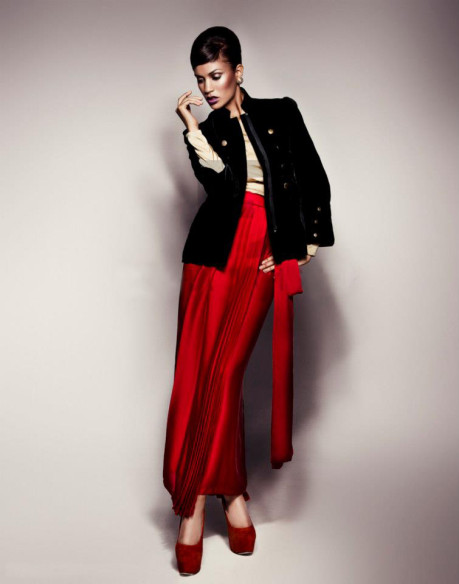 Their prêt lines may be written off by critics as 'uniforms,' but it's a contemporary take on what most women wear. The silhouette is sleek, yet incorporates all that the average woman requires in her everyday clothes. The baggy shapeless shalwar, which hides a multitude of sins, has been replaced by pants and the dupatta is optional. "Everyone has the right to wear good clothes," says Shamoon Sultan of Khaadi. He launched operations 17 years ago, making handloom fabric with a vision to make his product a national brand. Having done that successfully, he now has stores in the UK, UAE and Malaysia. The retail sector is so huge that, according to him, the entire textile production of Pakistan is unable meet the demand. The high street, which draws completely from prêt and high-end fashion, is better organised, better managed and growing exponentially in Pakistan.
Rokni, however, sees a shift: "there's a high street retail boom but I see a change in the cities. Lifestyles are changing so I see a demand for high end fashion in the high-street. There will come a time in the near future where you will get luxury prêt and even bridals off the rack."
Retail, according to Shamoon, is the next big thing, "First it was the banks, then textiles, next cement, followed by telecom. Now it's the retail decade. Give me 5 to 7 years and we'll have a book. I want to be the Apple of Pakistan. Steve Jobs was a genius, it was all about design. We too want to be all about design. We want to create the best working environment in Pakistan with the best HR policies so that the first choice for a student graduating from the IBA, LUMS or any good business school in Pakistan is Khaadi. We look to be the future."
This article was originally published in Newsline's February 2016 issue.
Next