For years, English literature in South Asia was stereotyped and treated as a strange, unusual phenomenon. There are long-standing assumptions about the kind of literary works that generate publicity (terrorism! conflict! brown people doing bad things!), as if books are merely SEO keywords.
This trope should finally be put to rest in 2016.
Over the last few years, South Asian literature in English has changed, from the themes and genres being explored to the way people are introduced to contemporary writing. The stories emerging from South Asia today are rooted in local culture, micro-perspectives set in neighbourhoods and small towns, and laden with nuance and context. From crime thrillers (Omar Shahid Hamid's The Prisoner and The Spinner's Tale) to stories set against the landscape of urban life in India (Mahesh Rao's The Smoke is Rising and One Point Two Billion, and Ratika Kapur's The Private Life of Mrs Sharma) the future of South Asian literature is in the stories culled from home. Sure, stories about terrorism and conflict still exist — as they should, given that this is a part of life in South Asia — but the books on this theme that work do so only because of the quality of the writing. Hamid's work, in particular, stands out for his ability to weave stories of conflict with a well-told narrative and engaging characters. And one can expect to see more homegrown stories soon, from Hamid's new novel The Party Worker to Bilal Tanweer's translation of Muhammad Khalid Akhtar's Chakiwara Mein Visaal. And the one to watch is the writer Mariya Karimjee, whose poignant, memoir-like essays delve into themes that are often off-limits in conversation, let alone contemporary Pakistani literature.
This diversity in South Asian literature is something that the audiences at home have long craved. And perhaps the world at large is also slowly becoming more receptive to the value of a good story, rather than just the idea of reading a foreign title for the sake of checking off 'diversity' on a reading list. "It was not long ago when the Bangladeshi writer was expected to play the role of a 'native informant,' with the writing possibly aimed to please a western audience; we now have a lot of diversity in themes," says Ahsan Akbar, a co-director of the Dhaka Lit Fest.
If the themes in contemporary South Asian literature have expanded, so have the genres. One of the best fiction books from South Asia in 2015 was Bangladeshi writer Saad Z. Hossain's debut novel, Escape from Baghdad, a surreal sci-fi thriller set in the Iraqi capital. More of these voices are emerging from across the region, including the Pakistani writer Usman T. Malik, who won the Horror Writers Association's Bram Stoker award for Short Fiction for his work, The Vaporisation Enthalpy of a Peculiar Pakistani Family. The Pakistani stand-up comedian Sami Shah's first novel — an urban fantasy story set in Karachi — is set to be published this June.
As the editor and critic Mahvesh Murad points out, this shouldn't be a surprise in this region, where the epicsMahabharata and Tilism-e-Hoshruba are part of its literary and cultural canon.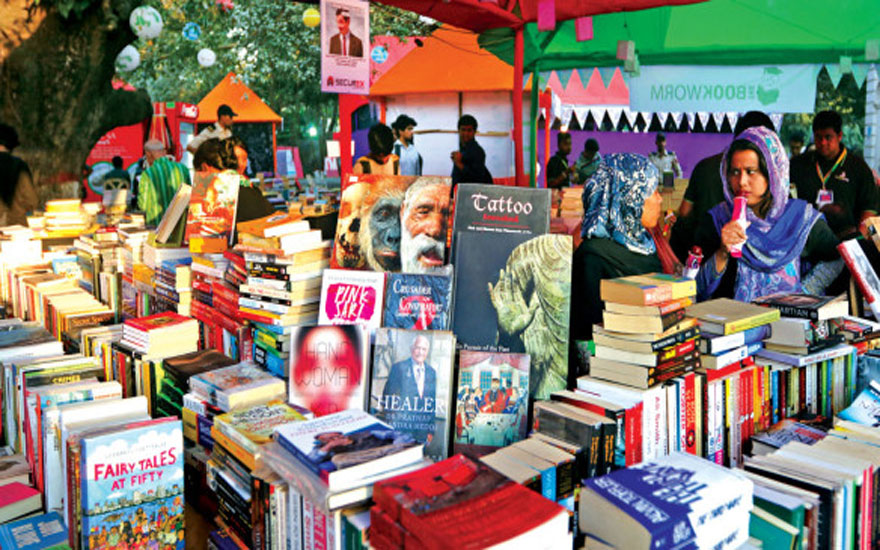 "It's interesting that this diversity in English writing was always common in Bangla: fiction that is set in alien surroundings, memoirs that deal with difficult pasts, travelogues about off-the-grid places, science fiction, dark comedy, horror stories and so on," Akbar said.
The year ahead is also likely to see a shift in the way books are marketed, sold and read in the region. While print books and traditional bookstores continue to dominate, there are signs of a gradual shift towards digital books and e-readers. In Pakistan at least, anecdotal evidence suggests that a small — but growing number of people — are downloading books off the internet. Just like pirated printed books, people resorting to illegal online downloads are partly driven by price — keeping up with new releases can be fairly costly, though probably still a fraction of what people spend on eating out — and convenience. Unlike India, where Amazon has heavily pushed its Kindle e-readers, only a couple of stores resell them in Pakistan. And setting up a Kindle and buying books off Amazon can be fairly complicated in Pakistan, given that one has to navigate credit cards and country-specific stores.
The future may be in selling books to people fixated with their phones. Pakistan has over 90 million mobile phone users, and an estimated 10 to 15 million people use smartphones. Indian publishing is making its first forays into this audience of mobile phone users. There is a considerable amount of curiosity and excitement around Juggernaut, a new company set up by ex-Penguin India publisher Chiki Sarkar, which is set to launch a mobile app with 200 digital titles in 2016. Juggernaut's catalogue for the year includes new work by the Pakistani writers Ali Akbar Natiq and Umera Ahmed.
"A lot of new, interesting but not mainstream writers who are unable to break into the commercial market are seeing success with smaller presses that focus on e-books and print on demand," Murad said. "I don't think digital publishing is going to be detrimental to the success of traditional publishing at all, but I do think it'll be a valid choice for many writers."
"The real book lover still prefers the traditional printed format, and that is evident from the number of books sold during our two literary festivals: the Dhaka Lit Fest and the Ekushey Boi Mela, which is organised every February to mark the International Mother Language Day," Akbar said. "As a consequence, the number of local publishers — both in English and Bangla — has gone up over recent years, but at the same time, it is heartening to see user-friendly mobile apps being developed by local entrepreneurs to tap into the digital market for books."
While India alone has enough of a market — and a multitude of genre writers — to sustain months of literary events, literature festivals elsewhere in the region are expanding. Pakistan now has three major literary events in Karachi, Lahore and Islamabad, though they are often dominated by political themes. The Dhaka Lit Fest took place in 2015 despite increasing fears about the security of writers, and is scheduled to take place again in November 2016. The Galle Literary Festival in Sri Lanka resumed again in January 2016 after a three-year gap marred by boycotts and organisational issues. The prestigious $50,000 DSC Prize for South Asian Literature has found a new home at Galle, after years of being affiliated with the Jaipur Literature Festival.
That said, it isn't all roses and sunshine for writers. The market for English writing is still limited and local publishers are few and far between. It is a long, hard slog to make it as a writer in South Asia. One would ask why anyone would want to write, let alone consider making this a career.
But in the fall of 2015, I went to a writer's workshop organised at the Lahore University of Management Sciences, thanks to the author Bilal Tanweer. Tanweer, the author of The Scatter Here is Too Great, teaches fiction writing at the university and set up the Young Writers Workshop in 2011. I am a lifelong cynic and find the words 'aspiring writer' grating. But the submissions — and the diverse young writers behind them — were a revelation. Their work, inspired by vignettes from growing up in Karachi's politicised neighborhoods to relationships, was inherently promising, and I left the event feeling more imbued with hope than I have been in a while. Bring on the books!
This article was originally published in Newsline's February 2016 issue.
Next