Interview: Mian Yusuf Salahuddin
He has often been referred to as an 'incurable romantic' — and with good reason. Yusuf Salahuddin talks the talk and walks the walk. The grandson of Allama Iqbal, Salahuddin opted out of a conformist industrial/corporate existence in uptown Lahore to move to the family barood khana in Lahore's famed Walled City a quarter century ago. His transformation of the site into a truly beautiful, entirely liveable haveli — which has featured in innumerable publications, both local and international, including Architectural Digest — became the genesis of a subtle transformation and revival of the androon sheher itself. Scions of other old Lahore families began to revisit their ancestral havelis in the old city, restoration projects of historical buildings were launched, restaurants sprang up and Salahuddin's annual, joyous celebration of Basant at his haveli introduced this ancient festival to a new generation, injecting colour and camaraderie in the lives of the denizens of the gated city.
Salahuddin meanwhile, was increasingly swaying to the tune of another muse. And his growing passion led him from afficionado to creator: he began writing lyrics and composing music, and that in turn resulted in a collaborative venture with other musicians called Tradition Plus. Alongside, he became the host of a PTV programme called Virsa Heritage Revived. And, what now seems an almost natural progression of events, eventually led to Salahuddin producing the 13-episode music serial Heer Ranjha, to be aired on PTV soon.
In this interview Salahuddin expounds on his newest venture…
How did Heer Ranjha come about, and why this particular folk tale over all the others out there?
I had created some music and as I listened to it one day, I thought this soundtrack should be taken to another level. Why not a screenplay with this music? I was also inspired by the video of Humera Channa's song Mahi Ve. And then I wanted to take my programme on PTV, Heritage Revived forward, and felt a serial like Heer Ranjhawould be a step in that direction.
Why this particular folk tale?
Because besides Sohni Mahiwal and Mirza Sahiban, Heer Ranjha, written by Waris Shah, is probably the most popular tale in the subcontinent. It is a spiritual tale.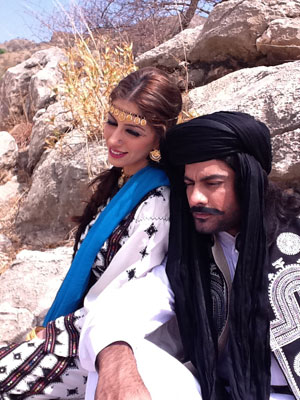 Do you feel you managed to capture that spiritual essence in the play?
Oh yes. I didn't want to veer from the norms of our culture. Just as a raag is a motif you don't change, you merely make adaptations staying within the format, so too is it with this serial.
What were the most challenging aspects of working on this production?
Actually, I had no problems at all. It was like they say, the universe conspired to make things happen for me.
We've placed the drama in the 18th century. A lot of shooting has been done around Shahpur, which was Ranjha's birthplace. This is not a story of katcha kothas. It is a story of feudals, since, according to my research, Heer Ranjha is not a story about small land-holders. All the shooting has been done on outdoor locations; not a single set was created. From January to March this year, I researched assorted sites, and then visited many of the havelis in Punjab that we were planning to shoot in. Fortunately, many of my friends — old Aitchisonians — own these havelis, so I was granted access. We were even provided access to the wonderful zenan-khanas. Khera's house has been shot in a village called Radhan. The haveli we have shown as Ranjha's is in Rajoya and is one of the most beautiful havelis I've seen. They had such wonderful old furniture and household accessories there that I never needed to bring any props for use during shooting. I've used a lot of Ustad Allah Bukhsh's paintings in the play, some of which were lent by friends.
While that aspect of the production went like clockwork, in one word 'perfect,' there were other logistical needs. We were a crew of 60, all needing to be fed, accommodated, transported from one site to another and often requiring security. Thankfully, here too, we got lucky. The Punjab government provided us with much of the above, for which I am extremely grateful.
When does the serial begin to air?
We were hoping to start transmission from Eid, but the weather has been too hot for outdoor shoots so we have yet to complete the shooting. We still have a few songs left to shoot and parts of some episodes.
How much of the production work has been done?
About 75 per cent of the production work is complete.
The play is in Urdu but the songs are in Punjabi. How does the language mix work out?
It works because a lot of plays nowadays are in Urdu, and on occasion, use Punjabi slang. If they are showing Punjab, the dialogue is in Urdu, with an occasional line of Punjabi thrown in. However, the songs of Heer Ranjhahad to be in Punjabi to retain the original flavour. I did not want them to be in Urdu.
Are some parts of the narrative taken from Waris Shah?
We open with Waris Shah's original lines, and narrative from his text is interspersed in some other places as well. Naseeruddin Shah has done the voiceover for the narrative.
Have you written the lyrics for all the songs?
I've done most of the lyrics and the compositions. Rahat Fateh Ali and Sahir Ali Bagga have each composed one number. But the songs have been rendered by various singers: Sahir Ali Bagga, Rahat Fateh Ali, Humera Channa, Sanam Marvi, Hina Nasrullah and Saeen Khawar. Rahat, Sahir Ali and I have a collaborative venture called Tradition Plus, so the music we create together is released by that name.
Is this the first time you've worked on the music of such a large-scale project?
No, I've worked on albums before this. There was the album Dil Se, from which three songs have been included in this play; another album I worked on is that of Rahat Fateh Ali's qawwalis. Both albums have been marketed by Fire Records.
Whatever work I do is either put on my website or telecast, since my objective is not to make money. There are 9,000 visitors on the website every day. Many of them are Indians and Pakistanis living abroad, who often send me gifts in appreciation of the work I do, or even cash to spend on my projects.
Instead of copying the West, we need to be more original. I think what Coke Studio has done for folk music is wonderful, since they have made the younger generation listen to this genre of music. If the beat is different, so what? If Ali Zafar sings Ghalib, the younger generation will listen. The only music from Pakistan which can sell in the rest of the world is Sufi music — be it Nusrat Fateh Ali, Abida Parveen or Sanam Marvi.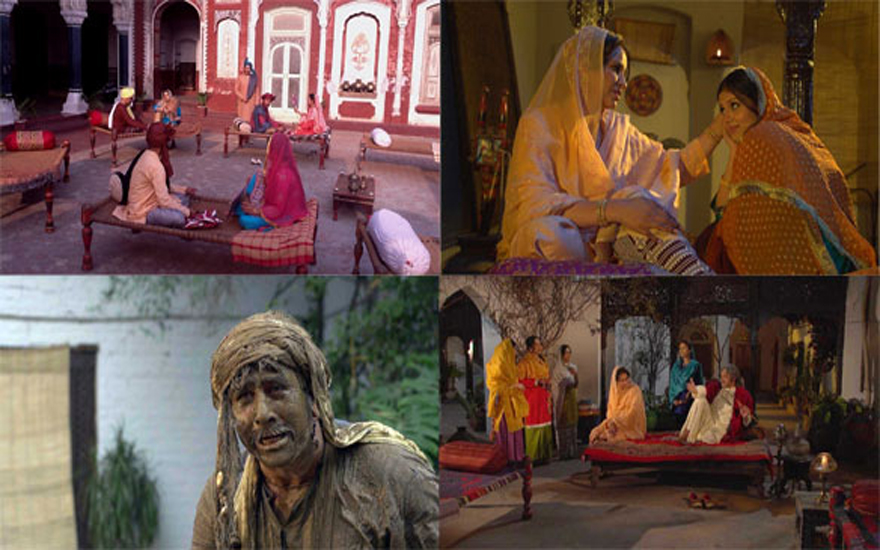 Why did you opt to produce Heer Ranjha for television? Why didn't you make a film instead?
I could easily have made this into a film but, as I said, my aim is not to make money. I'm doing this for PTV, which has a viewership of 62 per cent of the population. My mission is to tell the youth about their identity and their ideology.
Do you think this could be a step towards the revival of PTV drama?
That would be a little difficult to say since something of this sort has not been done before; you can't compare it to any other drama. I will say that there is a lot of attention to detail in this serial, I've done most of the set designing and art direction myself. The clothes, the jewellery, the way the dupatta is worn, everything has been done in a particular manner in order to make it true to reality.
And now at the culmination of the production, is the serial the way you had envisaged it when you first started? Are you entirely satisfied?
I'm more than satisfied. Somehow everything just fell into place. And it's better than I imagined.
 This article was originally published in the October issue of Newsline.
Next