Durre Waseem and Mughees Riaz, both former students of Punjab University, exhibited their work at Canvas Gallery from July 12 — 21.
Durre has been living and painting in suburban California, and the influence of her surroundings is reflected in her choice of scenery and colour palette. Taking inspiration from scenes around her, Durre says she is drawn toward the geometry in nature. "I focus on these shapes and paint them with full honesty instead of translating them into abstract forms. My inspiration includes the sights and sounds around me," she says. Her paintings are bright and eye-catching and her colours speak to you. Her work is about being alive — and happy. Sunlight floods through the windows, illuminating her still lifes that are brightly painted in strokes that seem tangible. One almost feels like reaching into her paintings and picking up a pear or pomegranate and crunching on it hungrily. Her works, whilst being bright and colourful, are also tranquil. 'Wood Gaff at Maloofs' is a brilliant example of how, through the simple placement of redwood deck chairs and a white umbrella top, the space feels alive and buzzing rather than abandoned, even though no one is seen occupying the space. The chairs are engaged in a dialogue, just as people might have been.
Durre's technique is one of spontaneity: one brush stroke leads to the next, capturing the true essence of the scene with all its energy and zest. She says that she admires the work of Manet — and his influence is visible in her work. Another artist whose work she seems to emulate is post-Impressionist painter Paul Cézanne.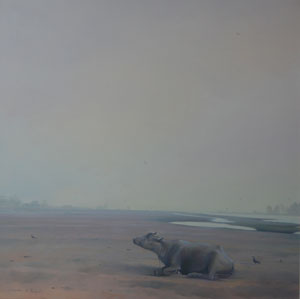 By comparison, Mughees's work is toned down several notches as far as the palette is concerned, save one piece in which he has painted a field of bright yellow flowers. In his other paintings, he depicts the mundane, yet equally important scenes from his life. He captures the beauty of nature through subtle colours and creates a feeling of stillness without exaggerating the scene, painting it exactly as he sees it. His view is zoomed out, taking in as far as the eye can see, whereas in Durre's work, one gets a closer look at the scene. Mughees's work is a reflection of the inspiration he draws from nature. He feels very strongly about nature and the outdoors and tries to depict them through his work. His landscapes are characteristic of who he is as a person and what his interests are. Instead of filling up his canvas with objects, Mughees opens up his space. He says, "My classmates and colleagues would paint during the day, and they would tease me because I preferred to go out at sunset. But I wanted a sense of the vast space and sunset reflected in water," and this can be seen through his compositions. He leaves a large area of his canvas empty but for the blue skies, and the darker areas of his paintings, inhabited by the buffalos, are located in the lower quarter offering a stark contrast to the rest of the still life. His fascination with the vastness of space is reflected in his strong sense of compositional space.
In his piece 'Sunset and Ravi,' his compositional skills are at a peak, and he snakes his way in and out of the water beds, curves and turns in a natural way. His trees in 'Landscape with Trees' stand strong; one is not to be fooled by the tenderness of their barks. Weathered yet burly, they are a witness to all that happens at Ravi. His landscapes are free from modern-day life, no hustle and bustle of the city here. Although there is a stillness and calmness in his work and his colours are muted, one never gets the feeling of loneliness.
By placing the work of two very distinctly different artists together, Canvas Gallery creates a dialogue between two people who studied at the same university but approached art differently and have now evolved their own distinct styles. Their subject matter is the same: landscapes. Yet both deal with it in their own characteristic manner, making their landscape personal to who they are.
Next