Advertised as the revival of Pakistani cinema, Shoaib Mansoor's Khuda Kay Liye is unlike any Pakistani, or for that matter Indian, film released in recent times. Starring Shan, Iman Ali, Fawad Khan, Rasheed Naz and veteran Indian actor Naseeruddin Shah, in a guest appearance, the film is playing to packed houses and no doubt has the promoter and distributor, GEO Films, laughing all the way to the bank — and all this despite two fatwas being issued against it.
Khuda Kay Liye is a sensitive film which revolves around three main characters, Mansoor (Shan), Sarmad (Fawad Khan), and Mariam, aka Mary, (Iman Ali). Brothers and pop stars, Mansoor and Sarmad are passionate musicians who believe that music knows no bounds. However, their growing careers and tight relationship are shattered when Sarmad, misled into believing that playing or listening to music is a sin in Islam, gives up his art and sinks into the abyss of fanaticism.
Born and bred in Britain, Mary is Mansoor and Sarmad's cousin. Her father, played by Humayun Kazmi, has been in a live-in relationship with a British woman for years, yet when he finds out that his daughter wants to marry her Brit boyfriend, he is struck by the spectre of non-Muslim grandchildren. Thus, he tricks Mary into accompanying him to Pakistan to meet the family from whom he's been estranged for over 30 years. In Pakistan he urges his nephew Mansoor to marry his daughter and to save his following generations from the fires of hell. However, Mansoor refuses to wed Mary under false pretences. Upon his refusal, Mary's father approaches Sarmad and asks him for help. Sarmad, with his religious guide's beaming approval, takes Mary and her father to Afghanistan where she is married off against her will to her polar opposite.
Meanwhile, in the wake of Mansoor and Sarmad's falling out, a disillusioned Mansoor leaves Pakistan to study music in Chicago. There he meets, falls in love with and marries fellow student and musician Janie (Austin Marie Sayre). But the extremism he ran from in Pakistan finds a new way of infecting his life: the 9/11 attacks lead to his arrest by the FBI.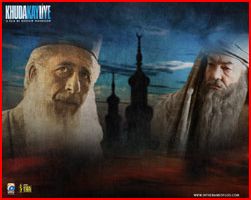 Shoaib Mansoor has executed a controversial and thought-provoking story with great finesse in Khuda Kay Liye. Contrary to popular belief, Shoaib Mansoor does not use the film to point fingers at anybody. Filled with various shades of grey, the film, through a wide spectrum of realities, brings to life only one basic idea: Islam is not only being misunderstood and misused by the West, but also by those who claim to be its sole custodians.
One of the best things about the movie is its realism. Several scenes are cinematic representations of what most of us are thinking. Sarmad questions the validity of and the sense behind the jihad the Taliban and the Northern Alliance wage against each other in 2001. "How can the murder of one Muslim at the hands of another be called jihad?" he asks his religious guide. Then there is Naseeruddin Shah, who plays the role of a liberal Muslim maulana. While delivering an impassioned monologue on the principles of Islam, he says that Islam comes from within an individual. Trapped in Afghanistan and married to a man that she has come to loathe, Mary, a symbol of an oppressed gender, prays for her unwanted child to be a boy so that he can survive their barren life. And Mansoor, while being questioned by the FBI, continues to stress that all Muslims are not terrorists, and those that are terrorists are not Muslim.
Unfortunately, the casting has diminished the overall reality of the film. Shan and Iman Ali, while giving good performances, are miscast. In the first half of the film, Iman Ali looks too old to be playing the role of a chirpy and naïve young girl who is tricked into an unwanted marriage. Shan also suffers from the same predicament: he looks too old to be playing the role of the optimistic young man who believes in no evil.
Out of the three lead actors, Fawad Khan is the most impressive. He plays a very difficult role with maturity and great understanding. But it is Naseeruddin Shah who, in just 15 minutes of screen time, steals the show. Despite having to deliver extremely emotional dialogue, his voice modulation is perfect and his expressions are spot-on.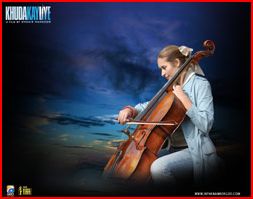 The music of Khuda Kay Liye has the patent Shoaib Mansoor stamp. Arranged by Rohail Hayatt, the songs are powerful but soft and, above all, melodious. Mekaal Hasan Band, Ahmad Jahanzeb and Shuja Haider — Shoaib Mansoor has used some of Pakistan's best known musical talents to provide the vocals for the songs. The result astounds.
There is no doubt that the making of this film was an uphill task. Actors, including Junaid Jamshed and Ali Zafar, backed out of the film due to its controversial subject causing time delays, and a fatwa was even delivered against its release by the late Maulana Abdul Rashid Ghazi, who called the film un-Islamic. Even now, after the film's release, there are religious factions who are advising people with weak faith to avoid watching the film. However, despite all the hurdles, Shoaib Mansoor has produced a film that could very well prove to be the catalyst for the revival of cinema in Pakistan.
"Khuda Kay Liye says a lot of things that needed to be said. And considering that it's a Pakistani film, Shoaib Mansoor and the team need to be appreciated for a job well done," said a guest present at the premiere of the film. There is little doubt that the film is doing good business. People from all walks of life are flocking to the cinema to watch Shoaib Mansoor's magnum opus, and Prince and Cineplex, the two cinemas showing the film in Karachi, have had to increase the number of shows to accommodate the overhelming demand for tickets. "Given the opportunity, I could probably watch it at least five more times," enthused Fatima Zakir, a Shoaib Mansoor fan.
According to sources at GEO Films, the film is doing much better than imagined. "Our box-office gross after the first week, despite a limited release in selected cities of Pakistan, is over one crore, which is excellent," said Mohammad Nasir, the central content editor at GEO Films. A labour of love, Khuda Kay Liye is a thinking man's film. And considering the attention this film is getting from the masses, it seems that there is a large crowd of Pakistanis who are more than ready to do just that: think. That is a good omen not just for cinema, but also for the future of the country.
Next