Q magazine calls them "one of the biggest bands in the world." CNN dubbed them "the biggest band in South Asia," and The New York Times, "the U2 of Pakistan." For us, they are simply, 'our boys.' So does Junoon, the biggest crossover success since the late great Nusrat Fateh Ali Khan, need an introduction? I think not.
However, for those of you musically unconscious for the better part of the last decade, Junoon has done it all. Playing to millions of adoring fans around the world and showered with innumerable accolades, on both sides of the east-west divide, all of their albums have gone platinum. And, as all respectable rockers should, they have also incensed those firmly embedded in the political status-quo. With outspoken messages, dubbed by some as "a hypnotic whirlpool of sedition," Junoon has created a genre of its own, building bridges, shattering myths, and has essentially, changed the face of pop-culture forever. But what actually lies beneath this unique semblance of creative energy?
We caught up with the band at the shooting of their new video 'Taara jala,' their new album Deewar's opening track. It is one of the few times that lead guitarist Salman Ahmed, lead vocalist Ali Azmat and bass guitarist Brian o' Connell are in Pakistan together.
And as we found out, there is simply no average day in the life of Junoon. They might find themselves meeting royalty and men of state one minute and conducting vigils or subversive demos the next. They may very well also find themselves stranded on a beach in Goa with Indian filmstar Jackie Shroff, as Ali once was; or in the back of a limousine with the Gallagher brothers out on London town; scouring the streets of New York for cigarettes with the one-armed drummer of Def Leppard, or even stumbling into a non-descript bar and jamming with Kenny G, who had dropped in to play a sax solo!
These rockers seem to exist on a plane of their own — shuffling between continents and hotel rooms around the globe. For them, life is a connecting flight between gigs, dreams and emotions, and jet lag is a constant companion.
Salman currently lives in New York, where he has recently made a VH1 documentary called 'The Rockstar and the Mullah,' to be aired internationally next month. And although quite the family man, Salman is a restless spirit in constant pursuit of mystical ecstasy. This embodies the soul of Junoon, with Salman's passionate energy propelling the band to heights previously unimaginable. His tireless activisim landed Salman the unique job of UN ambassador for HIV/AIDS. And it is no secret that the band is essentially political. Notable among their legion of fans is Secretary General of the UN, Kofi Annan, at whose invitation Junoon performed at the UN General Assembly, making them the first band in history to do so.
Junoon's latest album Deewar is unlike any other journey the band has embarked on. Shedding their sufi skin and formula-driven style, the band opts for a more experimental venture. "We never created this image for ourselves, it was pasted on to us," says Ali. The entire album, it can safely be said, is reflective of the world. "It's an uncertain place these days, and that uncertainty is our guiding force," explains Salman.
The band is branching out in more ways than one. Ali has almost completed his new solo album, and is also the only member of the group living in Pakistan full time. With so much time on his hands away from the band, he has even recorded a song and video for Pooja Bhatt's new movie Paap. His day apparently begins at 10:00 a.m., and from then onwards, its work, work and more work until 5:00 a.m. the next morning, when a pooped-out Ali returns home to the cosy nest of his 7th floor apartment. Most of Ali's day is spent at sound checks, TV recordings, promotional events and then, there is "the nitty gritty paperwork to do." The better part of the day is spent at the studio, where Ali meticulously records and mixes, inching closer and closer to the sounds he wants to achieve. "I have a vision for every song that I write," says the perfectionist in him. "I know exactly how I want it to sound." And so the session continues, coming to a close only when the tenor is satisfied with the day's proceedings. Those that work with him will tell you that Ali is a fire that flares up constantly. He never minces his words, and never shies away from speaking his mind. "I don't like to sugarcoat things," he says. Predictably, Ali causes a stir wherever he goes, especially when caught motor-bike racing with his elementary school buddies, who have remained friends to this day. But Ali's ideal recreation is putting his feet up! To quote him quoting someone else: "The greatest wisdom comes out of nothingness."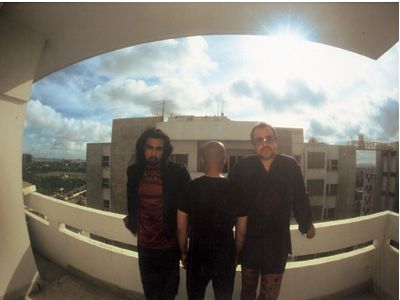 By far the most elusive member of the band, Brian divides his time a stone's throw away from Ali's pad in Karachi, and New York. The complete antithesis of Ali, he is a quiet, yet immensely cerebral man who, ironically, shies away from the limelight. Brian met Salman when he was just another aspiring rocker, in a high school in the US. The two bonded, jolting basements and garages with their Van Halen imitations. Brian came to Pakistan in 1992 on the invitation of his old friend, who had just left Vital Signs at the peak of his career, and decided to form a new-age rock band called Junoon. A practicing Christian and true dreamer, Brian immediately quit his job with a non-profit organisation and set off on a journey which would end up making "this strange land his home. I fell in love with the soul of the people," he says. Another set of strings would soon be played: those of his heart. In Karachi, Brian met and fell in love with model/actress Ayesha Alam. The two soon married and made two lovely girls, Rachel and Ally. He is also a wonderful father, who tries to spend every free moment with his girls. Swimming is always on top of his list.
Nearly 12 years down the line, and despite his recent divorce, Brian feels that he has undeniable roots in Pakistan. His innovative bass anchors the Junoon sound. In fact, he is in essence the 'fuse,' responsible for harmonising the western 5-string bass riffs with the traditional tabla and drums. In the band's own words, "Brian's industriousness is infectious. He forms the bedrock on which Junoon is based." Brian has also recently opened a guitar school in Karachi, where he teaches courses in acoustic, electric, bass and rhythm gutairs, as well as music theory.
Junoon have played to millions of impassioned fans around the globe and are considered one of the best live acts around. The energy between them, on stage, is phenomenal. And it's an energy that may very well propel their image from just another cross-over band, to that of global icons
Next