The Full Circle Gallery is unobtrusive and easy to miss. However, if you do happen to stumble inside, count yourself lucky to have discovered one of Karachi's best kept secrets. With a quaint interior, a library and small sitting space, the gallery has a charm of its own. Still relatively new and lesser known than some of the other, more established galleries in the vicinity, it remains low-key. Which, perhaps, is part of its appeal.
Recently, the gallery hosted the works of eight graduates of the Indus Valley School of Art and Architecture (IVSAA), titled Deconstruct. Housing up to 44 works of various sizes in different mediums in a small space, and that too in a way that doesn't look 'cramped,' isn't easy to pull off, but curator Scheherezade Junejo manages to make good use of the given space.
Though new graduates, Syed Kashif Ali Mohsin, Marium Kamal, Rameez Rehman, Sundus Talpur, Mahmil Masood, Quratulain Qamar Choudhry, Sikander Butt and Azmeena Alladin are not unfamiliar names to those who frequent art exhibitions, as all of these young artists have showcased their works previously — at Canvas Gallery's Fantastic Frostings and VM Art Gallery's Emerging Talent exhibitions last year; or more recently, at Koel's Slightly Lucid and Amin Gulgee's Fresh, this year.
As the name of exhibition suggests, the artists make use of familiar objects or themes from their surroundings and take them apart to reconstruct or examine them more closely. In the process, they question cultural norms and many taken-for-granted assumptions. For example, Azmeena Alladin takes mundane household, kitchen utensils (forks and plates) to symbolise domesticity, and by extension, a woman's role in the home and the world. However, these metallic objects are also hard, tough and even threatening — they signify utilitarian domesticity, but, given the right time and situation, can be turned into weapons.
In keeping with the theme of femininity, Sundus Talpur's 'The Many Faces of Eve' series sees the use of hardened, lace fabric to create a set of mask-like sculptures. "I enjoy experimenting with different materials," says the sculpture major. "Since graduation, I've been working as a jewellery designer at Aura Art, and I'm trying to interweave the two processes to create my own brand of design. Thematically, these veil-like masks represent the disguises we put forth, and symbolise the superficial and disingenuous side of society."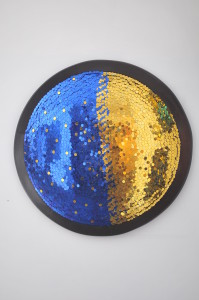 Similarly, Mahmil Masood comments on society's excessive materialism and the negative effects of consumerism in her works. In 'All That Glitters,' she uses bits of plastic, trash, gold wires, threads and wrappers to create what looks like a quilt, but is also a map of a shopping mall, with various brand names etched in. While previously, people would tailor their own clothes and each ensemble would be unique, consumer culture dictates dressing now. The installation conveys a sense that, in the process of modernisation and the quest for the glamorous, we are losing something more valuable.
Quratulain Qamar Choudhry quite literally deconstructs an old brass clock, exposing its inner workings. A large, square-shaped magnifying glass is placed in front of it. It is mechanical and technical in appearance, but Choudhry's intent is nostalgic. "Through the artist's eyes, time does not pass; it simply continues, elongating each emotion that comes with it, to no end. Hence, each screw and gear of a clock are constant reminders to her, of the eternity and infinite nature of time," Junejo writes.
Anyone who got a chance to see Rameez Rehman's works last year at the Canvas Gallery would instantly recognise his eye-catching, mirror-on-wood series this time around. The interesting thing about Rehman's works, with names like 'The Name of God,' 'Alif,' 'Fajr' and 'Maghrib,' is the use of reflection, that present the observer's own self back to him. Your beliefs are a reflection of yourself? Or you only see what you wish to see? Whichever way one chooses to read into it, the viewer can't deny his own subjectivity when forming judgments, which is probably Rehman's point.
Keeping with the 'spiritual/religious' theme, albeit with a drastically different and more 'worldly' approach, is Sikandar Butt with his photo-manipulated, digital painting titled 'Islam Main Dari Hai, Dari Main Islam Nahin…' From far away, it appears to be the head of a horned demon, with human faces peering out from within. It's the stuff of nightmares, and reminds one of the Medieval era paintings in which artists depicted what they imagined hell to look like. However, step closer, and the image turns out to be an optical illusion, as the demon morphs into a bearded man. The artist is not only questioning overt displays of religiosity, but also commenting on the hell on earth the 'pious' ones create for others.
One of the byproducts of that kind of religiosity is sectarianism, something which clearly troubles artist Syed Kashif Ali Mohsin, and he explores this in his graphic novel, Maut ki Parchi. In early 20th century Prague, Kafka wrote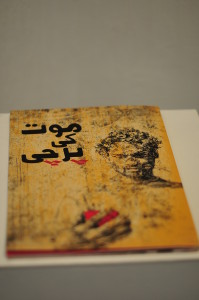 about a man, alienated from his surroundings, who wakes up one day to find himself transformed into an insect. In 21st century Pakistan, Mohsin, in an environment of intolerance and religious hatred, finds himself (if the character in his works are, in fact, self-portraits) transformed into a bed-bug (khatmal) — a derogatory and dehumanising term used for Shias.
And last but by no means least, Marium Kamal's works are an ode to her city and come from a place that is part affection, part trauma. For example, in 'It's Just an Explosion,' Kamal burns parts of her coffee-stained canvas and fills the "voids" that are created (the burnt parts) with her inner thoughts after reading about a bomb blast in the news.
It was interesting to see the artists experiment with different mediums and ideas, deconstructing their surroundings and identities, and in the process, constructing their own distinct identities as artists.
This review was originally published in Newsline's June 2014 issue.
The writer is a journalist and former assistant editor at Newsline.
Next