If there's one season that never goes out of fashion, it's the wedding season. While it's true that Bridal Couture Week (BCW) lacks the edginess of its hipper cousins (the many other fashion weeks that pepper the social calendar), it is quite likely the most lucrative of all, geared for a much larger and more 'mainstream' target audience. Being aired on Hum TV further adds to its appeal.
Day One 
This year's BCW, sponsored by Pantene, kicked off with Amir Adnan's Man Kunto Maula menswear line. Taking inspiration from the poetry of Amir Khusro, the sherwanis and waistcoats in predominately light pastels, powder blues and khaki or in bright reds, mustard and black with gold calligraphy, were paired with straight trousers or baggy harem pants, and showcased Adnan's classic craftsmanship.
Zainab Chottani is renowned for her elaborate bridal wear, and this time around, she included something for each occasion, starting from the mangni-rasam (the engagement ceremony) and ending with the valima. Chottani's clothes were the highlight of the evening; her navy blue valima line being especially stunning. However, the collection was so rich and ornate, that small embellishments kept falling off the outfits and onto the ramp, and models struggled not to trip over their own, or another model's, flowing trail.
Kuki Concepts kept its focus on cuts and colour, making use of a kaleidoscope of bright hues in their cholis,lehengas, ghararas and rani coats. Atiqa Odho and everyone's favourite villain, Shamoon Abbasi, made a surprise appearance.
Other designers who showcased were Tena Durrani, Sana Abbas and Amina Yasmeen.
Red is the colour of Nomi Ansari's new wear. The evening came to an end with a surprisingly traditional collection by Ansari, titled Ishq. Male models in bright red kurta pajamas or banarsi waistcoats and overcoats and female models in what looked like Ram-Leela inspired ghagra-cholis and painstakingly detailed embroidery, enthralled the audience.
Day Two
First up was Zaheer Abbas with Jashn-e-Janaan, a "celebration of love." Dominated mainly by dull golds, olive greens and deep maroons, the collection had an element of understated sophistication. Actress Humaima Malik, Abbas' showstopper, made an appearance in a classy, cream-coloured lehenga.
Next, Somal Halepoto made her debut at BCW with a bang. A throwback to the '70s, her neon pinks, fire-engine reds, flashy yellows and oranges, and the use of silver embellishments, along with the Disco Dancer sound track, seemed to jolt the audience to attention. A collection so bold can't be everyone's cup of tea, but kudos to Halepoto for being brave enough to take a risk and add some much needed 'fun' factor to BCW.
By contrast, Uzma Babar's collection, with its subdued colours, traditional designs and motifs and elaborate necklines, had a more 'mature' feel to it.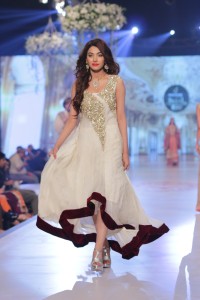 What occurred next, no one would have guessed. Instead of a willowy model opening Rani Emaan's Jewel of the Nile collection, in strolled Tony (of The Nadia Khan Show fame). Tony pranced around and sang tracks from Namak Halal, while models sashayed up and down the ramp, leaving one… speechless, really. Or, as HSY remarked: "…My God, Tony." Entertaining for some, it was perhaps not the wisest choice, as it detracted from Emaan's clothes. The ever-graceful Zeba Bakhtiar and Maria Wasti were the show-stoppers.
After a hair and makeup presentation by Sabs, which included a guest appearance by old-timer ZQ, the highly-anticipated display by the 'Power House of Fashion' lived up to its title. Kamiar Rokni, Sana Safinaz, Ali Xeeshan, Khadijah Shah, Shamaeel Ansari, Umar Sayeed and Nickie Nina showcased a sample of their designs each.
Similar to her showing at last year's BCW, Yasmin Zaman's segment opened with Neha wearing a midriff-baring choli. Though Zaman cited the Mughal era/Central Asia as her inspiration, some of the clothes appeared more Rajasthani, and the designer used a dose of bright, unconventional colours in shades that truly stood out.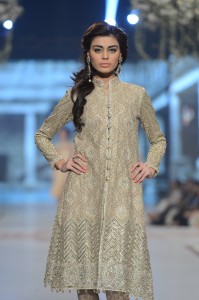 Neither words, nor photographs, do justice to Faraz Manan'sexquisite collection titled Istanbul. Inspired by the city that rests between Europe and Asia, the outfits, with delicate thread work and Swarovski embellishments on stony greys and pale pinks, exuded glamour and quite literally lit up the stage. Class act, Manan.
The jewellery for the collection was provided by Sherezad Rahimtoola. In fact, all the jewellery designers deserve a special mention, as I often found myself eyeing the elaborate jhoomars, matha pattis, neckpieces and earrings the models adorned, instead of the clothes on the ramp.
Day Three
The best was saved for last, as the final day of BCW proved that bridal fashion doesn't always have to be predictably monotonous.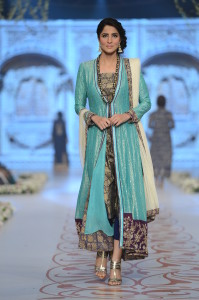 Nida Azwer made a departure from her classic whites in Kothari Parade II, using mostly aqua green, navy blue, grey and rust — the colours of the city by the sea. One would think that a lehenga paired with a cropped jacket would make for a poor combination, but Azwer pulled it off with style and grace. The designs were unconventional, but oh-so-beautiful, and set the bar high for the remainder of the evening.
With a distinct Luckhnavi sensibility, Mifrah's collection was an ode to old-school refinement, but designed with the modern bride and groom in mind. The designer made rich use of golds, browns, peaches and off-whites as the two handsome stars of Bashar Momin, Faisal Qureshi and Yasir Mazher (if the faded-mohawk is back in vogue, it's thanks to these two gentlemen), and Aijaz Aslam walked the ramp.
Tabassum Mughal is another designer making waves with her avant garde haute couture wear, which sees the flawless merger of art, nature and fashion. Unlike many designers who continue to linger within their comfort-zone (the clichéd and safe Mughal-inspired bridal wear), this designer is not afraid of pushing the boundaries, and instead drew inspiration from the Renaissance period. Mughal's overcoats, flowing gowns with high collars and floral motifs, are for the bride who dares to be different. Her use of lace, chiffon and velvet in deep greens and ruby-reds brought to mind the royal courts of the Elizabethan era.
Nauman Arfeen's collection brought a smile on the faces of audience members, as children walked onto the stage in colourful sherwanis and one-size-too-large turbans. Exquisitely tailored sherwanis are Arfeen's signature, and he did not disappoint, as actors Moammar Rana, Farhan Ali Agha, and Aijaz Aslam (once again) modelled his clothes.
Asifa and Nabeel also showcased their Noor-e-Kuaar collection, with singer Gohar Mumtaz and his wife making an appearance.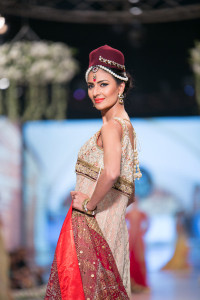 What can be said about Deepak Perwani ("Karachi ka shahzada," HSY referred to him affectionately), that hasn't already been said countless times before? But one look at his Silk Route/Ottoman-themed collection, with its use of block print, net, silk and organza, and all the hype and accolades begin to make sense.
To wrap up, HSY displayed his much-talked about The Orchidcollection. The ramp was decorated with fresh flowers, and the models bloomed in motia, which they wore in their long plaits or in place of jewellery. It was simple, classic elegance. A fitting finale, despite ending a bit late. HSY also announced his plan to radically slash the prices of his bridal wear and offer credit: "I want every woman in Pakistan to wear HSY on her wedding day," he revealed his ambitious plan.
We'll hold you to it, Sheru.
This feature was originally published in Newsline's June 2014 issue.
The writer is a journalist and former assistant editor at Newsline.
Next