Book Review: Torment and Creativity
We've all heard of the Hollywood superstars whose bipolar disorders and creativity have been talked about in the same breath — Frank Sinatra, Carrie Fisher and Catherine Zeta-Jones, to name just a few. But, Shamim Ahmad, a retired senior civil servant with a keen interest in the relationship between literature and psychology, and a Master's degree in the latter, brings this concept closer to home by discussing the life and work (and the correlation between the two) of several literary geniuses from the subcontinent. Eight Urdu writers, including Saadat Hasan Manto, Faiz Ahmad Faiz and Allama Iqbal, as well as many of the literary giants that form the western canon, such as Shakespeare, T.S. Eliot and the Brontë sisters, comprise Ahmad's selection.
The title, Torment and Creativity, is a conveniently succinct summary of the author's thesis — that creativity is often (but not necessarily always), the fruit of pain and suffering. It consists of 12 re-published articles, written previously for a local newspaper and other periodicals, along with some new additions.
What makes Ahmad's endeavour captivating, however, is not the concept; the link between creativity and mental disorders is one that has been espoused by several psychologists, psychoanalysts and neuroscientists over the years, going all the way back to Plato. Famously, Dr Arnold Ludwig studied the lives of over 1,000 artistic people for 10 years in pursuit of this theory, while Plato claimed in Phaedrus that any poet who believed he could achieve greatness without "madness" is thoroughly mistaken. It is the insight Ahmad gives readers into the private worlds of many respected Urdu writers and poets that makes Torment and Creativity an enlightening read, as it is such a scarcely discussed subject.
For example, Ahmad links Manto's rebellious nature, evident in Khol Do, Thanda Gosht and Ooper Neechay aur Darmiyan, to an Oedipus complex, which is characterised by an intense hostility towards one's father. Evidently, Manto had a very troubled relationship with his father and elder step-brothers. He did not receive any affection from them in his childhood, and they offered him no help later on in life, when he was in dire financial straits. Manto, in turn, grew to despise his father and brothers and, subsequently, all 'father figures' (i.e. authority, norms and customs). Ahmad uses this to explain the explicit content featured in many of Manto's writings and also his dependence on the bottle — the writer's way of defying his father and all other forms of authority.
Besides the Oedipus complex, Ahmad discusses four other psychological disorders: The Adlerian doctrine, which dictates that an inferiority complex creates a need to compensate oneself through achievement; the Phaeton complex, which results from a lack of affection during childhood motivating individuals to overcome the resultant anxiety through material success; bipolar disorder, which causes extreme mood swings between depression and mania, with the latter often leading to bursts of creativity; and a cognition of the universality of pain, which is an acute sensitivity towards the pain of others often inspiring individuals to counter the anxiety through vivid expression.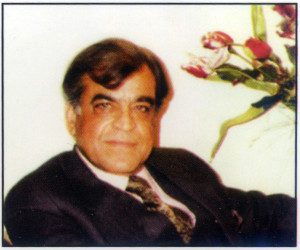 Thus, Ahmad credits the Brontë sisters' success to their Phaeton complex: their mother died early leaving them at the mercy of a cold-hearted father. They struggled to support themselves financially and their literary success only came after much hardship and for one of them, posthumously. Sylvia Plath's depression, a symptom of her bipolar disorder, has been linked to an unfaithful husband, which led to her eventual suicide. However, it also became the driving force behind the 25 poems that are now considered her best work, which Plath penned in the period before her death, after her husband deserted her for his paramour. In Mirza Wajid Hussain's denunciation of his contemporaries, including Ghalib, Ahmad identifies an inferiority complex, which incited him to become the most published poet in literary magazines of his time.
The book is scattered with hilarious and thought-provoking anecdotes and vignettes from the writers' lives. Who knew, for instance, that Faiz Ahmad Faiz was petrified of cockroaches? Or that Sahir Ludhianvi lived a very Howard Hughes-esque life — the centre of fame, fortune and respect, he could not enjoy it because of his social phobias and died in the seclusion of his home.
But, as with any psychological study, the book suffers from the threat of reductionism. Attributing a great writer's success to a single psychological disorder, and in just about 10 pages, might be an over simplification. And Ahmad is well aware of this, as he acknowledges in the prologue that his study is not conclusive.
Moreover, Torment and Creativity attempts to be both a psychoanalytical study as well as a biographical narrative, which leaves the reader dissatisfied as it fails to do justice to the title of the book in many places. Instead of providing an analysis of the connection between the two, the author often provides the biographical and literary narratives separately. When discussing Iqbal, for example, Ahmad provides a relatively detailed account of the writer's life and work separately, but there is little discussion of the correlation between the two.
Finally, psychological disorders tend to be co-morbid with overlapping symptoms. One may find all the chapters blurring into one as the same symptoms are flagged repeatedly — all the writers seem to have suffered from depression, lack of affection and a general angst. In fact, in the introductory chapter, Ahmad's definitions of the Adlerian doctrine and the Phaeton complex overlap. He explains that both disorders result from a lack of attention during childhood which the individual seeks to redress in some way, but he is not able to identify the precise difference. One might therefore question the authenticity of the clear-cut divisions he draws between the five disorders.
However, Torment and Creativity is a great starting point for similar future endeavours as it has laid the foundation for works of this nature in Pakistan.
This review was originally published in Newsline's June 2014 issue under the headline, "The Agony And The Ecstasy."
Hiba Mahamadi was an Editorial Assistant at Newsline
Next