Restaurant Review: The East End
Although not located on one of Karachi's  more popular food streets (in fact, the location is an unlikely one for an eatery), it has already become quite popular with foodies. The name of the restaurant also belies its ambience, as does the cuisine on offer. While The East End seems to suggest a restaurant catering to English cuisine, its décor with mosaic, ethnic tiles and pebbled flooring, low wooden roof, large indoor plants, walls boasting rickshaw prints, jharoka windows acting as partitions and dim lighting courtesy the low hanging lamps over each table, loudly proclaim the restaurant to be every bit desi.
While one is still taking in the elegance of the rustic décor, the menu takes the first-time visitor by surprise. With a limited selection, comprising Bohra specialties, the restaurant offers a choice of three kinds of five-course meals — and within each group, one can choose from a selection of three to four entrées.
Our party of four decided to order three of the five-course meals to share among us: two belonging to the same group, but with different entrées, and one from a separate group. Each of the five-course meals comprises a drink, served in miniscule glasses (but you can always ask for refills), with two types of starters, an entrée, another drink and a dessert followed by tea.
With complimentary detox water — for the uninitiated, this is the latest rage among health-freaks, comprising water infused with lemon wedges and mint leaves — setting the tone of our meal, we were presented the first course consisting of mirchi and ghatia served with imli aur gur ka pani. Unusual to say the least, the appetizer was appealing and the ghatia fresh and crisp, but the mirchi was surprisingly not very hot. The drink on the other hand was a little too sweet for all of us.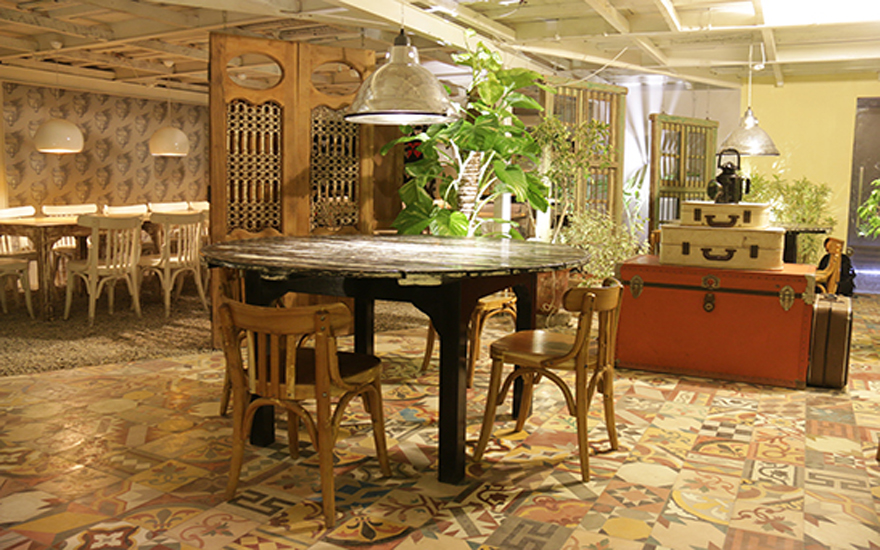 The second course in two of our orders comprised dahi wagarh, which was a delectable potato and eggplant dumplings dish with mint yogurt, chutney and papri, while the other order consisted of aloo papri with imlichutney. The latter, far from the aloo chaat we were expecting, comprised mashed potatoes sandwiched betweenpapris and served with tamarind chutney. Needless to say, it was consumed in no time. The third course that came with our menu selections comprised aloo chops (mashed potato cutlets stuffed with minced meat) andshami kebabs, both served with green chutney, and stuffed puris. The small puris came with three different fillings — jaggery, potato and tomato. While the latter two were appetising enough, the former was too rich for my blood.
The main courses we opted for were prawn karahi served with garlic naan, Bohra biryani meeri gosht and raanroast in a dry red paste with daal chawal and palida. While the prawn karahi was delicious, we wish the service of the naans could have been more efficient. Athough we were assured that we would get as many hot naans as we required, they took so long coming (despite our constant queries) that the karahi got cold. In fact, if we had to pin-point the restaurant's greatest weakness, it would have to be the service.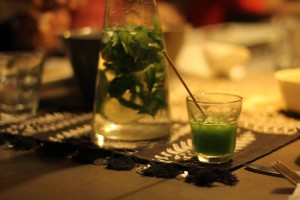 The Bohra biryani was a delicious chicken biryanidish with lots of saffron to enhance its flavour, while the meeri gosht was a liver and kidney masala. While I found the raan a bit tough (although my companions enjoyed it), the daal chawal served with it was delicious and reminiscent of home-cooked masoor pulao with just the right amount of chillies and masala. The palida, a thin lentil dish akin to sambhar but with pumpkin chunks, was also tasty.
The next course comprised a different set of drinks, again served in miniscule glasses, so we managed to get a taste of all that was on offer. From the three that were served to us — namkeen lassi, mint shot and coconut-cream — we found the latter two very refreshing.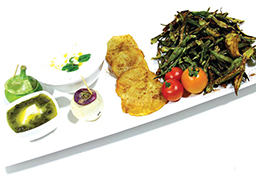 The dessert choices were surprisingly limited and not too exciting. There was a choice of two: kulfi/falooda andghandum halwa with cream, nuts and pineapples. Need I add that they too were served in small glasses? While the former was nothing to write home about, the latter turned out to be far more appetising than it sounds, but still not really what we were looking for to end a good meal.
The final offering in our wholesome meal was a choice ofkehwa and tea, which brought an overall pleasant experience to a warm end. Despite a few downsides, The East End is definitely worth a try. So go for it!
This review was originally published in Newsline's June 2014 issue under the headline, "Bohra Twist."
The writer is a freelance journalist based in Karachi. She also works at Hum television.
Next