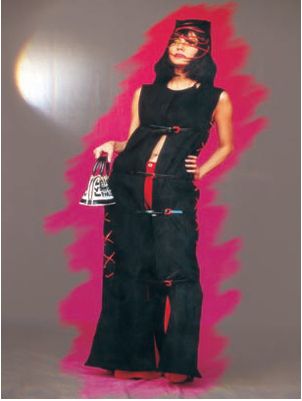 The shuttlecock burqa has had more press coverage this year than Mathew Williamson's remarkable spring showing. Or Armani's office chic. Or even the Oscar gowns. In fact, the shuttlecock burqa has been written about more than any other item of clothing this year. It is enough to make international designers go green with envy.
Whether it was Afghan women trudging through refugee camps or Arab women walking through Bond Street or MMA nominees sitting in the assembly, the footage shown on television always revealed the burqa. Why this fascination with the veil?
To most, the shuttlecock burqa is a symbol of oppression, terrorism, fundamentalism — and of Islam. Though this perception is now universally accepted, the reality is that the shuttlecock burqa is a symbol of a particular culture and not a particular religion. In other words, it is no more and no less than a fashion garment.
And it was to explain this concept that seven of the country's most innovative designers directed all their creative energies towards designing shuttlecock burqas. The results are before you. This experiment was conducted in a spirit of fun and games but, with the MMA's impressive win in the elections, many designers may well end up designing shuttlecock burqas alone.
If this were to happen, at least the following seven designers will have a cutting edge on the rest.
Next