Brooding Rothkos and fiery Picassos rarely figure in the present-day artscape — the decline of formalist tendencies not only ended the notion (myth?) of artists as potential geniuses but also resulted in them emerging more often from private studios and galleries into public spaces, with the intent of making art more accessible to the masses. This jump from an absolute to a relative mindset de-centered the artist as an individual entity, resulting in more and more collaborative ventures and projects, where groups of artists joined hands to depict common themes and ideologies.
The past few decades in Pakistan have seen a rise in the popularity and occurrence of thematic shows and workshops, organised by curators and galleries. Many artists, particularly those working with a language derived from popular culture, have pooled their efforts and resources into joint projects. While these shows were open to different approaches of expressing a similar idea, last year's Takhti Exhibition, a tribute to the late artist, Zahoor ul Akhlaq, was probably the first show in which artists were asked to work upon a uniform object — the wooden takhti, or writing tablet used in public schools. Similarly, this year's 'Dish Dhamaka,' a show curated by sculptor Amin Gulgee, followed the same route by asking 20 artists, architects and designers to present their ideas using satellite dishes, a common feature of the cityscape and a symbol of globalisation and technological advancement.
Showcasing the works of well-known artists like Tapu Javeri, Noorjehan Bilgrami, Abdul Jabbar Gull, David Alesworth, Masood A. Khan and Amin Gulgee, as well as emerging artists like Roohi Ahmed, Sumaira Tazeen, Danish Raza, Khurram Khan, Ayesha Khan, Munawar Ali and many others, this show, on display at the Amin Gulgee gallery this December, was originally meant to be exhibited in the gardens of Frere Hall, last year. However, the gallery space worked as well for this exhibit as it did for the VASL project two years ago and the Uraan exhibition earlier this year.
An eclectic use of media was employed by the participants, ranging from cotton, plaster, tiles, cement, sand and mirrors to aluminum, copper, oils, acrylics, postcards, silicone and papier mache. While most entrants worked with the standard fibreglass dish, some like the architect Hussain Halai and the printmaker, Sairah Ali Dada, constructed their dishes using different materials, and others like Noorjehan Bilgrami and Rehmah Iqbal made their dishes a part of an installation.
While diverse attitudes were presented, the overriding tone of the show was caustic and highly critical of how the satellite invasion has enforced greed, materialism and values that were previously foreign to this culture. Munawar Ali's entry, titled, 'Delicious Dish', presented a juicy red apple in the middle of the dish, with bodies lying on the rim, stating, "What the dish offers looks beautiful and tasty. You can see it and you can eat it, but at your own risk." Another piece lying flat on the floor was by the sculptor, Abdul Jabbar Gull, depicting the dish as a beggar's bowl for accepting new values and philosophies without any understanding or resistance.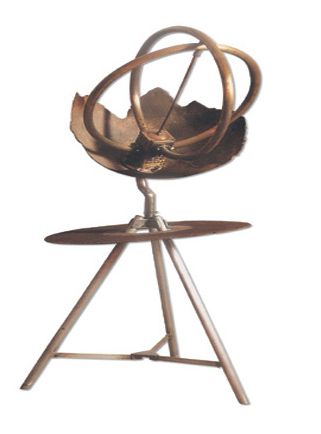 Similarly, Ayesha Khan, Danish Raza, Rabia Shoaib, David Alesworth and Rizwan Malik also explored the negative implications of globalisation. A stunning entry by the latter (a designer by profession), titled, 'This Is an Ad,' very effectively conveyed the resultant vacuum created by consumer culture. Using velvet and a computer key to create a stark and slick orange dish, this piece recalled the void that was characteristic of the paintings of the French artist, Yves Klein and the Russian painter, Kasimir Malevich.
Sculptor and art educator, David Alesworth, also explored the negative impact of media giants and corporations in his dish titled, 'Event horizon.' Using logos of franchises like Mc Donald's and KFC, the piece depicted how a false picture is painted via satellite television, of exotic lifestyles, to lure viewers from less developed countries into their trap.
Some participants like Roohi Ahmed and Khurram Khan engaged more with the form of the dish by creating beautiful and sensitive surfaces; the former used plaster, wire, papier mache, cloth and watercolours, while the latter used oil paints. Others like Tapu Javeri, Sairah Ali Dada and Amin Gulgee used archetypal and biblical icons to depict a very personal vision.
The installations by Rehmah Iqbal and Noorjehan Bilgrami were as differing in tone as they were in their use of mediums. Rehmah used two inverted fibreglass dishes to create a kind of resting area, combined with playful shapes created from plastic cable and metal pipes, and coated with enamel paints. Noorjehan's installation, titled, 'Techno-logical advance-ment', on the other hand, composed of natural objects such a tree branch and pieces of coal, exuded a deep sense of foreboding.
However, the most noteworthy entry in the entire exhibition was Hussain Aftab Halai's dish created from recyclable metals and found objects. Inspired by the ship breaking process in Gadani, this piece was a refreshing affirmation and a symbol of ascent amidst the many voices of doom. Celebrating natural and scientific evolution, its inspirational tone reminded one of the unforgettable moment from Stanley Kubrick's classic film, 2001-A Space Odyssey, when a bone hurtled in the air by a prehistoric man, transforms into a space-craft.
There were some entries that either failed to make a strong impact and engage with the form of the dish in any way, or were completely out of context. For instance, the image created by Masood A Khan, beautiful as it was, could well have been made on a flat surface. This was also a problem in the Takhti exhibition, where some participants, while creating pleasing images, failed to engage with the format of the takhti. Another dish that fell flat was Sumaira Tazeen's, 'Aur Baat Bangai,' which, despite its lofty intent, failed to make any profound social statements.
Nevertheless, the overall impact of the show was very strong; a lot of credit goes to its curator for not only putting such a monumental show together, but for seeing it through to its end, despite the many drawbacks that were encountered along the way. When this level of involvement and labour goes into any exhibition, it deserves to be catalogued and travel to different parts of the country.
Next