2002 has been an eventful year for Pakistani pop — throwing up new talent and seeing seasoned musicians jealously guarding the limelight by releasing fresh material. While some of the golden oldies rode to success once again with a casual deconstruction of their trademark tunes, the year also saw a series of near misses which stayed at the bottom of the charts.

Junoon's only release this year was Daur-e-Junoon, and the less said about that, the better. Suffice it to say that they had nothing new to offer their loyal fans, and even Hadiqa Kiyani's Rung , wasn't as magical as her past attempts. The new crop, on the other hand, are full of exciting promise, with the likes of Ahmed Jehanzeb, Fuzon and Noorie creating quite a stir with listeners and critics alike.

So what can Indus Music fans look forward to in the future? Have the oldies been bumped off the chart and what does the new breed have to say about their successes? Aisha Aqeel profiles popular artists whose albums have rocked the country this year.
"We did our part, now it's for others to carry the flag to the finish line"
– Junaid Jumshed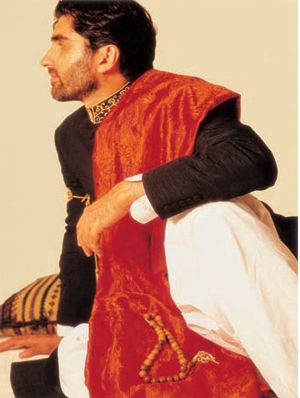 Having spent 15 years in the music industry, Junaid Jamshed's assertion that Vital Signs composed great music and literally changed the face of music in this country is no empty claim. "We did our part, now it's for others to carry the flag to the finish line," says Junaid. He sees a revolution in this industry since 1987, when his first number Dil Dil Pakistan was released and became an instant hit. "During those days, Indian music had captured our main music market with sales at almost 90 per cent compared to Pakistani music which notched in at abysmal three per cent. Now with a few musicians like Junoon, Ali Haider, Hadiqa Kiyani, Faakhir, Haroon, myself and some new entrants in the field, sales of Pakistani music have risen to 35 per cent….which, according to me, is a great achievement. We have experienced packed arenas in England, the USA and the Gulf countries, during our concerts, which even the supposedly 'big' artists like Phil Collins, and Mariah Carey have sometimes failed to do," adds Junaid.
Since the release of his first album, Junaid has remained one of the brightest stars of the Pakistani music industry. Despite all the fame and fortune his career brought him, he felt a vacuum in his life. Junaid found fulfilment in religion, and to pursue this path he announced his retirement from music early this year. But soon his celebrity status pulled him back to his musical career and he made an immediate comeback with an album, Dil Ki Baat. While this album is no different from his past attempts — from soft romantic numbers with catchy melodies to fast beats — it still has every ingredient which leaves his fans asking for more. "Like in my past albums, Shoaib Mansoor has maintained his style by giving the very best of both the compositions and the lyrics," says Junaid. Soulful ballads like Intizaar and Tum Kehti Ho are easy on the ears while Yaar and Aankhon Ka are catchy upbeat numbers. The title song, Dil Ki Baat and Sanwala (reminiscent of his previous hit Sanwali Saloni), both have appealing tunes. All that concerns Junaid, at this point, is the impact of his album, not its sales. However, he need not worry on this score: fifteen years later a large majority of people still relate to Junaid's music, and to him that's what good music is all about. Junaid's all-time favourite singer is Mehdi Hassan. Apart from music, Junaid has also stepped into the world of fashion with men's wear outlets all over the country and has recently launched a perfume — "Junaid Jamshed." He also plans to release a song for the World Cup and another album in the near future. Junaid credits his success to his sincerity and hard work.
"We are very hopeful for the future of pop music in Pakistan"
-Bilal Maqsood and Faisal Kapadia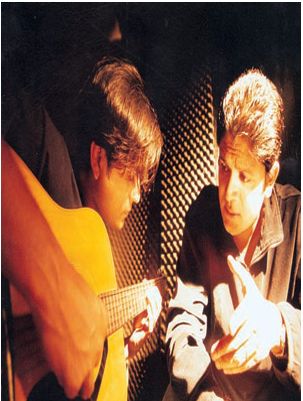 While at college, Bilal Maqsood and Faisal Kapadia started singing to entertain their friends and after the tremendous response they got, they decided to give music a serious thought. Bilal and Faisal joined hands with Rafiq and Karim and Strings was born in 1989. There were not many bands at that time and all pop musicians were trying to carve a niche for themselves in the local music scene. The only channel then was PTV, who were always hesitant to invite pop musicians to perform, but somehow Strings was lucky enough to get their first break through a TV programme Dhanak, directed by Sultana Siddiqui.
In just three years, Strings released two self-titled albums Strings-1 and Strings-2. With the instant success of Sar Kiya Yeh Pahaar from their second album, Strings established themselves as one of the best bands in the country. However, at the peak of their career, the quartet decided to disband, and give education priority. "At that point, education was more important for all of us so we decided to give music a break," says Bilal. After graduation Faisal got busy with his family business while Bilal got involved with video and commercial direction. But their passion for music pulled them back together and the dynamic duo, once again, got together to work on their new album — Duur. It took them a year-and-a half to complete the album. Initially, Faisal and Bilal scrapped the first recording and the album was re-recorded with the help of Shahi (ex Vital Signs base player) and was released in 2001. With its simple music, touching lyrics and beautiful melodies, Duur captured everybody's heart. Even a year-and-a half after its release, Duur has managed to maintain its position at the top. A blend of pop and rock, Duur offers a fresh-feel music style. This time around, both Bilal and Faisal have contributed vocals to the album. The title song Duur showcases the vocal range of Faisal Kapadia as does Kuch Ho Gaya. The hit number, Anjane, sung by Bilal is dominated by the sound of guitars while Khirki has appealing lyrics. Jaane Do and Aankhen, both have sooothing melodies.
Lately, Strings has completed a video for the Cricket World Cup which is on air nowadays and will be releasing its next album in the first quarter of 2003 with the video of the title song.
With the entry of new talent in the music field, Bilal and Faisal are very hopeful for the future of pop music in Pakistan. "We are experiencing the same boom in pop music, which we saw in the early nineties, which gave us great artists like Junoon, Junaid Jamshed, Awaz etc. The current year too has churned out good singers like Ahmed Jehanzaib, Fuzon and Ali Noor."
Next