"I want to see Punjab green and prosperous"
– Pervaiz Elahi, Chief Minister, Punjab
Punjab's new Chief Minister, Pervaiz Elahi, is a man of few words. He does not talk much and it is hard to get an elaborate answer to any question.

From 10 in the morning till late night he is in constant meetings with MPAs, MNAs and workers of the PML-Q at his 7-Club road, GOR-1, secretariat. One cannot help but notice that his personal confidantes and friends move around with more ease and confidence in his office than his own official staff.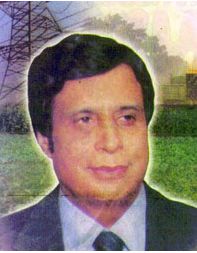 Q: What are you doing to check incidents like the recent attack on the church in Daska?
A: We have great regard for the minorities. We will look after them. We have caught two suspects. I sent the IG Punjab to visit the site and I went to the hospital to see the injured. We have given two lakh rupees each to the deceased's families and 50,000 rupees each to the injured. We are taking strict action against the culprits. In colonies where minorities live and at their places of worship, we have beefed up security.
Q: When you assumed office, the law and order situation in the province was bad. What are you doing to improve this situation?
A: It will improve. We are working on it.
Q: There is a general impression that the new police system is responsible for the rise in crime. Will you allow this system to continue?
A: We will keep making changes in it as per requirements.
Q: What are major demands of the members of the Punjab Assembly?
A: They want to get problems in their constituencies resolved. The major demands relate to development works.
Q: You have announced development funds for the MPAs which has come under much criticism. The public feels that these funds will breed corruption and will be misused by the MPAs.
A: The criticism is based on a misunderstanding. These funds are not given in the hands of MPAs. The legislators point out development schemes like water and roads, and the funds are spent through the relevant departments.
Q: The allocation of funds to the MPAs will bring them in conflict with the local government.
A: No, the funds allocated for MPAs are in addition to the funds allocated to the local governments.
Q: You could have become chief minister with your party votes. Still, you encouraged a forward bloc in the PPP which voted for you. Why did you need their votes?
A: We did not require their votes but if someone joins us, we will not stop them.
Q: You have still not formed a cabinet in the Punjab. Why this delay?
A: There is no delay. In Sindh, too, no cabinet has been formed yet. We will form it soon.
Q: How soon?
A: Very soon.
Q: The drought and water shortage is a major issue in Punjab and Sindh. Some people say one way out is to build dams like the Kalabagh dam. Do you support this?
A: I support the building of the Kalabagh dam, but it should be built with the consensus of all the provinces.
Q: There are many cooperative scam affectees in the Punjab. Your family's name has been associated with this scandal. What will your government do to help them?
A: Our family's name was wrongly linked with this scam. Many affectees have got their money back and the remaining ones will also get it. The case is with NAB. Now NAB is responsible for helping them to get their money back.
Q: You have long aspired for the chief ministership of the Punjab, now that you have achieved this, what is your vision for the Punjab?
A: I want to see Punjab green and prosperous, and to provide law and order, jobs, education and health.
Next