After a fortnight of pitched battles between Pakistani security forces and Al-Qaeda guerillas and their tribal supporters, Washington and Islamabad's diary on fighting terrorism will need a new chapter about the tough lessons learned during the latest military operation in South Waziristan.
The Pakistani forces know now that their intelligence network, even though bolstered by US support, is inadequate at best. It is crystal clear that although tribal elders may well have welcomed the troops, ethnic and ideological ties with the militants run deep, and that the current resistance requires more than just an aggressive military response in the long run. Operation Wana has managed to alienate the Waziristan tribesmen, who after half a century of complete political and social exclusion, are now caught in the crossfire with their homes reduced to rubble in the fighting between "foreign terrorists" and Pakistan security forces.
The semi-autonomous and independent tribal belt of South Waziristan is home to 600,000 lawless Pushtoon tribesmen who traditionally support the mujahideen and practice centuries-old tribal traditions handed down from the colonial era. In the Wana operation, Islamabad, in an unprecedented development, has been able to deploy thousands of military and paramilitary troops in South Waziristan, sending a strong signal to "foreign terrorists" and their local hosts that they are not safe in the country and could face similar operations in the future.
Thousands of military and paramilitary troops ended the siege of remote towns and villages, including Kallu Shah and Schin Warsak, west of Wana, after using heavy artillery and gunship helicopters in what was described as the biggest operation ever launched to hunt down "foreign terrorists" and their supporters in South Waziristan. "The scale of the operation, the media hype and use of force by Pakistan had initially raised hopes, but fell well short of expectations," says a Peshawar-based analyst. "Arresting or killing some Chechens and Uzbeks may carry significance for Pakistan but is not of great importance to the Americans. They were hoping to get some Arabs and top Al-Qaeda leaders from South Waziristan."
Zawahiri and other top Al Qaeda leadership remain as elusive as ever, while Yaldashev, a 'high value target' escaped injured, and many got away as intelligence reports failed to factor in 'tunnels and escape routes.' Analysts, however, maintain some milestone objectives were achieved. Officials claim that 63 militants, mostly Chechens and Uzbeks, were killed and 166 fighters including 93 Pakistani tribesmen and 73 foreigners were captured.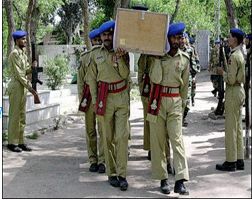 However, most analysts feel that these achievements have been overshadowed by the losses suffered by the security forces. "It shows the operation lacked proper intelligence. Officials themselves say they were caught by surprise on the first day by the number of militants that launched a counter-attack," says an analyst. "By killing troops, Al-Qaeda sent out a message of how powerful they are throughout the operation."
Pakistan's security forces lost 46 military and paramilitary troops, while 26 were injured in attacks. In the deadliest attack, 12 were killed when a convoy carrying military supplies was attacked. Eight bullet-riddled bodies of soldiers were later found in a well. The authorities received yet another setback when they recovered the bodies of two kidnapped administration officials riddled with bullets from a well, despite an agreement that the militants would release them. This happened one day after the 12 paramilitary troops were released after influential clerics of the area negotiated with tribesmen fighting for Al-Qaeda in the remote village of Razghai, near the Pakistan-Afghan border.
Most foreign terrorists and local fighters fled the towns and villages and sought refuge in the mountains that had once served them as a safe haven. Officials conceded that some militants could have escaped under cover of darkness, while others may have escaped with the help of locals and their knowledge of the terrain and escape routes. Political observers believe that Pakistan, by establishing a strong presence in South Waziristan, has to some extent flushed out foreign militants from towns and villages and cut off their supply line. "Not so long ago they were moving freely in Waziristan. Their leaders were delivering speeches, while the locals were recruiting young unemployed tribesmen in the name of jihad. They cannot do that any longer; they are not safe," says Latif Afridi, a former legislator from the tribal region and a Pashtoon nationalist leader. "But they need to change their tactics in the future. They should do effective groundwork by collecting accurate intelligence, include tribesmen having knowledge of hilly terrains and intra-tribal rivalries. Also, they should take tribal elders and sardars into confidence," says Afridi. "Otherwise they will only achieve short-term successes and the long-term problems of deep-rooted terrorism will remain."
General Musharraf has vowed to hunt down the terrorists with full force, saying that operations will continue until the terrorists are flushed out from the region. The Wana operation, however, has met with criticism and condemnation from all major political parties, with the alliance of religious extremist parties, Muttahida Majlais-e-Amal (MMA), spearheading protest demonstrations across the Frontier province. The Alliance for the Restoration of Democracy comprising major political parties, among them the Pakistan Peoples' Party and the Pakistan Muslim League, said the operation has resulted in a political crisis which could break up the country.
Though Musharraf's resolve seems to be clear and the operation has benefitted US interests in their war against terror, any real gain for Pakistan is questionable. "Of course the US has gained somewhat, but Pakistan's interest was not served. The forces targeted the extremists, not extremism in South Waziristan. Women there still cannot vote or leave their houses, child marriages continue to take place, and women are bartered to settle their conflicts, against all laws of the country," says Amir Murtaza, a human rights activist. "These remain non-issues for the government, but for us these are as abhorrent as the Al-Qaeda. The tribal Pashtoons are a staunchly religious, anarchic group and have never lived under organised state rules. If Pakistan wants to root out extremism there, then it needs to promote a sense of belonging, develop infrastructure and promote modern education to neutralise the clergy's role and influence.
Next