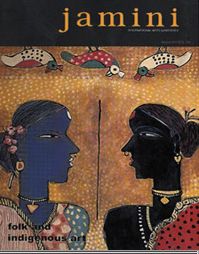 Art, long relegated to the backburner, is now beginning to acquire some semblance of a profile, and attractive, stimulating art publications are contributing their share to the forces catalysing this change. A substantial amount of writing is going into monographs, and hardbounds — anthologies and reference books on art — but such collections do not inform and update art enthusiasts the way a periodical can. Art promotion requires the dissemination of art news, reportage of art activities and events and healthy critiques, evaluations and reviews of current exhibitions. Plans to launch an art periodical are brewing in some quarters of the art fraternity here, hopefully they will formalise soon. Meanwhile on the South Asian circuit the latest journal to celebrate the arts is Jamini, an international quarterly from Bangladesh. It joins ranks with a few other Asian art magazines occasionally available in Pakistan.
A sizeable 10×13 inch publication, Jamini is handsome and well put. Its primary focus is on the current trajectory of the Bangla art scene with relevant recourse to history and developments on the foreign front. Planned as a thematic compilation, the inaugural issue centralised on 'folk and indigenous art' and its impact on mainstream artists not only in Bangladesh, but also in countries such as India and Australia. Features on artists like Abdus Shakoor and Arpana Caur are easy to relate to as they dwell on contemporaneity through reinvention and revitalisation of tradition. This is a commonality most decolonised nations share. Likewise a colourful essay on the expressive art of the embroided quilt or 'nakshi kantha' in which discarded saris, dhotis and lungis are used to layer the kantha which is sewn together with thread drawn from coloured borders of saris, reminded one of our homegrown ralli quilts. The rickshaw art of Bangladesh, very much akin to our truck art, was another walk down the trodden path. A photo-essay on the indigenous people of Bangladesh gave one an inkling of Bangladesh's first cooperative photo agency called MAP. A popular Newsweek contributor, and UN under-secretary general, Shashi Tharoor's first meeting with the incomparable M. F. Hussain was an interesting read. He says, "I recounted to the master, the famous story of what the immortal Pablo Picasso used to say to aspiring artists of the avante garde. Disregarding their slap dash cubes and squiggles, Picasso would demand: 'draw me a horse.' Get the basics right, in other words, before you break free of them. Husain loved this story; he promptly opened the book in front of him, a volume of his own work from Ambassador Ansari's collection and proceeded to sketch with astonishing fluidity, a posse of horses on the frontispiece. I have never forgotten the moment: watching the artist's long brown fingers glide over the page, the horses' heads rearing, their manes flying, hooves and tails in the air, as Husain left in a few bold strokes, the indelible print of his genius.
The film Matir Moina will strike a chord among readers here, it was shown recently at our very own KaraFilm Festival. Producer Catherine Masud's essay 'Of Seasons and the Soil' on the making of this film is a behind-the-scenes account of the hardships encountered during filming. On an international level, there were art notes on the displacement, migration, exile and the diaspora in the 'square roots and the aluminum sheets' of Abdur Rashid Gapur working in Singapore. There was also a look at the current art scene of Berlin after the Wall was pulled down.
An enthusiastic response given to the debut issue of Jamini at home and abroad bolstered the confidence of the management. Secure in the belief that they can sustain a quality journal, they have forged ahead with a second issue — this time, exploring the urban expression in another thematic venture on city life and art. In his article, 'City Lights,' Ziaul Karim questions Bangladesh's senior artist Abdur Razzaque about his transition towards abstraction. A picture essay of sketches of old Dhaka by Charles D' Oyly called 'Images of Dhaka's past' and anonymous watercolours on the Panorama of Dhaka remind one of F. S. Ijazuddin's compilations of company art of the 1800s, featuring Lahore, Sindh, Multan, etc. An interesting excerpt in these essays reveals, "All company officials were taught drawing in Haileybury College since visuals were useful in colonial administration." In the article on 'Kathmandu: City of the Arts,' the writer explains the 'how and why' of the present aesthetic status of the city. He remarks "everything really, was in place until the sixties, when all of a sudden young people from the west began to descend on Kathmandu in large numbers. They shook the arts and artefacts of the city, seemingly out of their complacency…….the visitors, most of whom are loosely labeled 'hippies' drew murals on the walls in emulation of the mandalic art forms……Everything from private dwellings to temples and monasteries and religious and secular modes of cultural beliefs form the subject matter for the arts. They told the world that an open museum of a city existed here." Moving westwards Monica Ali's Bangla Town, in merry old England is a lively visual feature capturing the daily life of Bengalis in Brick Lane. Keeping the urban context in mind, writeups on American theatre and jazz cities go to the heart of the US of A as does 'Kolkatta, Illusions of Nearness' and 'Copenhagen, the Invisible City.'
Liberally spread out, with vibrant visuals supporting its lucid text, Jamini is engaging, but for the moment it has not quite passed muster. In essence the magazine has hedged out of the category of an insular regional issue but still has not quite made it to the level of a truly superb international journal. There is considerable room for improvement in the design and layout strategy as well as choice of articles. Some pieces were mechanical and unimaginatively spread out and the text often lost momentum midway. On the whole, the two issues were cautious exercises and could well do with some intrepidity. Moreover, the excitement generated by first impressions plummeted when the journal instantly came into comparison with Gallerie another, older magazine from a neighbouring country, India, in a similar size, but much smarter format, pungent text and cutting edge concepts.
Nonetheless Jamini is a brave effort and needs to be lauded for taking off on a sound footing. It has the potential to grow because the editorial board is aware that "keeping a quality journal going requires a steady flow of innovative ideas," and "at a more mundane and somewhat materialistic level, it is undeniable that subscribers and advertisers are the lifeblood of a periodical," and they could do with more of both. But judging from the response so far, the prospect looks bright. On our home ground Jamini's introduction of Bengali artists can augment awareness levels here. Hopefully this will spur the sporadic inflow of guest artists from Bangladesh to Pakistan.
In Jamini's present itinerary religious and cultural festivals as well as art-specific ones like the Edinburgh festival or the Bangladesh Biennale will be central features of the forthcoming third issue. From the fifth issue onwards, three issues will cover a variety of topics while a fourth will focus on a single theme.
Next