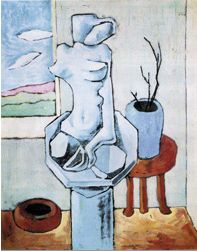 "… I will not sell the painting for less than a fridge…" " For Wahab Jaffer to displease him…" rare statements scripted on his painting from Ahmed Parvez offer insightful readings of the emotional saga that was his life. Unabashedly outspoken, he wore his rebellious nature like a badge, often to protect himself from a world that could not understand his exceptional talent. Sometimes frustrated outbursts were a means of communication. He lived from highs to lows, almost as if the norm presented some kind of a threat. Art was the only constant feature of his life for he had forsaken the responsibility of all other relationships. Many admired him, but few could profess to understand Ahmed Parvez.
Such was the great master, to whom we were reintroduced at The Ahmed Parvez Retrospective mounted by the VM Gallery. The show was made possible by the generosity of the collectors, particularly Wahab Jaffer, the artist's long-time friend. Credit also goes to the Gallery Director Riffat Alvi for undertaking such a significant project.
The collection spans 30 prolific years, from the early 1950s, a time when Picasso inspired him, until 1979, the time of his premature death as an eminent artist. This overview provides art historians a rare opportunity to study his uncompromising brilliance.
Ahmed Parvez's seduction by colour led to a steamy affair for almost three decades. Any attempt to take away the colour from his paintings would be equivalent to taking away the voice of a vocalist. Forms, size and medium are all secondary to the powerful chromatic energy that reverberates through his compositions. His twisted strokes sear the surface with hues of open wounds, angry red, festering yellow, burnt black, bruise blue and purple, and in this trauma we can hear the echo of Van Gogh, an artist he greatly admired. Flora is often a point of departure, an earthy element in his extra terrestrial flights as floral bouquets in spring colours were served with the same ardour in the canvases. A reminder, that only a fine line separates madness from love — a line often blurred by passion.
This dialogue via colour is carried out at a purely intuitive plane, a mind map of emotions in the widest possible colour spectrum. Without rules or learnt colour theory, Ahmed Parvez's polychrome spectacle is highly individualistic.
In the show, 'Bird of Paradise' and 'Lubna In Red Whispers' are perhaps the few works in which Ahmed Parvez felt the need to collage texture on the canvas because he was a master at coaxing pigment into an unimaginable range of textures. He slapped the canvas with impasto, trailed it into curvilinear spills, brutally scraped it or dry-brushed a whisper of paint. In this visual vocabulary full of hyperbole, the ever- present black line was his punctuation. He used it to curtail the energy that always wanted a free hand, challenging the artist who shackled it with outlines. One always got the impression that in his work colour came first in a blinding flash and the process of editing it to make painterly sense followed. The partially erased and covered forms lying below the shallow layer are marks discarded in the final draft, but they remain an emotional subtext.
The relationship, Ahmed Parvez, a full time painter had with his work and how he viewed his gift as an artist can also be read in the way he put his name on the canvas. His signature changed several times, from an unassuming scribbled 'Parvez,' to a more decorative 'AParvez' to sometimes a bold 'Ahmed Parvez' woven into the compositions as an integral part of them.
The fact that none of his marriages could survive his bohemian existence and the separation from the children who he loved immensely, along with the physical hardship that led to failing health must have awakened the demons of doubt in Parvez. Mercurial and restless, Yunas Said remembers the "agitated eloquence" that he subjected his friends to, and the fact that he was ever ready to provoke an argument. When in need, he often persuaded people to buy his paintings at ridiculously low prices only to confront them later for their stinginess. Ahmed Parvez was tormented by some inner conflict and it would not be surprising if he defied the passion that was taking control of his life. Perhaps stepping outside the artist to assert his 'other self,' and separating the painting from the man who signed it, gave him a rare chance to dictate his terms on the canvas.
Ahmed Parvez was a member of The Lahore Group, pioneers committed to an integration of modernism in Pakistani art. To widen their experience, many of the members travelled abroad, but none were as successful as Ahmed Parvez who exhibited at prestigious venues in the UK. In 1964 the artist decided to return to Pakistan, undaunted by the struggle as a full-time painter that lay ahead of him. In the next 15 years his inexhaustible energy carved out a permanent place for him in Pakistan's art history. In the book compiled by Marjorie Husain that catalogues the paintings and the Wahab Jaffer files on Ahmed Parvez, assorted art writers have extensively discussed his enigmatic genius.
It is intriguing that his entire oeuvre is centered round an explosion of colour. It's like a continuous stream of thought, introducing elements, revisiting memory but seldom stepping outside the set format. One cannot help but wonder why the artist chose to limit his creative space. Was his virtuosity as a colourist enough to satisfy him so that he turned his iconography into a mantra? Was it some inner compulsion that continued to repeat a dynamic movement energised by exploding small abstract forms? A close examination shows that his forms are not replicas nor static, but continuously evolving as the changing amorphous shapes engage the eye to find a focus in the chaos. Maybe it is an affirmation of his tremendous talent that he could create endless variations to rescue his art from becoming mundane.
Ali Imam, in an imaginary interview with Ahmed Parvez, enquired, "For a painter of your standing and stature, half-assimilated elements of Alan Davie to be used in your imagery for nearly 10 years seems a sad reflection on your creativity." To this an imagined response from Ahmed Parvez: "I did add Ahmed Parvezian elements in the work all through this period. I gradually weaned away and eventually blasted Alan Davie out of my work. My paintings acquired a complexity of colourful moods which reflected my hopes, frustrations, elation and eventually my doom which was inevitable".……"In conceptual activity honest, sensitive imagery matters, and I possessed that. The rest is meaningless."
Most of us who knew Ahmed Parvez can imagine irritation creep into his voice as he defends his work. He may have been ruthlessly critical of himself and his peers, demanding and provocative, but he was equally understanding and generous with youth and children. I remember when he put aside interview time for me for the art school magazine and ended up spending an entire morning reminiscing about his early years. At the farewell tea organised by the students of The Central Institute Of Arts and Crafts, he freely mingled with the students, with ease and charm, bridging the gulf in age and experience. Always eager to spend time with children, the last time I met him was a few weeks before his death when he judged an art competition for school children.
The 1970s saw Parvez's meteoric rise — he had won recognition from the people and the state, and the Pride of Performance was finally conferred upon him. Interestingly, never one to take easily to success, he had shunned it in the UK a decade earlier. His success aside, Ahmed Parvez became restless once again and several unfortunate incidents made the physical burden of his substance abuse gnaw away at his resilient spirit.
Included in the show, from a few months before his death, is a painting with randomly scattered forms, strangely empty of the centrifugal force that held his compositions together. He always said that his work reflected his life and if that is true, this seems to herald a despondency that may have driven Ahmed Parvez to his end.
The writer is an art critic and curator. Her work covers art criticism, art history, curatorial projects, art education and art activism. She has been regularly contributing to national and international journals since 80's.
Next