Interview: Brigadier(Retd) Mehmood Shah
"South Waziristan can no longer serve as a safe haven for terrorists"
– Brigadier(Retd) Mehmood Shah, Secretary for Security, FATA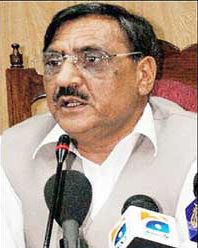 Q: The tribal elders of Wana maintain that the situation might have been different had they been taken into confidence about the army operation. Do you agree?
A: It is not that the operation was launched overnight, we had been issuing warnings. We had been holding jirgas since August last year, in an attempt to take tribal elders into confidence. Our demands were clear: hand over foreign terrorists and those who harbour them, or else we will be forced to take military action. But neither did the militants surrender, nor did the tribal elders extend their full cooperation. They were simply trying to buy time. Despite that, we gave them a deadline till February 20. Deadline after deadline passed, and eventually, we decide to launch the operation.
Q: Has the operation served any purpose?
A: We have achieved our target. We have dismantled Al-Qaeda dens and hideouts in the villages and towns. South Waziristan can no longer serve as a safe haven for foreign terrorists. Around 100 houses of those who harboured terrorists were demolished, and weapons and ammunition were recovered.
Q: But you failed to nab any 'high-value' target. In fact, most of them reportedly managed to escape.
A: Some of them may have fled under the cover of darkness and some may have escaped with the help of local tribesmen, who are familiar with the local terrain. Additionally, they could have used man-made tunnels to escape. One of the tunnels was two kilometers long and ran under the houses of two of the most wanted men.
Tahir Yaldash, a 'high-value' target, was injured and we are continuing our search for him and other foreign militants. We will chase them until we kill or capture them. We have arrested several militants who have given us invaluable information.
Q: Apparently there are hardly any Al-Qaeda militants among those you have arrested. Most of them are said to be locals.
A: Yes, most of them are locals. It's true that there weren't as many foreigners as we had had expected — there were a few Afghan militants as well as Chechens and Uzbeks. However, we have managed to dismantle their network. They are on the run now and not safe anymore. We are keeping track of them, we have received information that they might have fled towards the mountains of Shikai and Khamrang, in the south of Wana.
Q: The operation seems to have suffered from an intelligence failure?
A: No. No. Not at all.
Q: Officials maintain that on the first day of the operation, paramilitary troops were caught by surprise by the number of militants and the unexpected level of resistance.
A: The level of resistance did lead us to believe that some "high-value" target may have been hiding there. However, we found foreign militants and their tribal supporters. They were trained professionals. We have flushed them out and cut off the supply line that existed between the foreign terrorists and their host tribesmen. Now we will make sure that no tribesman hosts Al-Qaeda militants. And if anybody continues to do so, then he will be dealt with severely.
General Pervez Musharraf has made it clear that he will not allow Pakistan's soil to be used for any terrorist activity. We need to cleanse the region of Al-Qaeda militants. The government has even announced amnesty for those who surrender. They have been told that they will not be handed over to any other country.
Q: So, what is your future strategy?
A: This operation has ended but we will continue small-scale and targeted operations against Al-Qaeda militants. And we will use full force, if need be. Meanwhile, the political administration continues to hold jirgas with the tribal elders to persuade them to cooperate in eliminating foreign militants from the region.
Next