An exhibition entitled Distinct Identities, at the ArtChowk gallery in Karachi this July, presented two distinct voices: Islamabad-based artist Shireen Ikramullah Khan and Scharjeel Sarfaraz from Pakistan's teeming seaside metropolis. ArtChowk provides a wonderful space for upcoming artists to display recent works for Karachi's discerning art lovers.
Shireen is unreservedly abstract and defines an exploration of the inner self as her primary objective, ultimately conjoining the innermost and the personal on tangible, bold canvases. The overall effect of colourplay, primarily in shades of red, blue and orange, and the use of different mediums, is what she defines as an evolving course towards a holistic portrayal. "These paintings capture the environment within — a domain of contrasting embankments and forces of nature in my inner world," she states. Two pieces named 'Metamorphose I and II,' mixed media on canvas, appear conceptually dark — the visual could be human organs torn from within or a dematerialised form — but, however you perceive the canvases, the forms belong to an invisible realm, which for now is ultimately personal. Maybe, as it evolves, the work may incite the viewer to enter within its orbit and partake of its fundamental message.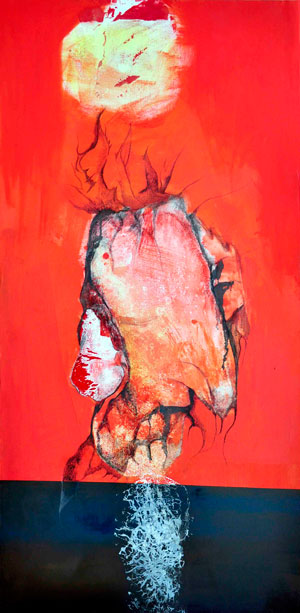 Scharjeel, a former student of veteran artist Ali Imam, explores the human figure in a series of four canvases entitled 'At the Edge,' mixed media on paper, that appear to provide an almost Renaissance aesthetic in hues of brown, gold, smoky grey and sepia. There are three close-ups of an adult male nude that seem to belong to another time — and one complete upper torso of a seated male figure in shades of red, seemingly from a more modern derivation. Also on display were 'Ode to You, I, II and III,' three fey female figures, in shades of azure and indigo, that appear as dreamy story-book illustrations rather than life-like figurative representations. Scharjeel defines his objective as a search for the space between dreams and reality and between the real and the metaphysical. Right now he appears to be in an in-between state flanked by the abstract metaphorical and a surreal present. However, a work entitled 'Distinct Identities' poignantly portrays the illusion of vulnerability in human diversity — two distinctly special faces stare in opposite directions and their eyes say it all.
This article was originally published in the August issue of Newsline.
The writer is a former assistant editor at Newsline
Next