Rundown of the 12th Lux Style Awards
Sass, sizzle and bling were all over the place at Pakistan's premier entertainment awards — the 12th Lux Style Awards organised in Karachi last month. Some originality and wit also made inroads into the fashion and entertainment segments. There was haute couture aplenty and talent galore as celebrities took turns on the red (sorry green) carpet with enough shutterbugs to capture every hotshot's wink and smile. The Pakistani entertainment industry has definitely woken up to the wonders of the red carpet and stars are pretty adept at the schmooze and cruise. Despite a few snags (the air-conditioning went off towards the end of the show), for the organisers of this leading awards show, Unilever and Catwalk PR, it was possibly slam dunk.
While the men were mostly seen in elegant black attire, sartorial choices for the women tethered between the gown and the sari, and this year's choice of gowns — stylish and not-so-stylish — just proved that glamour has come to stay. The Lux Style Awards has become a platform for fashion experimentation for Pakistani stars to find a definitive look, not always in tune with home-grown fashion trends, but definitely in line with global fashion. However, the upside was that the sartorial inspiration for several celebrities was Pakistan's very own design fraternity.
'Smack That' copycat, Ahmed Ali Butt was the host for the evening and his script for the show had a few witty digs at the invited talent — Bushra Ansari was celebrated but Meera  was definitely not. Actors Aamina Sheikh, Saba Qamar and Humaima Malik joined the podgy host on stage with some off-the-cuff repartee, which wasn't always funny.
A segment celebrating Ahmed Rushdie's music prowess was an all-out hit with singers Ahmed Jahanzeb, Amanat Ali and Bilal Khan emulating evergreen songs like 'Ko Ko Korina,' and actors like the always-cute Ahson Khan, Faisal Qureshi, Mathira (yes, Mathira, who made some slinky moves), Sana and Meera dancing up a storm.
Possibly the most sizzling music segment was the emerging talent retrospective with rap-singer Adil Omar belting out 'Pindi Express' and the too-controversial-for-TV, internet-debut rap artists Osama Com Laude, as well as music gurus Ram Lal with their original composition 'Naughty Boy,' proving that in addition to Coke Studio, the eclectic pop music scene in Pakistan is jiving with energy and flair. Bumbu Sauce of 'Mojambo' and 'My Punjabi Love' fame won the award for Best Emerging Talent. In a surprise win, Adnan Malik, received the Best Music Director award for 'Mera Bichra Yaar' by Strings, featuring Zoe Viccaji.
The eclectic and hugely talented Ali Zafar proved his mettle with a touching tribute to the King of Ghazal, Mehdi Hassan, in a soulful medley of the music legend's best. Not surprisingly, Ali Zafar proved to be the real va-va-voom towards the end of the show, singing hits from his album Jhoom and his recent Bollywood hits, Meray Brother ki Dulhan and London, Paris, New York. In 'Madhubala' he teamed up with the gorgeous Humaima Malik and rocked the stage with an exciting routine and a talented ensemble of dancers.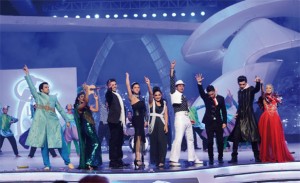 In this year's line-up of winners, Shoaib Mansoor'sBol, a movie that addressed catastrophic social norms, won three awards, the unprecedented TV hitHumsafar received the best original soundtrack for Quratalain Baloch's 'Woh Humsafar Tha,' and Sarmad Khoosat won the best director's slot for — no, not Humsafar — but Paani Jaisa Pyar. 'Mera Saeen' gained further notoriety as it grabbed the award for best TV serial and TV's talented heroines Sanam Baloch and Savera Nadeem were awarded for their work.
True to tradition, Lux also featured designers on the ramp/stage. Akif Mehmood, Ali Xeeshan and Fahad Hussayn leapt over logic in a tremendously faux output of fashion trends that had nothing much to do with local culture or motifs. Think Illuminati meets a Mid-summer Night's Dream meets larger-than-life Alexander McQueen headgear. Lux Style Awards were given to menswear designer Omar Farooq of Republic, Khaadi for what is now known as the best high-street brand, Kamiar Rokni for Best Designer, popular design label Sania Maskatiya for Best Luxury Pret, Zaheer Abbas for Best Emerging Talent and veteran design artistes Sana Safinaz for the best lawn collection. Fashion doyenne Faiza Samee got the Lifetime Achievement Award. The creative team at Nabila was also awarded for their talent at hair and make-up.
Oscar-award winner Sharmeen Obaid Chinoy was given the Lux Style Achievement Award for Saving Face, a documentary about the female victims of acid-attacks.
The Lux Style Awards may be television's big night out but you can't say the same for cinema. Here's hoping the status quo will change in the years to come.
This article was originally published in the August issue of Newsline under the headline "Lux-y-licious."
The writer is a former assistant editor at Newsline
Next