It is 3:00 am and a masjid announces on a megaphone the arrival of truckloads of shrimp at thevaray, shrimp cleaning houses, in Machar Colony. Women and children start pouring out of their homes and arrive at the varay with empty baskets in hand. Children's hands are very supple and they are extremely adept at shelling. Their work shift has started. They will peel shrimp at the varay or at home till 7.00 am. This peeled haul will be sent to the fisheries to be packed and exported.
At 8:00 am the children will change into uniform and enter the gates of a primary school of The Citizen's Foundation (TCF) in their neighbourhood to begin the second shift of just another day in their lives. The chemicals and the peeling process cut and injure the children's hands, especially in winter, and principal Afshan Tabassum, has pots of cold cream at hand to give to the students to soothe their skin. Then its down to a full day of academia. When the bell rings for the end of the school day, it is not met with cheer. There is no play for the children from the community of 700,000 poor Bengali fisherman — it is back to work. And work is an imperative: these children need to work to help sustain the family.
At the TCF Vohra campus, 100% of the students are on scholarship. In a classroom of kindergarten students (five-year-olds), almost all the children raise their hands when asked, "How many of you clean shrimps?" And for children who work in the fisheries in the second shift in the morning, mostly boys, who cut and package the fish, TCF offers afternoon school that repeats everything that took place in the morning shift.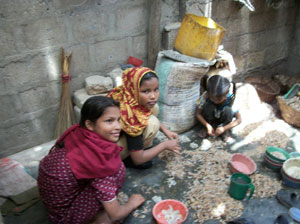 The primary school, TCF Vohra campus, and the secondary school TCF Abdullah Rekla campus, are two of the oldest TCF schools. The first class graduated in 2002 and thereon there has been a huge change in attitude vis-a-vis education in the community. "We used to go from house to house asking people to send their children to our school. Today we have 200 children applying for 60 seats," says Afshan Tabassum.
The motivation, says Tabassum is not only to learn to read and write, but also to learn the basics of hygiene and manners, and garner the ability to function in everyday circumstances. "Once a student asked me about bathroom hygiene materials which we use in school. She wanted some for her own home, so that it would smell as good. Another time, the mother of a class three student borrowed her daughter for a few hours. The mother needed to visit the doctor, and her daughter was required to guide her to the correct bus, since she knew which route to take. Also, she would have to read the slips and prescriptions handed out at hospital because her mother is illiterate," she explained.
The CEO of TCF, Syed Assad Ayub Ahmed, refers to the students as "agents of positive change" who will stay in their communities even after they graduate, to affect change and bring hope in the most miserable of circumstances. "Many graduates stay in Machar Colony and continue to work in the fisheries — but as clerks," explains Huma Iqbal, the communication manager at TCF's main office.
This positive input is vital to understanding the success of the TCF story. The Vohra and Abudullah Rekla campuses are representative of how this organisation has changed lives for the better. It is a breezy day as usual at the campus, a plus point of being near the sea. The primary section is very clean and spacious and boasts a library filled with books and student projects, such as three-dimensional models. From different vantage points of the school it is possible to see the fisheries that employ so many of the students. The fifth graders are busy taking a test. The KG students are drawing in their notebooks while they learn about the colour yellow.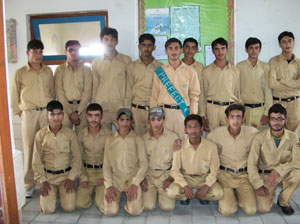 The students at the TCF all have a story to tell. Zahid Shakir cuts fish to support his family. It is his responsibility to earn and provide for his mother and two brothers after his father passed away, but he still finds time to play football with his friends. Soofia Noor Ahmed helps her mother clean shrimps; her father is a mahi geer (fisherman) who usually spends up to a month out at sea. Soofia is also a star student in the third grade. Work and studies come easy to her and she hopes to go to college — an aim voiced by several of the young girls in the primary school. While they have no idea what follows school, they all want to study, including Tilat Firdous, who unlike the others, has her future plans laid out. She wants to be a doctor: not an impossible dream for a TCF student. Sidra Saleem of TCF, New Karachi is currently studying at the Dow Medical College while her brother Nadeem Hussain is at the IBA.
Ninety percent of the primary school students at TCF schools across the country will go on to secondary school. Despite the work hours, they are conscientious about not bunking school and say that school and work are both equally important. And despite pressures at work, the students maintain an exemplary attendance record. Samina Kamal, the principle of the secondary school, Abdullah Rekla Campus, admits that attendance often goes down in Ramadan and especially during shrimp season when the 'earning rate' for children is higher. But she finds that usually parents are very cooperative and since they see education as a means to better their children's lives, they may take children out for a few days but always promise to bring them back quickly, she explains. The TCF also provides several incentives for the children to remain in school; scholarships are available for students who want to study further as well as career counseling sessions to prepare for life after secondary school. The upside is that more than half the students are admitted into the intermediate after their matric exams.
Mostly, these children know little about the world outside Machar Colony, especially when they were asked about what they wanted to be when they grow up. Several of the eight graders were not sure. This is where the Rahbar program comes in, which caters to a diverse range of students with different hopes and aspirations. "This program brings people from different vocations to come and talk to students about their future options," explains Huma Iqbal. "The children are also taken to hospitals, factories and other vocational sites so they see something outside their own communities and learn about what options are open to them."
But there are also several children at the TCF schools with specific ambitious goals. Mohammad Ramzan is in the eighth grade but he is also a magician who can make pigeons appear out of handkerchiefs and cut people into two halves. He says he learnt magic tricks from his brother who now lives in Dubai and hopes that education will help him go abroad as well and have a better life. For now he works at the Aladdin Park in Karachi. While he has also learnt how to do accounts and book-keeping, he would like to be a full-time magician.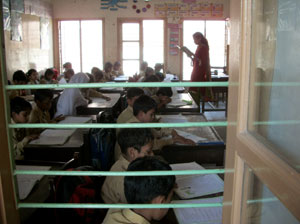 Kainat Hayat Khan's dream is to be a journalist. She works with her mother in her home-based stitching business after school but spends her evenings studying. Kainat does not want to spend the rest of her life in a tailoring shop and is determined to succeed at school: she is a prefect at school, makes it a point never to be absent and always attempts to come either first or second in class.
Waqas Mohammad Rahman is the son of a technician, who works at an eye hospital in Malir. "I learnt how to repair mobile-phones from some friends and now I work in a phone repair shop," he said. Waqas is more practical than dreamy and wants to pursue a profession that will earn him money, though ideally he would prefer to work in a hospital like his father.
Salman Hussain Ahmed is a labourer's son who works at a tailoring shop after school. He is sure that he wants to be a lawyer when he grows up, to tackle the injustice he sees around him and to improve the lives of people. On the other hand, Feroze Ahmed is unsure of his future plans since he is the sole provider for his young siblings as his father is very ill. He has to cut and pack fish at the fisheries to support his family.
TCF alumni have also contributed to the school's success story roster. Kiran Mohammed Hashim is an alumna who works as a lab assistant at the Abdullah Rekla campus. Well-equipped science and computer labs are part of any TCF school and Kiran helps set up biology, physics and chemistry practicals, and assists students with their work. Aqeela joined TCF as a student 12 years ago, and now she and Mehrunnisa teach at the Vohra campus and have done so for two years. Most of their friends have gone on for further studies, while several of the boys have found jobs. There is a 50/50 ratio of boys and girls in these TCF schools.
At the TCF head office, Haleema Sadia, an alumna of the TCF Al Amin campus, Juma Goth, works in the HR department. She has gone "from being a student to becoming one of our colleagues," say Huma Iqbal with a touch of pride. Haleema is also currently an MBA student at the Bahria University where she attends classes on the weekends or after work hours. "I always wanted a job, and now I am living my dream," admits Haleema proudly.
Besides the successful alumni, the TCF school children have ventured into competitions often reserved for the elite. Recently, they put together a rowing team that took part in a regatta held at the Karachi Boat Club and competed with the city's top schools like the Lyceum. They also participated in the indoor regatta and walked away with eight bronze and five silver medals.
The energy and enthusiasm of the TCF students is boundless and their ability to work, study and dream quite inspirational. They never complain of their heavy work burden but put it down, matter-of-factly, to pure necessity. Despite a long day of work and school, they stave off their fatigue by positive thinking. For these students, additional work is just routine habit. And as Kainat Hayat Khan succinctly put it, "nothing is difficult."
This article was originally published in the August issue.
Next