The Koel Gallery was the venue for a unique gathering of painters in early January. Art writer and now curator, Maha Malik's desire to see this group exhibited together in one room resulted in Intimacy, which featured the divergent perspectives of Meher Afroz, Mussarat Mirza, Naiza H. Khan, Ayessha Quraishi and Lalarukh.
Malik, a literature major and not a professional curator, pitched a deep and weighted project. While the initial declaration was beautifully adept — "How may a work in which figurative form is excised, be at once deeply sensual?" — the rest of her statement got lost in jargon despite carefully worked out concepts and ideas. I think it would be advisable for debut curators to word the show's preface in less scholarly language, which is usually reserved for theses and journals.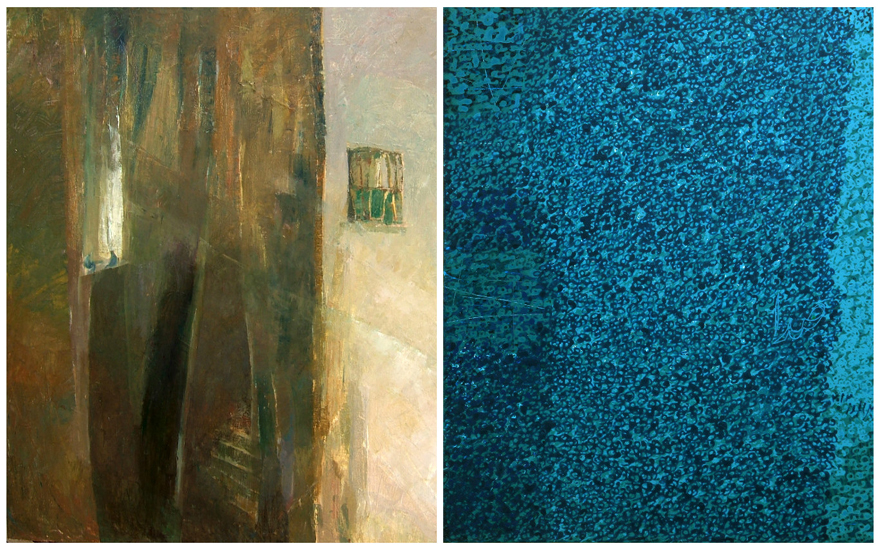 Lingering on the desire to the see the absent body in art, the show focused on the practice of three generations of five women artists whose work in recent years has been either abstract or without figurative content. The emphasis was on the sensual perception of the selected artist's works grouped together in spatial proximity — the pervading reality of experiencing the poignant subtleties of the show. The terrain of the works ranged from the landscape to formal abstraction, without any figurative representation, the purpose of which was to endear us to experience art on another plane of consciousness where subjectivity and the contemplation of the sensual allow for a more intimate experience and imagining.
The show displayed Mussarat Mirza's vision in her earth-coloured abstract canvases, imbibing the topography of her hometown Sukkur; Meher Afroz's cobalt blue textured, layered non-figural canvases rhythmic with fluid geometric harmony; Lalarukh's spare visual language as seen in her ocean series done on photographic paper influenced by the fundamentals of photography, and her current series where she judiciously imbeds images on carbon paper so that they are searched rather than seen; Ayessha Quraishi's use of repetitive mark-making with oil paint on paper to create images that are thematically concerned with both form and formlessness; and finally, Naiza H. Khan's subjective urban landscapes that map the terrain of Manora Island, near Karachi.
Going back to the original premise, while the figure is absent from all these works, the show does not digress from implying that even in the realm of abstraction and landscape, the feminine mystique is subjectively rendered, drawing us into the private realm of intimacy.
The writer is a former assistant editor at Newsline