Around 213 people lost their lives at the Punjab Institute of Cardiology in Lahore, in January last year, due to the administration of an adulterated drug. Another 1,000 suffered adverse symptoms. Doctors had unknowingly used adulterated Isotab, little suspecting that the product in their hands contained the toxic pyrimethamine.
Investigations were launched forthwith to procure the entire stock of the offending drug, and arrest the people responsible. But, as usual, this tragic crime left public memory, overtaken by the daily toll of yet more tragedies.
In November again, another faulty product emerged which was a cough syrup called Tyno. Currently, legal arguments are raging as to whether deaths attributed to Tyno were the result of a toxic pharmaceutical product, or had occurred as a consequence of drug addiction and overdose with the 'medication.'
The public's access to genuine therapeutic products has been badly compromised. The Pakistan Medical Association has condemned the lapse in quality control, and its consequent impact on the public. A Global Integrity Report states that the ''Pakistani Drug Industry is steeped in corruption, kickbacks and malpractices. Drug manufacturers obtain low potency raw materials from dubious manufacturers in China and Korea, which are combined with off-specification and outdated pharmaceutical 'binders' (the inactive ingredients that are used in preparation of the finished product). Often, such finished products are stored in unsuitable conditions (for instance, at the wrong temperature)." Other reports also indicate that corruption within government departments is fuelling trade in spurious medicines. Weak rule of law has further aided dissemination of such products. Drug cases remain in courts for years, while criminals freely operate, producing more of these 'medicines.' Vested interests are strongly suspected for deliberately stifling justice, which is common knowledge in pharmaceutical circles.
There are four categories under which drugs in Pakistan are classified: counterfeit, spurious, adulterated and substandard. Counterfeit drugs are imitations of the genuine, usually indistinguishable due to similar outer packaging. Freely sold to an illiterate or unaware population, often without a medical prescription, they create havoc in patients' treatment, as long-term use of non-quality drugs lowers resistance to the efficacy of quality medicines. The same applies for substandard products — drugs that are not processed, stored or procured under the necessary requirements, compromising their quality and efficacy.
Adulterated and spurious drugs can be far more lethal. At times drugs are adulterated by lowering the composition of the main medicinal ingredients by adding other combinations. Mixing of medical chemicals can cause a reaction and the drug can turn toxic, as was the case with Isotab — an anti-malarial raw material was inadvertently mixed into the preparation, says Ch. Muhammad Shamoon, secretary to the Punjab Pharmacy Council. Also available in the market are spurious drugs — which do not even contain medicinal ingredients and are composed of non-medicinal materials, for instance, chalk.
Unsuspecting Pakistanis spend a whopping 77% of their health budget on medicines. According to a 2004 study by the British Medical Journal, 40-50% pharmaceuticals available in Pakistan are of the above-mentioned varieties — clearly, the profit margin for this variety is huge.
In the past, sporadic action to control the proliferation of spurious products has been launched and drug inspectors pulled up, but to little avail. With only 478 drug inspectors throughout the country, spurious drug manufacturers have it easy: a huge cocktail of combinations is possible to manufacture a wide range of 70,000 registered pharmaceutical products. There is relatively little risk of discovery; the system of maintaining the much-needed checks and balances is weak, as are control and enforcement mechanisms under the previous Drug Act of 1976. However, the Ministry of Health was galvanised into action with the death of 100 cardiac patients in Lahore.
Under immense international and local pressure to take speedy action, the government promulgated the Drug Regulatory Agency Ordinance on February 18, 2012. The Ordinance called for the creation of a body that would oversee control of pricing, quality assurance and issuing of licenses to the 400 pharma units in the country. The Drug Regulatory Agency's responsibilities also included checking and advising the pharma industry on good manufacturing practices which included compliance, market surveillance, import/export of raw materials and finished products through the federal inspector of drugs and assistant drug controllers.
There were also plans to assign greater authority to drug inspectors, to enable them to take action against illegally or defectively prepared pharmaceuticals. Currently, without the necessary authority, drug inspectors are unable to conduct their tasks effectively. But the Ministry of Health is badly strapped for funds; allocations for the national health sector are characteristically less than one per cent of the GDP each year, which is hardly likely to lead to the appointment of more drug inspectors.
On November 12, 2012, following the signing of the Drug Regulatory Authority of Pakistan Act 2012 by the president, the Drug Regulatory Authority of Pakistan (DRAP) became functional. DRAP is essential for the growth of the country's pharmaceutical industry and for maintaining its quality and efficiency. Among DRAP's objectives is the elimination of spurious drugs.
On the orders of the Ministry of Interior, the FIA (Federal Investigation Agency) formed an investigation team to probe the Isotab incident. Investigations revealed that the manufacturing license of one of the pharmaceutical companies had expired in 2011, but it continued to manufacture despite this. A tribunal established to investigate the matter found that "the mode in which the medicines were procured, received and stored, documented and dispensed was not in consonance with the requirements of running an organised and efficient hospital." These are indeed strong words of indictment.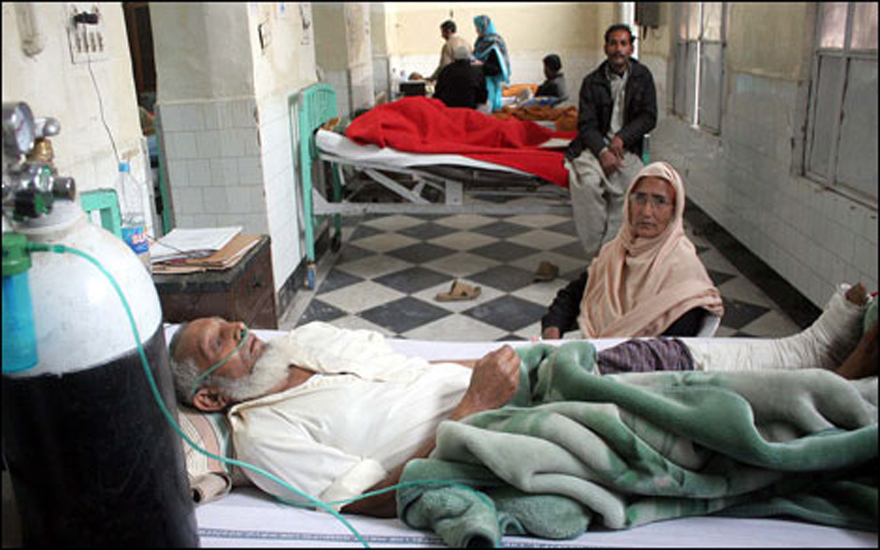 Fake medication may contain a small amount of the active ingredient, but not enough to actually treat and cure the patient; it may also just contain inert substances, or even harmful ones. Fake antibiotic preparations can lead, at best, to drug resistance (if they contain a bit of the active ingredient), or, at worst, death with administration of a wrong or harmful ingredient, or by delaying actual treatment.
The names of the owner and the manager of one of the incriminated companies, Efroze Chemicals, have already been put on the Exit Control List, and another report indicates that they have been apprehended (Dawn, January 29, 2013). The other two companies said to be involved are Swiss Pharmaceuticals and Zafa Pharmaceuticals.
The Punjab Pharmacy Council, a statutory regulatory body and authority for pharmacies, pharmacists and pharma technicians, also investigated the deaths resulting from these alarming incidents. Shamoon says, "While we ourselves don't monitor the manufacturing process in pharmaceutical companies, it appears that adulteration has entered the process. The Isotab ingredients were inadvertently mixed with an anti-malarial, which resulted in depression of the bone marrow and reduction in the blood platelet count."
He adds: "Doctors should have checked, but prescriptions were given for long term usage by patients, like for a month at a time. Consequently, when a faulty product was used, it exacerbated the problems of the patient. The platelet count kept dropping till the bone marrow was destroyed."
Now the Lahore High Court has recommended that a doctor, qualified pharmacist and nurse must be present when such drugs are administered, so that reactions and interactions (in cases where more than one drug has been administered) can be monitored.
On the manufacturing side, stringent steps have been taken to ensure exactitude. To give an example: for the manufacture of a pharmaceutical product, one technician weighs the required raw material, a second counterchecks it, and a third confirms the product and its correct weight. In well-run pharmaceutical companies it has always been the practice to analyse the product at interim stages in the production process, to ensure quality.
But who is responsible for guaranteeing the safety of the public in the use of medicines? "That," says Shamoon, "is the responsibility of DRAP." The cough syrup Tyno, for instance, contained a defective raw material imported from India. The fault really lies with the Indian product. Tyno, in its formulation, contains a chemical dexomethorphan, which, in case of faulty raw material, converts to the poisonous levomethorphan within the body.
"It is the duty of the federal government to maintain checks on raw materials," argues Shamoon. "The suppliers of these raw materials, too, should be qualified and competent. There must be specific criteria and specifications — the low cost of a raw material doesn't necessarily mean that it's still a suitable product. That is how defects creep in." In this particular case, all the defective Tyno cough syrups have been seized, and the companies manufacturing Isotab and Tyno have been sealed. Checks are being carried out of all the raw materials involved. And every effort is being made to prevent sub-standard imports.
"The Punjab administration is playing a key role in monitoring the situation, and so is the federal government," says Shamoon. "They have taken responsibility for the total screening of all raw materials used in the pharmaceutical production process."
Presently the pharma industry is facing innumerable problems: it incurs the highest operating and manufacturing costs of all industries, government policies are inconsistent, duties and interest rates are high, there are minimal research facilities, energy shortages are frequent, security measures are poor, and there are associated hurdles that interfere with efficient and progressive work.
The industry, which currently earns USD 200 million in foreign exchange — with exports to 60 countries — is at risk of losing its foreign market if word about the presence of spurious pharmaceuticals spreads. International reaction following the Isotab imbroglio was swift: Sri Lanka promptly banned the import of medicines from Pakistan; WHO issued a global drug safety alert (No.125) calling for increased vigilance in the use of Isotab manufactured by Efroze Chemicals.
Pharmaceutical companies could probably generate more foreign exchange, but the risk of exporting counterfeit or adulterated products is substantial as checks at every step are not available. Enhancing the sale of pharmaceuticals also runs the risk of exporting spurious pharmaceuticals. To prevent drug fraud, manufacturers themselves are now investing in counter-measures for improved traceability and authentication.
Pakistan is not alone in facing these problems as counterfeit drug manufacturing is now a worldwide phenomenon. A few years ago, because counterfeit drug manufacture was common in several African countries, Ghana in 2007 established the world's first anti-counterfeit platform to provide customers and patients the means to verify whether their purchases had been genuine or not. Something similar is also needed here as a regulatory mechanism to safeguard public health. Whether the Drug Regulatory Act 2012 has provision for public representation is not yet known.
Plans have long been on the anvil to import Indian pharmaceutical products, which are much cheaper than their Pakistani counterparts. However, there is a reluctance to adopt this route, ostensibly because India itself has a problem with spurious pharmaceutical products. Moreover, the local pharma industry has blocked Indian imports. If stringent anti-spurious measures can be instituted, and the local pharmaceuticals withdraw their objections to Indian imports, the public could have access to cheaper and effective medicines.
Whatever the reasons, prices of pharmaceutical products in Pakistan are extremely high, relative to the average earning capacity. This fact alone encourages the sale of substandard "do number ka maal." Inflation and rising poverty are putting medicines out of the reach of the poor and the middle class, and thereby further damaging public health. Achieving a happy medium for access to health and medicare is an imperative, in which the Ministry of Health needs to play a far more effective role.
The concern of the pharma manufacturers is no less important. At a recent seminar, Khalid Mehmood of Getz Pharma remarked "For the past several years, every pharma manufacturer has paid one per cent profit before tax for research and development to the Ministy of Health for the Central Research Fund. Yet we have no short or long-term benefit, no support for establishing research facilities."
Does that mean Pakistan is likely to remain at square one in terms of pharmaceutical manufacture? It is time to enhance research and increase trade with the provision of genuine effective medicines for the public and the quick elimination of spurious products.
Next