There has been a surge of musical activity in the country in the last 10 to 15 years, with the sound of Pakistan increasingly reverberating in different corners of the globe, but Pakistani music is not a new phenomenon. Bands have, in fact, been around since the birth of the country, even if the demographic of music has changed, as have the genres being played.
Pakistani bands can trace their history to the choirs of Karachi. "St. Patrick's Cathedral choir probably started shortly after the cathedral was built. One of the first choir directors was Carlos Fernandez, and C. M. Lobo was the organist, who was so dedicated to the job that he actually came to the 9 am mass to play the organ on his wedding day," writes Glenn d' Abreo from his home in America. When he and Austen Freitas joined the choir in the '50s, mass and services were in Latin. A lot has changed since then. The big quality choirs have faded over time and as new forms of music take root in Pakistan, old genres have all but disappeared.
According to Glenn d'Abreo, St. Patrick's choir was one of the most well-known choirs and many of its members went on to start new choirs in Fatima Parish and St. Lawrence's Church. In the 1940s, a new organ and four speakers were set up in the church where the music of Mozart, Haydn and Halle was played. "Services and mass were in Latin and the choir sang in four-part compositions accompanied by the organ and an orchestra. Eventually the liturgy of the church the world over changed and English became the new medium of communication. The kind of music played also changed and the guitar came in as an accompaniment. The choir became part of the congregation rather than singing in the separate choir loft. The classical music of the past was replaced by simpler musical pieces. Today, churches may have two or three choirs, but the complexity of the pieces sung has changed and most choirs either sing in unison or in two-part harmony," explains Austen Frietas.
Another well known choir was the Fatima Parish choir thanks to its "high quality conductors," recalls Lynette Viccaji, who was a member of the choir. The conductors were well-versed in music. After conductor Terence D. Souza left for America, the choir fell apart. Till then it had a name that drew in a wide and varied audience. The choir met during the week and did not just stick to church music, but played a variety of numbers from the Gilbert and Sullivan musicals, including Trial By Jury and The Gondoliers.
It was quite common for choirs to meet weekly and practice for a couple of hours. They would hold concerts all year round. The members of the choirs were generally there for the love of music and when tickets were sold for the events, the proceeds went to charity. The Fatima Choir was one such choir that met outside the church. There was also the famous Jane Subjally Choir known as the Karachi Chamber Music Society (KCMS). "KCMS started off in the '60s when four or five expats started to play together at someone's house. A cellist and pianist and a couple of others got together and the choir expanded from there," recalls Austen Frietas. Gradually it evolved into a choir of mostly expats and some locals. Their main concert was the one at Christmas which took place in the second week of December as most of the members would leave to go home for the Yule holidays. It was a top-class choir that held concerts in places like Trinity Church. They also sang lighter pieces like The Wizard of Oz.
Jonah Davids joined the KCMS in the '70s and recalls the quality of music that was sung. There were about 32 members in the choir, of which he and Austen are the only two who still live in Pakistan. They sang in eight parts, as the traditional tenor, bass, alto and soprano were further divided into soprano 1 and soprano 2, etc., and the music comprised mostly religious pieces like oratorios and cantatas. Among their repertoire were Haydn's Creation and Handel's Messiah.
When Jane Subjally's husband passed away, she moved to the United States. After she left, many of the choir members, including Jonah, continued to meet and sing, as an Englishman came to Karachi and took over the conducting. After he left, an American started the Karachi International Singers (KIS), which continued to meet religiously till the mid '90s.
When Shameem Noorani moved to Karachi from Tanzania, she met an American lady who introduced her to the KIS where they prepared for the festive season and sang mostly Christmas music at Trinity Church, St. Patrick's Cathedral and at places like Runnymede. The choir was made up of Japanese, German, Malaysian, British, Korean and a host of other nationalities. It was very cosmopolitan then. Shameem had been exposed to western music in her home while growing up but she started singing as a teenager with her Goan and Anglo-Indian friends who even put up performances of Harry Belafonte.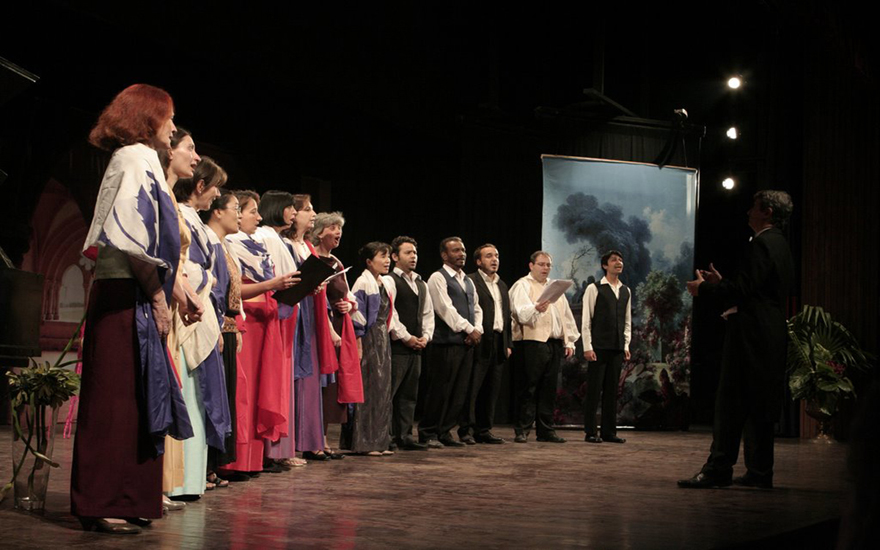 "Music is very much a part of our way of life," say many members of the Christian community. "In St. Joseph's we had a music teacher, so there was some formal training. Otherwise everyone just learnt from each other. Everyone sang in choirs, all parties ended in singing. Houses had pianos so everyone would gather around," says Lynette Viccaji. "In the early years there was always music in the homes of the Goan community where, by the age of seven, children either took piano lessons or violin lessons," says Austen. He recalls a fund-raiser organised by Begum Liaquat Ali Khan at Capitol Cinema where a full orchestra of Goans and Parsis played. At the time there was a Karachi Goan Association that consisted of many choir members who sang and put on Gilbert and Sullivan plays like The Pirates of Penzance.
"Political turmoil in the country resulted in an exodus of the expat community and choral music never really recovered from that. Although choirs continued to exist, their peak time was the '60s, as there were well-trained conductors who knew how to conduct and lead a choir and had proper knowledge of music. They knew what church music was and they were able to train youngsters and older people. Those groups were flourishing," says Jonah Davids.
The quality of music was very high at that time. When Dizzy Gillespie came to Karachi in the '60s, his drummer fell in the pool and fractured his wrist. Local drummers were auditioned and Lynette's cousin Charlie got to perform with the great Gillespie himself.
While now a novelty, church choirs do still exist and seek out new talent and train the young. In 2004, Ayesha Fiazuddin returned from Europe where she had, other than engineering, studied music at a music academy. Ayesha had been part of the Karachi International Singers in the 1990s and had made quite an impression singing solo parts when the Marriage of Figaro was performed at the Karachi Grammar School. With the help of her Dutch mother, Maartje Fiazuddin, Ayesha brought together many members of KIS and formed a new choir called the Dante Alighieri Vocal Ensemble at the Italian Cultural Centre. The choir sang a very diversified range of music, from Puccini to folk songs in different languages. When the Italian Consulate shut down, the choir moved from house to house until Ayesha heard of the return of her classmate Omer Jamil in 2005 and The Karachi Vocal Ensemble was formed. Omer had a double major in International Relations and Music. He had started off his music degree by joining the choir at Knox College.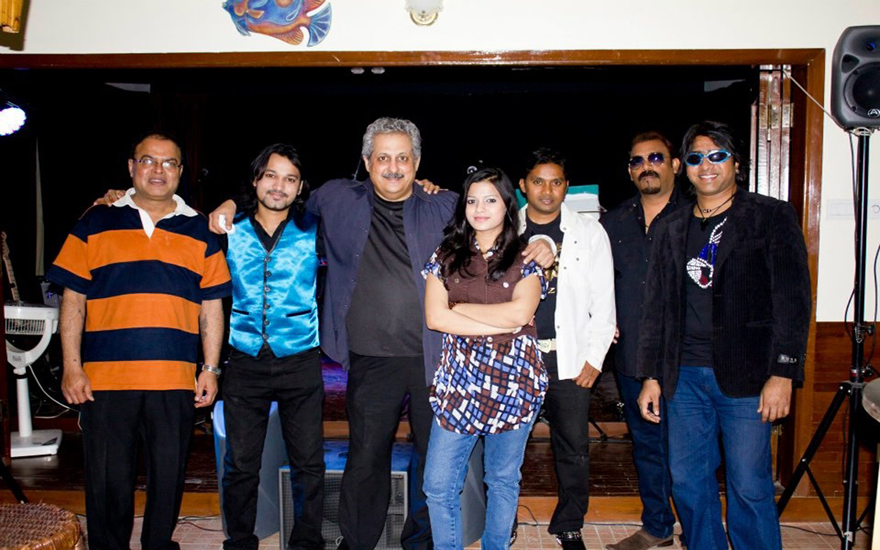 Over the years, the choir maintained a core group of mostly expats but also pulled in students from Karachi Grammar School and NAPA, until Ayesha moved to Australia a few years ago. They performed at places like St Anthony's Church and St. Patrick's Cathedral in winter. They also performed at the Alliance Francaise and Runnymede. The choir generally had two concerts a year. One year they sang with a troupe of French opera singers who were staging a Mozart opera at the Arts Council in Karachi.
Ayesha conducted the choir and was, by all accounts, very good at training and leading the group. "She was extremely good at breaking things down," says Momin Zafar, who was the only Pakistani Muslim singing in Dante Alighieri. Choirs can take people with little or no training in music and turn them into soloists. They train you to enunciate the words, teach you to sing in different languages, and to sight read and understand notes. The choir does not practice in unison; each part practices individually so there is no hiding ones voice in a crowd. In fact, Momin remembers struggling with Verdi's Va Penserio. He was told to sing it alone to identify the problem. It was a high-pitched piece and he had to sing it loudly to reach the high notes. His voice surprised everyone — including him. He went on to audition for and got a a solo role in Nida Butt's musical The Producers in 2006. He also played Amos in the musical Chicago.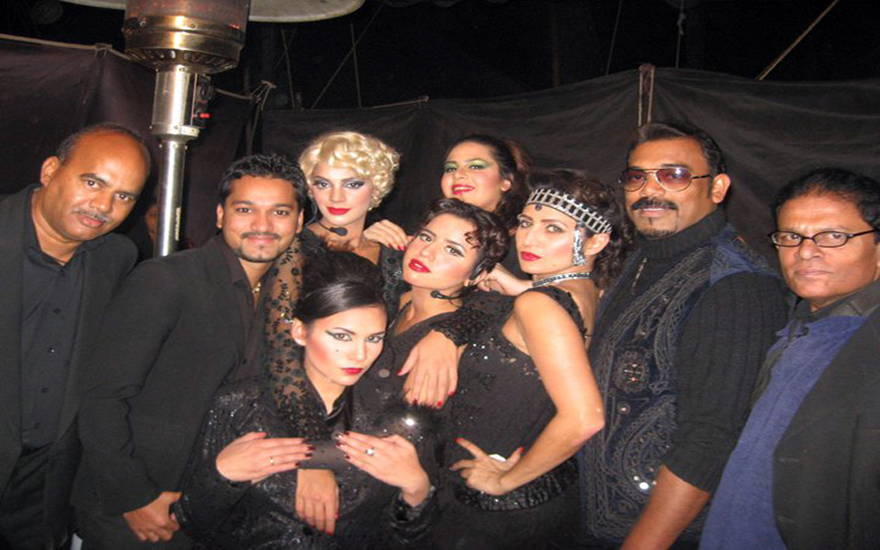 The culture of bands that played rock and roll and cover music, was also very big in Karachi in the '60s and '70s. Today there is a rock and roll band led by Captain Akeel called Club 777 which is making itself known. A couple of the members, Max Dias and Neil Aranjo, played in bands in the '70s. Times were very different then, explain the members of the band.
"If you see the history of western music [in Pakistan], it was initiated by the Christians. The progressive form was from the American School and Karachi Grammar School. Most of the bands were Christian and that goes back to the church because you are singing from day one. Music started to die out in Zia-ul-Haq's time, which was in the late '70s," says Akeel, adding that there were a lot of clubs and discos in the '60s and '70s where live bands would play; there were 25 clubs like the Horse Shoe and Three Aces, along with those at the Beach Luxury and Pearl Continental.
Then Zulfikar Bhutto banned alcohol and many clubs were closed down. Shariah laws imposed by General Zia resulted in a clampdown on music and entertainment. The whole demographic of society changed as a drug and gun culture developed.
Following the closure of clubs, bands had no public venue to perform at. Initially, they were still hired for private parties and especially for events such as Christian weddings. Unfortunately for them, however, that too was short-lived on account of the growing DJ culture. DJs were more cost-effective than bands as it meant paying one man instead of a group of six, and the DJs had access to all the latest music. This, in turn, led to the further erosion of the band culture. Add to this the migration between the '60s and '80s, when 60-70 percent of the Christian community — including musicians and teachers of music — migrated to foreign shores, and thus began the day this form of music all but died at home.
"Up until the late '80s there were no places to go to for music. My seniors learnt from migrants like the Portuguese, who had studied music. In the '80s and '90s some teachers emerged from the Parsi community. Till then most people learnt to play by ear from listening to music," says Ferdinand Goveas, the saxophonist of Club 777. "The main problem in Pakistan is that after 65 years of creation, there is only one registered music school in the country — NAPA — which is only seven years old," says Lenny Massey, the keyboardist for Club 777.
All this notwithstanding, the members of Club 777 agree that music has changed a lot and there are some super talented people making their name in the local music industry today. In the '60s and '70s, you could count the number of pop idols on your fingers, people like Alamgir and then Nazia and Zohaib Hasan. Since Junoon there has been a burst of groups making their own original music. In some ways competition is much stiffer today because of the number of people out there. On the other hand things are much easier due to access to the Internet and, of course, the media has played a big role in promoting music. It is possible to learn music on the Internet. The newest music is readily available and you don't need to listen to something 10 times to be able to replicate it. There are electronic instruments available and anyone with a computer and a few mics can make quality music. Also there are plenty of channels to air music on whereas earlier it was just PTV. But to make a name today it is imperative to write your own music, according to Club 777, which intends to cut an album in the near future. Their lead singer Alycia Dias, who is only 19, teaches vocals and plans to write her own songs too.
The members of club 777 can not only read music, but can also pick up the notes by listening to a piece. Some of them even teach music. Giles Goveas teaches drums, Neil teaches guitar and Lenny teaches at NAPA and some top schools. The students are from the cream of society and many children are now encouraged by their parents to learn music. Music is compulsory till class seven in many schools and it is possible to learn vocals or instruments after school hours on the school premises. Schools play an important part in producing groups and bands. Brothers Lenny and the Goveas were part of the marching band at St. Patrick's High School. They played in a band of their own for 10 years before Club 777 started up three years ago. The Goveas brothers also have the advantage that their father is a choirmaster. He runs the Fatima Parish choir and has been doing so for the last 32 years.
When Dizzy Gillespie came to Karachi in the '60s, his drummer fell in the pool and fractured his wrist. Local drummers were auditioned and a local, Charlie, got to perform with the great Gillespie himself. 
As the choir music scene and the '70s hands fade into the background, the stage is set for musicals which have become very popular in Pakistan. Musicals also hire a large number of people, giving musicians a chance to try out their voices and instruments. Some of the members of Club 777 played on stage in Chicago, creating the impression of a live orchestra. Not everyone has the advantage of joining a choir here, but colleges abroad offer opportunities for people wanting to train their voices. Lynette's daughter, Zoe Viccaji is an example of a professional musician who initially learnt from her family and then went to Hamilton College, USA, where she joined a choir. The choir was extremely good and even toured Europe. Zoe is currently working on an album. She has taken part in Nida Butt's musicals and has appeared on Coke Studio. She also sang a well-received cover of Strings's Mera Bichra Yaar.
With all the new frontiers in music, perhaps training and expertise based on experience is now most needed for local musicians to make a real mark internationally. For example, with the migration of musicians the country also lost a number of piano tuners. "There is currently only one piano tuner in Karachi. You can practice as much as you like or be extremely talented, but if your instrument is not properly tuned you will never sound good," says Omer. Also, high-tech training in the fundamentals of music can only enhance the industry's performance. Omer is currently studying piano technology. Perhaps others should take a page out of his book.
Next