Religious Mission or Political Ambition?
Day after day, it gets emotionally exhausting to watch television footage of people battling adversity caused by the recent floods. Poverty is certainly one of the obvious results of the natural calamity which has struck Pakistan.
While Khyber Pakhtunkhwa has suffered the most in terms of loss of physical infrastructure and human life, the other three provinces have also been catastrophically affected, especially as far as crops and livestock are concerned. There are now millions of individuals and families who have lost their means of livelihood for at least the foreseeable future.
For Pakistan's economy, this means trouble. Even before the floods hit the country, Pakistan was grappling with the problem of meeting the IMF payment schedule and its conditions. After the floods, it will be impossible for Islamabad to deliver. Additionally, the government has also borrowed US $900 million from the ADB, which will add to the country's financial burden. Clearly, an increase in the overall debt burden is one of the major long-term consequences of the natural calamity.
But there are other problems that await Pakistan such as the possible rise in radicalism, religious extremism and, consequently, more terrorism. The government's inefficiency and lack of capacity to provide relief to all affected areas has allowed for many religious parties to spring into action and exploit the situation by helping victims and thereby gaining their confidence. Though many of these might be purely welfare organisations with no controversy shrouding them, there are some on the watchlist of western countries and the UN for their alleged involvement in militant activities.
To start with, one can take the example of Jamaat-ud-Dawa (JuD), an organisation charged by India with planning and executing the Mumbai terrorist attacks in 2008. The UN requested the Pakistan government to ban JuD and start criminal investigations against its leadership. Succumbing to the mounting international pressure, the Punjab government took administrative control of JuD's establishments across the country and put its leadership under house arrest.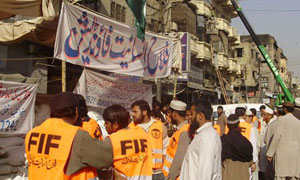 Hardly one-and-a half years down the road, the same group has gained praise from the Punjab government for its welfare services to the society. The Punjab Chief Minister Mian Shahbaz Sharif has sanctioned large grants for this organisation, including a special grant-in-aid of Rs 3 million for the Al-Dawa School System, a chain of schools established by JuD in different districts of the province to impart general education to poor students.
Though the government claims to have administrative control over JuD's facilities, the latter is doing welfare work under the banner of Falah-e-Insaniyat. This organisation was formed after the imposition of a ban on JuD, reportedly to avoid the difficulties caused by this act of the government. Interestingly, an editorial in Dawn mentioned that Rajiv Shah, administrator of the US agency for International Develpoment, was taken to a camp which was reportedly working under the banner of Falah-e-Insaniyat. However, the US embassy denied the report, claiming that the camp Mr Shah visited was run by the government.
It is baffling that these religious organisations succeed in raising huge funds from the masses whereas government authorities and NGOs fail to match them on this front. "Our success lies in the fact that we are always there, right in the middle, to serve humanity. For us, relief work is not a seasonal or one-time affair, it's an ongoing process," says Salman Shahid, central spokesperson for Falah-e-Insaniyat. He tells Newsline that the organisation has a presence in almost every district of the country and runs 95 dispensaries, 101 ambulances, four hospitals, a large number of schools and regular medical camps throughout the country. "When you are there at the grassroots level, you are well aware of the problems of the area. That's why you don't need much time to react in case an emergency hits that place," says Shahid.
His claim seems true when one recalls what followed the earthquake of 2005. JuD personnel were the first to respond to the emergency. They reached even the remotest places in the northern part of the country, including Pakistan-administered Kashmir, as they were fully familiar with the terrain, and even helped other relief workers access the areas. "People trust us as we have a good track record. They've seen us work during disasters. They know about our huge social services network. What else is required to establish credibility?" Shahid questions.
He goes on to say that Falah-e-Insaniyat has set up 71 camps in flood-affected areas and 100 points in inundated areas where very few people have tried to reach. The trained volunteers reach such places on boats to give food to people who are not ready to leave their houses submerged in water. "We reached there before flood waters arrived, we are there now and we will not leave till the complete rehabilitation of the affectees," Shahid vows.
But due to the stigmas associated with these Islamic charities, welfare organisations across the country have started presenting themselves as free of any religious or political affiliations. For example, Al-Khidmat Foundation, headed by Karachi's ex-mayor Naimatullah Khan — who belongs to Jamaat-e-Islami (JI) — works as an independent, non-governmental, non-profit and charitable organisation. Its workers claim it has no affiliation with any ethnic or political organisation in Pakistan or anywhere in the world, but it is a fact that JI volunteers are the real force behind its success.
According to the organisation's website, al-khidmatfoundation.org, which is updated daily, its 18,700 volunteers are working day and night in different flood-affected areas of Pakistan. So the large number of eager volunteers and the highly organised countrywide set-up of JI gives Al-Khidmat an edge over other organisations that are also out there to do relief work.
According to security and political analyst Dr Rasul Bakhsh Rais, the West has a habit of bracketing the relief work of religious charities with militancy, but this is not always the case — most religious organisations do welfare work with religious fervour and expect a reward from God. He adds that though religious relief organisations often deny having political goals in mind, they may enter practical politics in the future. He cites the example of Turkey, where the Justice and Development party won people's hearts and minds through its social work and then came to power through popular vote. Otherwise, it seemed impossible to uproot the elitist political party fully supported by the Turkish Army. Dr Rais further maintains that the political landscape will change in the next 10 to 15 years. He predicts that the current political elite comprising feudals, landlords and business tycoons will be relegated to the background and those who are serving the people in times of need will replace them.
Coming back to the structure of religious welfare organisations, one cannot ignore those inspired by Islamic scholars. For example, the Minhaj Welfare Foundation (MWF), affiliated with the Tehreek Minhaj-ul-Quran, runs 537 schools, 107 dispensaries, seven hospitals and other charitable facilities in the country. The inspiration, its workers say, comes from the teachings of Dr Tahirul Qadri, who heads the Minhaj-ul-Quran movement.
Iftikhar Shah Bukhari, Director Welfare of WMF, tells Newsline that Dr Qadri had set up a fund for flood affectees with Rs 20 million. To date, Rs 40 million have been spent on just sending relief goods to the affected areas. Furthermore, he explains that the Tehreek Minhaj-ul-Quran has cancelled its plan of setting up Shehr-e-Eitakaf this year. The Rs 30 million which were likely to be spent on this 10-day event were donated to the MWF relief fund. Those who desired joining Shehr-e-Eitakaf have been directed to report as volunteers in the flood-affected areas, he adds.
But despite the good relief work being done by such religious organisations, President Asif Ali Zardari recently cautioned local and international communities about the threat posed by right-wing forces to a flood-ridden Pakistan. The president believes that some militant outfits may attempt to exploit the situation and, for instance, kidnap children to use them later as suicide bombers or brainwash them into becoming potential terrorists. Although Zardari is the target of much-deserved ridicule, it would be unwise to disregard his opinion on this particular issue. Furthermore, the government has specifically requested people to only donate to registered charity organisations.
On several occasions the federal Interior Minister, Rehman Malik, has issued statements assuring the international community of denying banned outfits from conducting relief operations. But the reality on the ground is totally different. In any case, there is hardly any consensus in the country regarding how to deal with extremist elements and parties of the religious right who are extremely organised and are doing a lot of relief work in the flood-affected areas.
The capacity of international NGOs and the government in terms of extending help to people in far-flung and calamity-stricken areas is really limited. The bulk of the help, which can compare with the assistance provided by the army, seems to come from the numerous militant outfits or parties of the religious right, such as the above mentioned Al-Khidmat Foundation and Falah-e-Insaniyat Foundation. Others include Al-Rasheed Trust working as Memar Trust, Kashmiri Jihadi Foundation working as Al-Badr Welfare Foundation and Sipah-e-Sahaba Pakistan working under Ahle Sunnat wal Jamaat, and smaller religious outfits that are the most effective at the local level in villages and smaller districts.
The relief activities provided by these militant/religious NGOs are different from the relief efforts of the bigger national and international NGOs in several ways: they have a wider network at the grassroots level; many of them have prior experience from the 2005 earthquake; they do not suffer from bureaucratic systems that tend to slow down the delivery of relief items; and their manpower is sufficiently sturdy and trained to traverse through dangerous and less accessible territories to deliver relief. Thus, regardless of their motives, it is obvious that these organisations are vital if victims are to receive prompt relief.
In many respects, the post-flood situation will pose critical questions for the liberal civil society, Pakistan's government and the international community. It is virtually impossible to minimise or underestimate the role of the religious right and the militant organisations in relief activities, and their long-term impact on society cannot be overruled. In fact, now is the time to evaluate the consequences of the key role played by militant and religious groups in flood relief efforts for the coming years.
Related articles:

Apocalypse Now by Sairah Irshad Khan
The floods have stripped bare the ugly face of a feudal-sardari system and its umbilical connect with politics and bureaucracy that have together created an underclass so wretched that it has nothing left to lose.

Flood of Sorrow by Talib Qizilbash
Khyber Pakhtunkhwa is a region that has suffered through years of turmoil: suicide bombings, Taliban rule, military operations and displacement. The floods are just the latest blow. But how much can its denizens take?

Who's to Blame? by Abdul Wahab
Official inaction and haste to secure agricultural land in Balochistan has drowned cities and rendered millions homeless.

Disastrous Winds of Change? by Afia Salam
Are the floods in Pakistan a result of climate change or are they human-induced?

Technology to the Rescue by Sana Saleem
ICT and social media tools are being used to map and garner support for individual relief efforts.
Next