Defying pronouncements that 'the miniature is dead,' the venerable discipline continues to attract new talent adventurous enough to embrace its complex terminology and laborious working skills. 'The Sepia Voyage' by Naveed Sadiq, shown at Koel Gallery, was the most recent exposition of the spell the genre can cast over its exponents. Existing in several guises, it is widely deconstructed and fragmented to align it with the requirements of modern and postmodern art. However, the miniature also thrives at a more conventional level as a contemporary interpretation of its old classical self.
A devotee of tradition but with a foothold in the present, Naveed Sadiq has indulged in a 'back and forth' in his paintings. Referencing Persian and Mughal schools, he borrows and utilises typical miniature imagery without distorting or twisting its true form — it is the context of his compositions where the contemporary element takes over as he reframes orthodox images in new perspectives. In works like 'The Sepia Voyage,' 'Timur Khadim aur Mein,' 'Mere Saath Chalo' and 'Janney ki Khawaish,' he is seen journeying through time, reconnecting with history to enlighten himself or see old truths (or untruths), with new eyes in order to draw fresh conclusions. By repositioning Mughal characters, he comments on the ustad-shagird equation and the need for dialogue in paintings like 'Mein Nahin Dekh Sakta' and the 'Guftagoo' series. Here it is pertinent to note that lifting resolved miniature characters, be they figural or animal forms or natural landscape elements, and relocating them in new arrangements is handled with a fair amount of confidence by the artist. But he is unable to establish a sense of balance wherever he has tried to mesh current vocabulary and contemporary compositional modes with classic miniature components as in the 'Mushaida' series of paintings, which have an air of incompleteness about them.

Resolving the tussle between tradition and modernity — theoretically as well as technically — is the litmus test for most successful miniatures navigating this terrain. While Naveed Sadiq's compositional skills are still developing, his tremendous grasp of technique and deeply sensitive rendition is brilliant enough to mesmerise audiences, be they collectors/connoisseurs or just viewers. His application of gold leaf is raw and earthy but adjusts well with the miniature temperament. In this act of traversing time through miniature paintings, the sepia hue of the works is a deliberate choice — to evoke the ageing, distanced in time effect — and he handles the tea-stain effect with a fair amount of maturity in some of the darker-hued works. (The work is acid free and only natural materials are employed in the process of making it.) But it is his study of old miniature models and the ability to recreate original features and figures with such empathy that are a testament to his reverence for the genre. Hopefully, this will minimise the likelihood of hacking and mangling the discipline to contemporise it as is the current trend.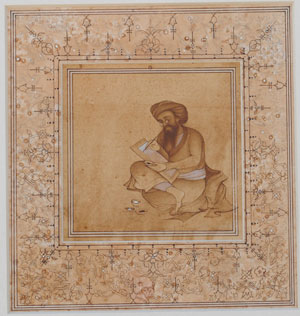 Born in Hyderabad, Naveed Sadiq graduated with a Distinction from the NCA, Lahore, in miniature painting in 2006. He has participated in several group shows nationally and has been part of various workshops, such as the one on drawing at the College of Excellence Art and Design, Jamshoro, and has also worked at RM Studio as a drawing instructor. He currently lives and works in Karachi and is part of the faculty of miniature painting at the Indus Valley School of Art and Architecture.
This show has been curated by artist/ printmaker/IVS faculty member Ussman Ghauri whose interaction with the artist over several months encouraged a fruitful dialogue on the merits and demerits of the work. Having perceived his potential, he raised the benchmark for Sadiq who responded positively to the challenge. Ghauri is of the view that "Sadiq's mastery of the technique is conveyed by an outstanding command over the brush," and the artist's "focus on values, tradition and environment strikes a common chord with (his) my sensibility."
Next