In 'Pakistani Films', an essay written soon after his migration to Pakistan, Saadat Hasan Manto wrote:
'If anyone made a film in India which is against Pakistan, obviously it will not run here, in Pakistan. Similarly, if someone made a film in Pakistan which hurt the feelings of Indians, it is useless to send it to India for screening. That is, if such films get past the censor board.'
In light of these observations, one wonders what Manto would have thought about the eponymous film made by Nandita Das, released in India late September, but not in Pakistan. But why not in Pakistan? Was it because it contained something against Pakistan, or was it because it could not get past the censor board? 
The film chronicles the last nine years of Manto's life, two of them spent in India, and the rest in Pakistan following his migration after Partition in 1947. 
The vision of the film is more art-house than commercial. Rather than opting for a conventional biopic, Das has concentrated on showing audiences a glimpse of Manto the writer through a close reading of his short stories and essays.And by focusing on his relationships and his blissful days in pre-partition Bombay ('I am a walking-talking Bombay'), and his duels with both the Progressive Writers Association (PWA) and the British government. As a writer, Manto was always concerned with freedom of expression, whether in pre-partition India or in Pakistan. This is explored in the second half of the film, set in Pakistan, during his court trial for his story Thanda Gosht (Cold Meat). If it's a choice between writing the truth and writing responsibly (as reminded by the censors), Manto invariably supports the former function. Yet Manto is also concerned with his own ego and what his fellow-writers think of him. When Faiz Ahmad Faiz (played rather unconvincingly by the poet and lyricist, Javed Akhtar) comes to the dock to testify, he confesses that there is nothing lewd in the story, before adding wryly that it did not measure up to the standards of high literature – an opinion which rankled with Manto for days, even after he was acquitted by the court.
Nawazuddin Siddiqui, who plays the eponymous author, manages to hold his own in the film, but there are others who assist him in making this a truly memorable film of 2018. Rasika Dugal, for instance, who plays Manto's wife Safia, is so brilliant sometimes, that she surpasses the lead actor himself. Manto's relationship with Safia is tenderly explored; there are moving scenes like when both are frolicking in the park one lazy afternoon; or when after being let off the trial, Manto suddenly wakes up in the middle of the night, saying, "I do not want to die in jail," and is then comforted by Safia.
Manto's bitter-sweet relationship with the Indian actor Shyam, TV actor Sahira Kazmi's father, is another hallmark of the film. 
One of the reasons why Manto opted for Pakistan was a bitter exchange he had with Shyam at the height of the communal riots in the 1940s, when the latter, stung by the death of an uncle who could not make it from Rawalpindi alive, said he was so angry that he could have killed Manto. But interestingly, it was Shyam who kept sending Manto money from across the border even after Partition, until the former's own early death.
The manner in which the tension between the Progressive Writers Association, who wanted the writer to 'elevate his writing' and conform to their idea of 'progressive,' and Manto has been teased out in the film is remarkable. Their opposition to Manto's searing Partition sketches, Siyah Hashiye, is well-served in the film itself, but one wishes the director had dwelt more on Ismat Chughtai's offhand remark made to Manto in the film, "Does one have to be a member of the PWA to be called Progressive?"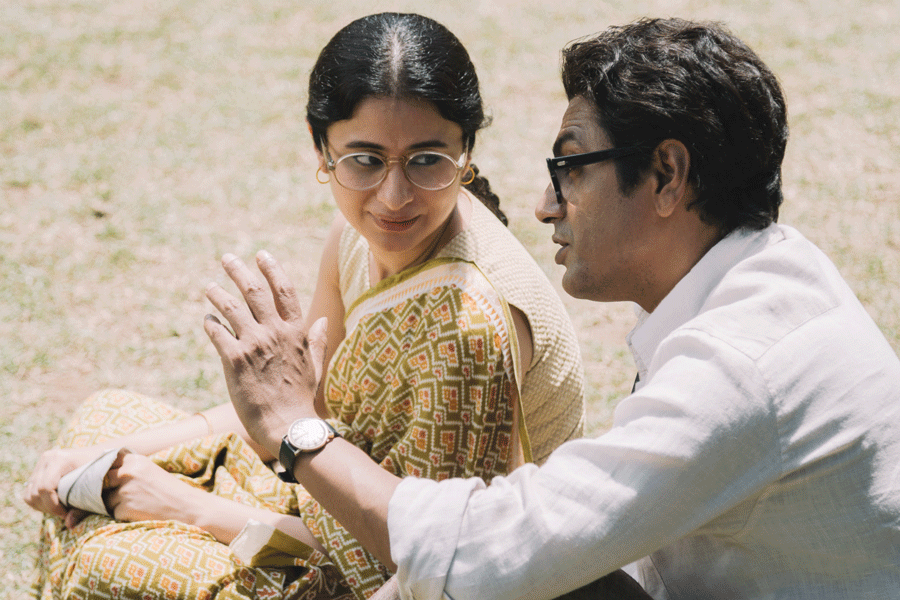 Special mention must be made of the great chemistry between the inimitable Ismat Chughtai, and Manto. This relationship haunts Manto in Pakistan, where, in one of his drunken moments, he mistakenly embraces a random woman outside court mistaking her for his good friend Ismat, and urges her to 'call him back to Bombay.'
Das explores Manto's personality and craft as a writer through some of his lesser-known stories and works, which are nonetheless important. In his story Das Rupay, for instance, one of the most moving scenes is where Shome depicts a prostitute who values her sleep more than servicing that one last client brought to her by her pimp (played superbly by Paresh Rawal); on being literally dragged off the charpoy by the insistent Rawal, the pleading prostitute pushes him against her charpoy, killing him, and goes back to sleep. 
Also, a memorable mention is made of Manto's immensely valuable Letters to Uncle Sam, where the writer wittily channels his frustrations with the Pakistan government for signing military agreements with the United States. 
While the film totally misses the fact that Manto was very proud of his Punjabi roots and would always speak Punjabi at home and with his friends, in all other respects -— from Manto's battles with his alcoholism and the law, and his often wanton neglect of family responsibilities — Manto is largely accurate.
The best part about the film is that from start to finish, it reinforces our sense of Manto as a champion of freedom of expression; a rebel and iconoclast, rather than a victim of the law, alcohol or the Progressives – interesting details which could easily have been milked for a lot of sensational melodrama in the hands of a lesser director. But Das has sensibly avoided that route.
Das's Manto is also an ode to the two cities crucial to Manto's life, namely the Bombay of the 1940s and the Lahore of the 1950s, which is why a pleasing rendition of Manto's contemporary poet Meeraji's haunting ballad Nagri Nagri Phira Musafir within the film is so apt.
The film's soundtrack is really an ode to Manto and his Progressive friends (and fellow PWA outcasts like Meeraji). From the cheerful Ban Titli of the opening sequence to Faiz's Bol Ke Lab Azad Hai Tere and Seemab Akbarabadi's ghazal Ab Kya Bataun Main Tere Milne Se Kya Mila, the poetry and music have been used effectively.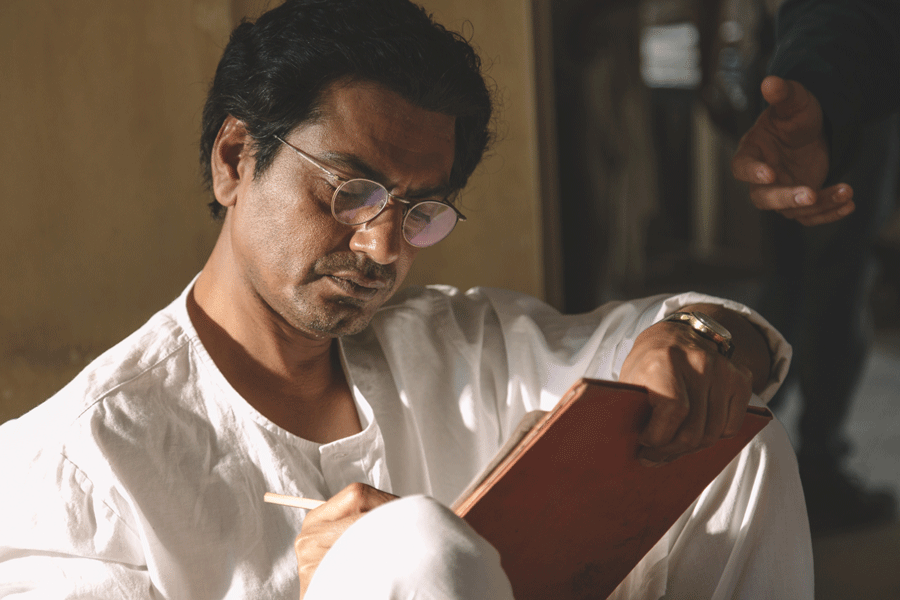 In the final analysis, Das's Manto challenges the stereotypes which literary critics and pundits of every hue have long held and popularised about the legendary writer – that he was, at best, a writer without a vision, a la Maupassant, a great storyteller but not a far-sighted social and cultural critic who was head and shoulders above his peers and contemporaries. It does this through well-fleshed out references to Manto's Letters to Uncle Sam and his satirical essays on post-colonial Pakistan (Savere Jo Kal Aankh Meri Khuli) and types of cigarette smokers (Muft Noshon ki Tera Kismen).
The film comes at a very opportune time, when many of the issues Manto faced in both colonial India and independent Pakistan are, once again, rearing their head in both countries in the 21st century, and which eventually steered Manto away from unthinking, flag-waving patriotism to being a No Land's Man(to).
The author is a Pakistani social scientist, book critic, blogger and translator based in Lahore. He received the prestigious Charles Wallace Trust Fellowship in 2014-2015 for his translation and interpretive work on Manto. He is presently working on a book of translations of Manto's progressive writings, tentatively titled Comrade Manto.
The writer is a social scientist, translator, book critic and a prize-winning dramatic reader based in Lahore.
Next