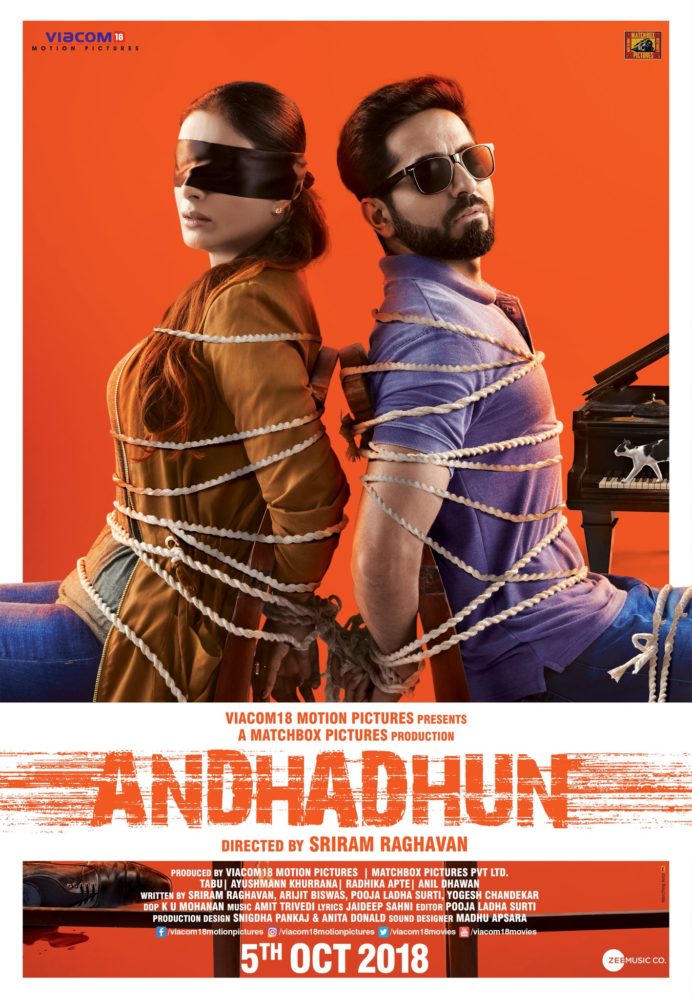 Hold on to your hats when you watch the film AndhaDhun. You will get blind-sided, along with the protagonist, as the plot of the movie twists and turns every 10-15 minutes, keeping you on the edge – if not at the edge of your cinema seats. Sriram Raghaven's latest directorial venture is an intense gut-wrencher that rivets and entertains for its entire two-hour duration. No mean feat, but the director manages to grip the audience with his superb direction. Each time you think you have figured it out, he manoeuvres his actors through even more cleverly placed, unexpected events.
The intrigue in AndhaDhun starts unfurling early on in the film. Akash (Ayushmann Khurrana), a talented musician who lives alone in Pune, is working hard on his piano to complete a music composition. As a creative artist, he also works hard at pretending to be stone blind. One morning, while commuting from his middle-class bachelor pad with his white cane et al, he gets run over by Sophie (Apte) on her scooty. She tries to make it up to him by taking him to breakfast. Learning that he's a musician, Sophie invites him to play at her father's restaurant, called Franko, a favourite watering hole for the local eclectic elite.
Soon a romance starts to blossom between him and Sophie. Akash's performance at the restaurant is a hit, especially with Pramod Sinha (Anil Dhawan), a well-known actor of yester-years who loves watching old movies that he starred in. Impressed with his talent and the fact that Akash 'recognised' him by his voice, Sinha invites him for a private concert at his house as a three-year wedding anniversary gift for his second wife, Simi (Tabu). In order to keep it a complete surprise, Sinha informs his wife, that he will be away in Bangalore during that time.
The following day, Akash arrives on schedule at Sinha's apartment located in an upscale neighbourhood.  When Simi informs Akash that he is mistaken and Sinha is away on business, Akash insists on playing for her since Sinha has paid him in advance. Once inside, Akash seats himself at the piano – and then the audiences are shown that directly in front of him, a partially hidden body is lying on the floor, along with a bouquet and a smashed bottle of wine mixed with blood.
Maintaining his composure, Akash plays a few numbers, while Simi checks whether he is truly blind. Unable to bear the tension any longer, Akash asks Simi to lead him to the bathroom – and then again the camera pans to show a well-built man, gun in hand, hiding there. As he returns to the piano, it is confirmed that the body is that of Sinha's.
Akash plays a few more compositions, while Simi and her clandestine lover stealthily move the body, clean up the evidence and stuff Sinha's body in a large suitcase. They fail to notice that Akash's music has changed to eerily reflect the mood, or rather the crime unfolding before him. Leaving Simi's premises after his private concert, Akash heads directly to the police station to report what he has just witnessed.
Just as Akash is about to report Sinha's murder, a senior police officer, Inspector Mahendra (Manav Vij) enters – he is none other than Simi's paramour and her husband's assassin. Caught between a rock and a hard place, Akash is compelled to change his mind. The fraudulently blind piano-player has inadvertently placed himself in grave danger, and the plot only gets more chilling. By the intermission, you will be pretty jumpy yourself, and the storyline keeps unravelling in this manner right to the very last scene.
Inspired by the French short film, L'Accordeur or The Piano Tuner (2010) by Olivier Treiner, director Sriram Raghavan, who is known for his crime thrillers, recasts the blind protagonist in his latest fare, but with a few changes for his Indian audiences. A brilliant adaptation, AndhaDhun is buoyed by flawless acting, taut editing, crisp cinematography and excellent direction – all of which make for a nerve-wracking narrative.
Ayushmann Khurrana's role is particularly challenging but his exceptional performance keeps you guessing whether he really is a good bloke with nerves of steel, or if that is also an act. And as the main antagonist, Tabu has outdone herself, in the most unnerving performance of her life.
The film is devoid of the usual Bollywood dance razzmatazz, but a couple of foot-tapping soundtracks, particularly Naina Da Kaya Kasoor and Laila Laila are memorable. However, it is the piano arrangements that are truly captivating.
With the right balance of suspense and light-hearted moments, accompanied by catchy songs, the film proves to be a thriller par excellence – a rarity in its genre. In fact, the film is being called a "master class" on how to make a great film.
The writer is working with the Newsline as Assistant Editor, she is a documentary filmmaker and activist.
Next