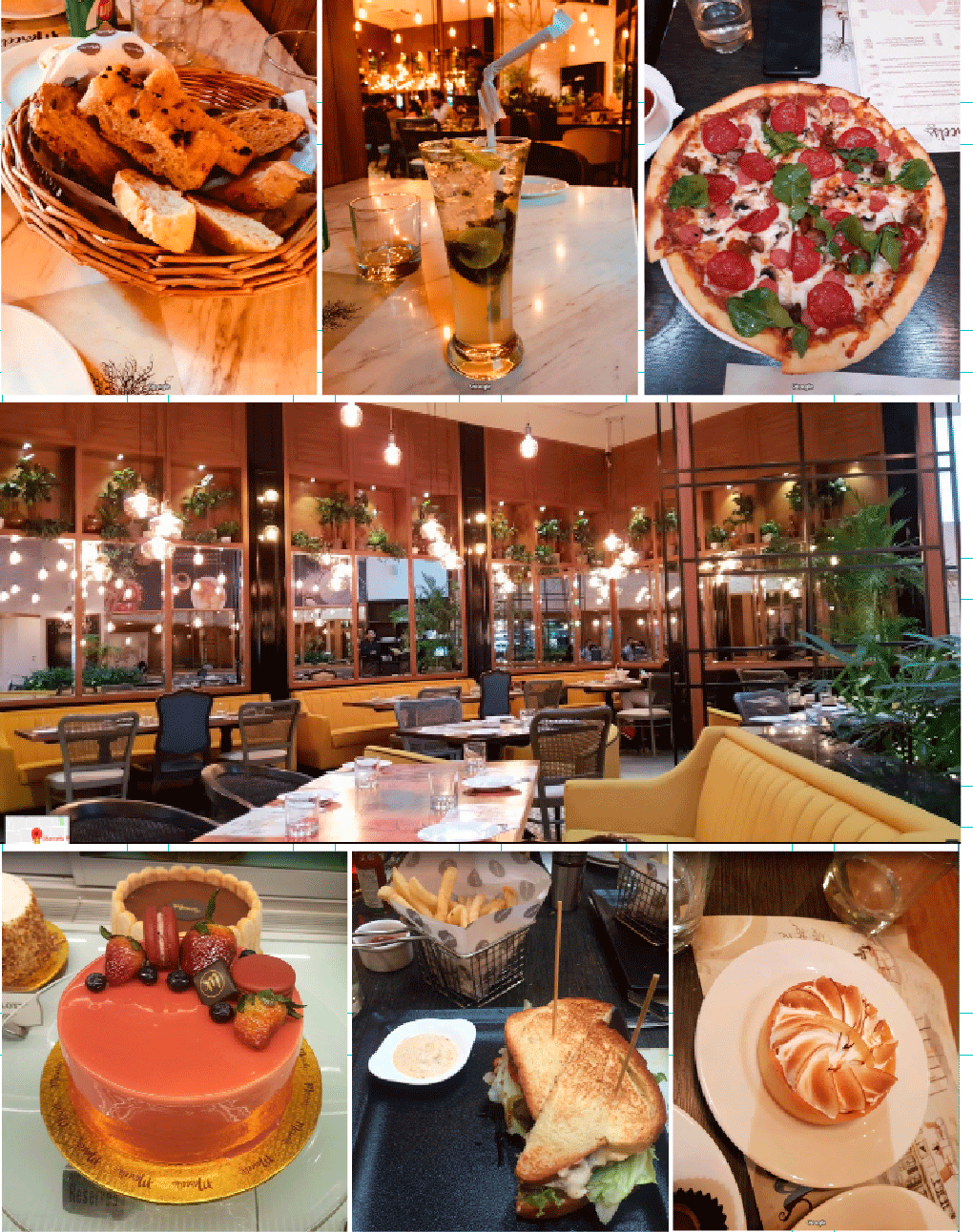 Although it has been quite a few months since Marcel's opened its doors in Karachi, and I am normally among the first to try out a new restaurant, this was one eatery I had given a miss because of all the negative feedback I had received from those who had happened to visit it. "Too pricey," "Not good value for money," "Overrated" – comments that were enough to put me off. However, when I was invited for lunch there by a friend recently – I had no option but to accept, and am I glad I did! The whole experience was so enjoyable that I went there again the following week.
To begin with, the ambience is delightful. Kudos to Naheed Mashooqullah for transforming the erstwhile Pizza Hut into a charming, completely unrecognisable restaurant that has an upscale, yet informal look. As you enter the spacious eatery, you pass a dessert counter on your left that has the most mouth-watering display of cakes, tarts and macaroons; and on your right is a tempting display of a wide variety of breads. The colourful eclectic furniture, hanging lights and fresh indoor plants all help to give the place a cheerful look; however, the Eiffel Tower installation deceptively makes you think that Marcel's is all about French cuisine. 
However, one look at the menu and you know that is not the case. Named after the world traveller Marcel Le Roux, who was born in Paris but travelled to Italy, the US and China, the restaurant has a bit of everything – from pizzas to burgers, and from steaks to pastas. Although the menu is limited, whatever is on offer – at least all the items we tried over the two visits – is delicious. And yes, by and large, the restaurant is pricey. Be prepared for a minimum of a whopping 2,200 rupees per head, if you order just soup, a drink, and a main course, minus the dessert!
The first time round, we ordered Sesame Beef Salad comprising roasted beef tossed in sesame dressing with red peppers, tomatoes, lemon grass, carrots and onions on a bed of lettuce. The salad was appetising and polished off in no time. For the main course our party ordered Four Cheese Pizza, which was thin, crispy and delicious, and coconut prawn parcels, comprising tail prawns wrapped in tortilla parcels with coconut and fried golden brown. Served with a sweet and sour green chilli and coriander dip, the prawns were delectable. The last entrée we ordered was Smoked Chicken Sandwich which comprised roasted chicken with smoked barbecue sauce, onions, tomatoes, cheese and lettuce sandwiched between toasted focaccia. Giving a welcome twist to the unassuming sandwich of yore, the dish was scrumptious.
Since we had to try at least one of the desserts for which Marcel's is so famous, we opted for the chocolate tart, and tantalising though it was, we were glad we had ordered just one among the four of us as it was sinfully rich and creamy.
On my second visit, we decided to order soup instead of salad. With just two soups on offer, both among our favourites, my husband and I ordered both – Marcel's Onion Soup and Roasted Tomato Bisque. Surprising that the restaurant is so careful to avoid the word French before Onion Soup, for it was the most perfect French Onion Soup served anywhere in Karachi in a long, long time. Served in a sourdough bowl, it was just the right consistency, and had the cheese, bread and onion combination down to a tee. The Roasted Tomato Bisque was also appetising, though I missed my bits of croutons floating in it.
For my main course, I opted for Linguini Pasta With Seafood which had an assortment of sautéed shrimp, calamari, crab meat, fish and assorted veggies, cheese and cream tossed with the pasta. A bit bland, it was nonetheless enjoyable. My husband ordered the steak, and I may add here that he is extremely fussy about how it is prepared as he likes it medium rare. Most restaurants in Karachi never get it right – it is either too well done or too rare. Marcel's had it down to an art form. He was delighted with his platter. To wash down our meal, I ordered a kiwi slush and my husband mint margarita, both of which were refreshing and didn't disappoint.
The food is not the only thing we were pleasantly surprised by, though. The service was amazingly quick and efficient. Within an hour we had been served our soups, drinks and main course and were ready to pay the cheque. A perfect place to eat, especially if one is in a hurry and needs to partake of a wholesome but quick meal!
The writer is a freelance journalist based in Karachi. She also works at Hum television.
Next