Living extravagant lives that could put Marie Antoinette to shame, four lifelong friends try to turn their lives around after reading E.L James' erotic bestseller 50 Shades of Grey. Jane Fonda, Diane Keaton, Candice Bergen and Mary Steenburgen play four friends who formed a book club 40 years ago, and have been meeting ever since to discuss a new book every month.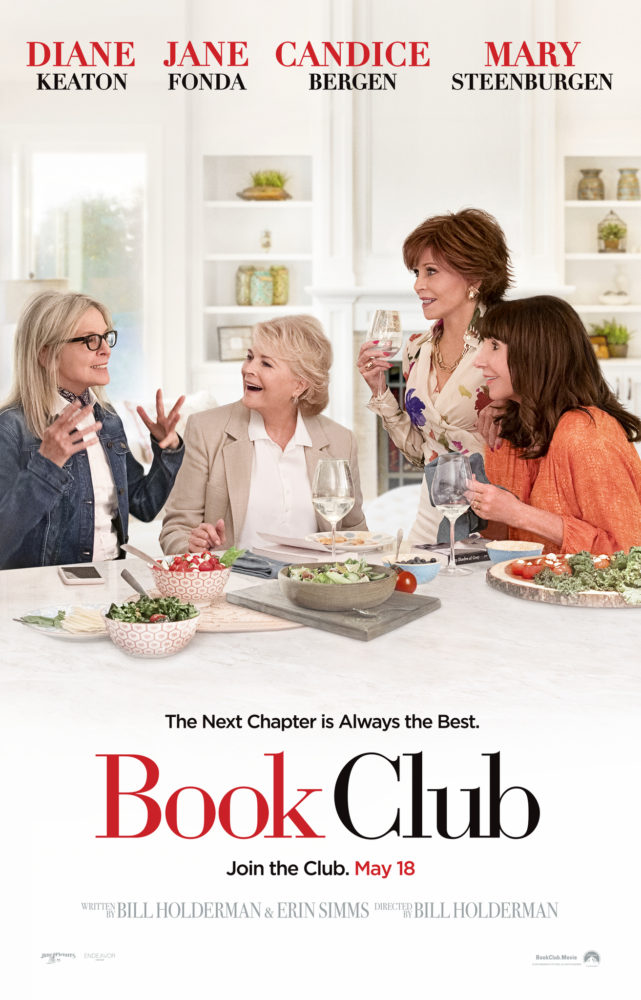 Vivian (Fonda) is a successful hotelier with no time for commitment, but plenty for sex. Sharon (Steenburgen) is a not-so-happily married restaurant owner, who is desperately trying to find ways of spicing up her 35-year-long marriage to Bruce (Craig T. Nelson). Carol (Bergen), a modern take on the stereotypical 'crazy cat lady,' is a federal judge who has been celibate for 18 years since her divorce. Diane (Keaton), the narrator of the film, is a recently widowed woman navigating ways of dealing with her over-protective daughters.
The action of this life-after-60 film begins from the get-go, right as the four women dive into their new read. Sparing the audience unnecessary details of E.L James' BDSM love saga, the film only uses it as a plot device that gives its female leads the push they need to take charge of their love lives. Thankfully, no one goes around replicating Christian Grey's questionable ways of seeking love, but the book sure gets the ladies "in a tizzy."
Vivian runs into Arthur (Don Johnson), a love interest from her past, the only one she was ever serious about but dumped right after he proposed. A romance is rekindled, and they continue to meet, leaving the typical will they, won't they question hanging in the air. Sharon's frustration continues to grow, as the romance between the books leads gets steamy, while the intimacy in her marriage takes a dip. Desperate to bring the spice back, she resorts to silly measures that make for laugh-out-loud moments in the beginning, only to get embarrassing as the film moves along. Carol, bitter about her ex-husband's new and much younger fiancée, joins a dating website in her search for a second chance at love.
Diane, the only one not actively seeking to change things in her life, gets the best bet. Her anxiety about flying leads to an awkward but cute encounter with Mitchell, played by the preternaturally charming Andy Garcia, and sparks fly instantly.
What could easily have been a cringe-worthy experience of watching Hollywood legends behave like giggly teenage girls – and it is in some moments when the innuendo and the smirks get a little too much – it is at heart a film that takes the liberty of looking at women as sexual beings who crave companionship, and what's not to love about that.
The men on screen match the acting prowess of the leading ladies equally. Garcia's charm adds to the appeal of his character, and one cannot help but root for the romance blossoming between Mitchell and Diane. Nelson as Bruce, perhaps the most realistic character of the film, plays the part of a retired man struggling to find his new path in life, to perfection.
In a time and age when there is pressure for female driven films to break the norm, it is equally important to have films that look at women as flawed beings seeking validation in life. Book Club is essentially selling to the audience an age-old idea of love and romance, the fairy tale that people pretend to cringe at but enjoy in the quiet of their home. This Sex and the City equivalent for the older generation is far from an original story, and would be easily forgettable, if it was not for its stellar star cast.   
A journalism graduate, Zoha's core areas of interest include human and gender rights issues, alongside which she also writes about gender representation in the media and its impact on society.
Next