Saeed Khan's work exemplifies the classic traditions of photography, although the use of the digital printing medium does add a new twist. Saeed has been at it since the 1960s, applying the technical principles he first learnt as a young man in Sweden.
He is primarily a travel photographer, and landscape is a strong point in his portfolio. He photographs people as and when he finds them — village folk, bystanders, visitors to a shrine.
There is great depth of field and detail in his images. An exhibition culled from decades of work, held recently at the Indus Gallery, included black-and-white as well as colour work. My personal favourite is a black-and-white photograph of a crowd of people on Clifton Beach in the old days. There is a dream-like quality about this image; frozen in time on a summer evening, a reminder of days gone by.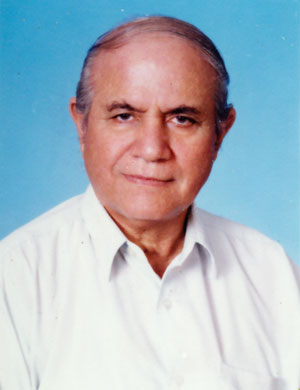 Saeed's compositions are clean, and he uses colour with as much abandon as the restraint he employs in his black-and-white images. He is the man who introduced the Cibachrome process to Karachi, back in the 1970s. This was the pre-digital age when the transparency was a medium of choice for most professional photographers. Through Saeed's process you could make colour prints directly from the transparency, skirting around the inter-negative and obtaining a print in true colour that would hold for decades.
As a professional photographer, Saeed Khan took on advertising and industrial work, but the genre he obviously enjoyed the most and that is closest to his heart is that of travel photography. He had an opportunity to explore photojournalism in the '70s with the establishment of the Pakistan Tourist Development Corporation, printing images in its glossy publication, Focus on Pakistan.
In his travels, Saeed has documented a landscape that no longer exists in many cases, and the images are a reminder of a quieter time in our lives. Many are taken in a rural environment. 'Small Crop for the Chaudhries' is in this vein, the villager captured in his own domain, devoid of self-consciousness. 'One grew on a tree' is a Thatta streetscape with the traditional wind-catchers caught in a surreal light.
There is some experimental work too, a play on colour, form and texture such as 'Predator in 2-D' and some close-ups of doors and windows. Once a traditional photographer, Saeed now manipulates his images digitally, using ink jet technology to produce archival pigment prints.
As one of the country's pioneering photographers, his work needs to be documented and preserved. With our scant respect for history and tradition, the best we can hope for is to glimpse it in the occasional exhibition.
Next