Interview: Mashooq Sultana
"The Frontier's musicians are living in penury and perpetual fear of militants"
– Mashooq Sultana
Mahjabeen, alias Mashooq Sultana, the melody queen of the NWFP in the '70s, has more than 1,500 albums to her credit. Sultana made her debut during her late teens at a private music concert in her hometown, Shanderai, in Swat. A radio producer, Nawab Ali Khan Yousafzai, heard her and subsequently launched her melodious voice on the airwaves back in 1962. Mashooq Sultana has represented Pakistan in the US, UK, France, Belgium, UAE and Afghanistan on several occasions and is the recipient of 600 awards, including the coveted presidential award, the Pride of Performance.

But now Sultana lives in penury in a two-room rented house in Chughalpura, on the outskirts of Peshawar city. Recently, she fractured a leg and was forced to sell her gold ornaments to raise money for treatment.

In this interview with Newsline, Mashooq Sultana talks about the adverse effects of militancy on the present Pashto music scene and dwells on her own illustrious career as a folk singer in the '70s.
Q: How far has the Pashto music scene been affected by militancy?
A: The growing militancy has badly affected Pashto music, art and everything in the Swat valley and other parts of the Frontier, the murder of a dancing girl in Mingora being the most gruesome incident of all. Many artistes were forced to give up their professions. Some fled for safety and a few took refuge in other countries. This is a tremendous loss to our rich cultural heritage.
The Frontier's so-called liberal government does not seem to be doing much for the revival of any cultural activity in the province, despite its tall claims. A large number of singers and musicians are living in penury and in perpetual fear of militants.
Q: So how can the cultural scene be revived?
A: Various steps need to be taken. Security for the artistes should be the first priority, along with offering attractive incentives to them. Further, by holding various cultural festivals, one could inject some life in the dead soul of the province. But the fact is that even the state-run radio and TV are not exactly encouraging to the artistes. No musical concert has been held so far to provide singers the opportunity to participate. The authorities say it's a security hazard. So, given the current situation, how can a poor artiste survive?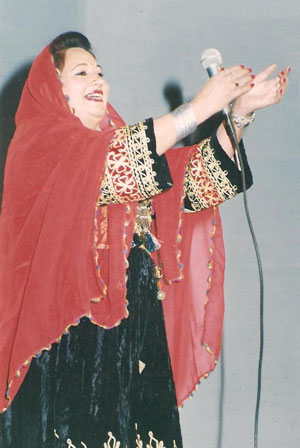 Q: How did a Pashtun village girl from a religious family like yourself make it to the profession of singing?
A: Since my childhood, I used to listen to the radio, and it was the folk songs mostly that would captivate my heart. A family affiliated with music lived in our vicinity. Secretly, I would scale the walls and enter their house to take part in the daily riaz (practice sessions). What's more, my father-in-law, Mohammad Hussain, a popular tabla player, succeeded in convincing my family to accept his son's marriage proposal for me. A year after my marriage, I began learning the intricacies of Pashto music. I began by performing at weddings.
Q: So how was your first experience of singing for Peshawar radio?
A: After Nawab Ali Khan Yousafzai auditioned me, I sang a duet with Gulab Sher in a children's programme. Later, Rafiq Shinwari, a prominent music director, composed a folk song by Fazal Ghani Mujahid, "Da pah deryab ke sailaboono." ("I am drowned in a stream of your worries, that's why I weep so bitterly"). It proved to be an instant success. Those were the times when most transmissions were aired live. However, under a special arrangement, my song was recorded. It is still in great demand on Peshawar radio.
Q: You have also acted in Pashto movies.
A: Yes, I did act in some classic movies like Jawaargar and Jannan, but later I returned to singing because I felt I could contribute more to Pashto music than films.
Secondly, I could not concentrate on two different professions. However, I continued to give playback for films whenever I was asked. The early '70s were the golden era of Pashto movies as well as music.
Q: What were the reasons behind the decline of Pashto cinema?
A: Substandard actors and obscenity were the main causes for its decline. Some non-Pashtun elements had begun to misrepresent Pashtun culture in order to make money. But now, hopefully, Pashtun cinema has entered its revival stages. Story lines based on social themes and good music are attracting movie buffs. However, the deteriorating law and order situation continues to take its toll on the nerves of both cinema-goers and film financiers. But the industry is slowly picking up.
Q: Why have you confined yourself to folk singing?
A: Folk songs are the embodiment of our national identity. Whenever I sing a folk song, it deeply touches my heart. Pashto is rich in folk songs. Its impact on listeners of all ages is instant and permanent. There is an inherent rhythm in folk poetry. It needs little effort to compose it. I always like to sing tappas and other folk numbers. I have also sung ghazals and nazms, but folk is my forte.
Q: Who were your predecessors in folk singing?
A: When I entered the field in the early '70s, mega stars such as Khayal Mohammad, Hidayatullah, Zarsanga, Kishwar Sultan, Gulnar Begum and a few others had already made a name for themselves on the Pashto music stage. It was indeed a great challenge for me to carve out a niche for myself. But through commitment and passion, I made my way and soon became the most sought-after artiste.
Q: Do you see any difference between the Pashto music of your times and now?
A: Yes, a world of difference. I am not in the habit of putting anyone down, but to me there is a lack of professionalism and commitment. I still do two hours riaz on a daily basis. Ours was not the age of the fast track system and computer synchronisation. We dare not remix any old folk song for fear of distorting its content and its original tune.
I have re-done a few folk numbers keeping the original composition and subject matter intact. Only great masters could have done remixes because folk songs are not merely a string of musical words, they have a history and a cultural identity.
Q: How do you view the addition of electronic musical instruments to Pashto orchestral arrangements?
A: I welcome it, but it should not devour the natural flavour of Pashto music. I cherish the rabab and themungai, which are typical of Pashto instrumentation.
Q: Any advice to the new breed of singers?
A: The newcomers need to receive proper training in music. For years I trained with my late music teacher Rahdat Hussain, who would not tolerate any fumbling, mispronunciation or wrong notes. Singing, I believe, is not everybody's cup of tea.
Q: Do you believe that you have got your due as a singer?
A: I have earned widespread fame and respect for my country, and I feel the provincial cultural department should provide me with a decent residence and stipend so that I can support my 10-member family. Also, I wish to perform hajj.
Q: Do you see any hope for the artistes and singers of Swat?
A: Years ago, I shifted to Peshawar from Swat, but my heart yearns for the peace and serenity of the scenic valley. It is, in fact, the enchanting beauty of Swat that turned me into a singer.
The artistes of the valley should never lose courage, as they have done no harm to anyone. The concerned authorities need to make all possible efforts to save the land of the Buddha. I wish for a permanent end to militancy, and pray that complete peace is restored and that all cultural activities are revived.
Next