The highlight of our week in Sharm El-Shaikh, Egypt, in July was indeed the meeting between the Indian and Pakistani premiers — and the media hysteria surrounding it. The classic tit-for-tat between the Pakistani and Indian media, the segregated briefings and the venomous patriotism were all rather comical.
The frenzy here was reminiscent of what I observed while covering the Musharraf-Singh meetings in New York. In Sharm El-Shaikh, though, I saw some glimmer of hope. A journalist from Pakistan and two of our counterparts from India shared information, the schedule of country-specific briefings, footage and most importantly, a passion for freedom of the media. Still, I was sceptical.
When Prime Minister Yousuf Raza Gilani arrived at Boran Resort with his delegation and embedded Pakistani media, a few of us were already there, from Samaa and Geo, and two others from an Indian TV network. We were the only South Asian journalists who were not embedded in their respective government's delegation, and as such we arrived days in advance to cover the Non-Aligned Movement.
First the prime minister's limousine pulled up in front of the hotel. But after some debate and confusion, the motorcade headed to the back of the hotel. Seeing this, we ran through the hotel as fast as we could to assume our new positions before Gilani entered the hotel. To our surprise, a large group of Indian journalists were already staked-out at the back entrance.
From everything that I have read in history, in biographies of successful leaders and on effective communication, it was a godsend for Gilani to establish himself as a leader of the region. The Indian media were unruly, hysterical and trying to provoke him into saying something controversial. It is in situations like these, however, that a politician can demonstrate his innate leadership qualities.
Gilani missed this opportunity. He spoke hesitantly, without eloquence or cadence. In fact, his demeanour was that of a politician-in-training.
In that frenzy, I had captured a few minutes of footage that I needed to send to our newsdesk in Karachi. I went to the media centre, set up at the Baron Resort by the Pakistani embassy in Egypt, to park my equipment and upload. Soon, I saw a journalist from Geo and two of his Indian counterparts also enter the room. The Indian journalists were asked to leave within minutes. This is not new or unilateral. In the past, I have been stopped several times from entering Indian media centres in New York and Washington DC.
Based on my experiences in New York and DC, I discouraged Khalid Hameed Farooqi, Geo TV's special correspondent, from sharing anything with the Indians. I had told him that he was a fool for letting them know when the Pakistani PM was arriving, or the timings of media briefings. When we were subsequently not allowed in the Indian media centre, I didn't hesitate to rub it in his face.
Media briefings and a back-and-forth between Indian and Pakistani media centres continued for the next two days. Not surprisingly, the majority of Indian and Pakistani journalists did not file any story on the NAM. This second largest multilateral summit in the world was a non-event for them. While India had fully participated for the entire week, Pakistan was not adequately represented in the first four days of the summit.
Both sides used their media as negotiating tools. A Pakistani journalist (for the English print media) was fed a story of 'deadlock' to adjust the Indian diplomatic temperature. It worked: India toned down its rhetoric after this story emerged on the web.
Then the two South Asian prime ministers met. That day was total chaos. We had to go through three separate sets of security clearance: first hotel security, then Egyptian security cleared us, and finally, Indian security. A noisy bunch of Indians and Pakistanis had pretty much taken over the lobby of this five-star resort. There was massive pushing and shoving just to get a glimpse of the leaders and hear the announcement. After almost three hours of anxiety, an Indian official brought the results of the meeting: a written joint statement. But amazingly, the tiniest of cameramen, who was probably five feet tall and no more than 100 lbs, snatched it and tried to run. It was inexplicable and hilarious. Funnier still was the Indian secretary, who was so embarrassed at losing his joint statement that all he wanted to do was rough up this brazen fellow.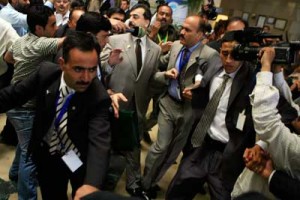 The joint statement was encouraging for Pakistani journalists. The two prime ministers had agreed that terrorism (not each other's country) was the main threat to each nation and they would cooperate in fighting it. The joint statement said that "action on terror should not be linked to the composite dialogue process and these should not be bracketed." In theory, at least, that should allow talks to resume regardless of what's happening on the ground. It was a great outcome.
When Prime Minister Gilani emerged from the meeting he had another chance to establish himself as a voice of reason, as a representative of a country that wants peace in the region. Indian journalists, of course, kept throwing one-liners, all on the same topic: terrorism. "How are you going to stop terrorism?" "Can you guarantee no more terrorism?" Like a broken record, they would just repeat the same question, over and over again. Their aggressive show of patriotism didn't hide their lack of skills and creativity.
Some advice for the Pakistani prime minister: Don't walk and talk at the same time — that puts you in a weak position, as if you are running away from the media; respond in a loud and clear voice, even if your response is circular; take few questions and then clearly say, "Thank you, no more questions," and then walk away and don't look back.
It was a chaotic event, but the outcome was decent. In regards to the cross-border media collaboration, I am still of two minds. I am not sure if my friend Khalid's collaboration with Indian journalists will yield any results in the near future. My personal experience tells me otherwise. But I would rather be proved wrong.
Next