Limelight and controversy are nothing new to President General Pervez Musharraf. Ever since he took over the country six years ago, he has had both in larger-than-usual quantities. But after he green-signalled diplomatic contact with Israel, Musharraf is on a new publicity high. From a controversial military ruler of a nuclear-armed Islamic state, valued for his staunch fight against international terrorists, President Musharraf has now joined the charmed league of international statesmen involved in the complex Middle Eastern peace process.
Yet, in reality, old fears are driving Pakistan's diplomatic drift towards Israel. In the past two years, concerns have grown in military circles about Israel's growing involvement in South Asia, through its links with India. Defence sources confirm that the "Israeli factor" has been in unprecedented focus over the last eight months in almost all high-level security meetings.
More than defence, it is the Israeli-India intelligence collusion that bothers Pakistani defence decision-makers. "We are not obsessed with Israel, but it is not lost on us that India's deepening defence and intelligence cooperation is complicating our strategic environment, which has to be neutralised," says a three-star general directly involved in some of these discussions.
Intelligence sources are candid in admitting that the "India-Israel" sharing of information about Pakistan's "strategic assets" (read nuclear programme) has "doubled Pakistan's counter-intelligence work."
"Israel has shared with India its vital experience of handling intelligence and information gathering about its neighbour's military installations. We have a considerable body of evidence to suggest that in some cases Israeli experts spent a long time in India, working on what we think is the 'Pakistan project.'"
However, this is not something new. What has added urgency to the old headache of dealing with the Indo-Israeli combine is the strong strategic partnership with a nuclear dimension that is coming up between Washington and Delhi.
In the army's elite think-tank, the National Defence College, a debate has been raging about the diplomatic options that Pakistan has in view of America's nurturing of India as a global power, and as a counterweight to China.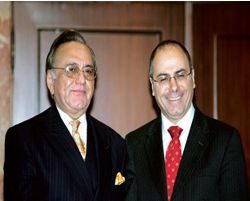 "We know that when big powers select friends and create a long-term basis for cooperation in fields like nuclear technology, they mean serious business. India is the US choice in the region and this has grave policy implications for us. We are not only dealing with just an over-reaching, grasping kind of power (India), but one that can use its new found clout to undermine our nuclear programme," said a defence analyst working at the NDC.
Even within General Musharraf's camp, the number of those speaking in favour of "cultivating Israel for diplomatic gains" has been growing. A few civilians, as well as General Musharraf's close military aides, have made a strong pitch for "reaching out to the US by cultivating friendly ties with Israel." But in doing that, they have only echoed General Musharraf's own thinking.
"The President wants to expand the network of friendship with the US. It (the friendship), should not be just counter-terrorism centered. Israel provides a good platform for this expansion," says a source close to the President.
The cable traffic from Pakistan's embassy in Washington, headed by former chief-of-army staff, General (retd) Jehangir Karamat, had also been steadily building a case for fruitful but measured contacts with Israel to serve Pakistan's needs.
"Washington has been the main theatre of Israel-related diplomatic activity. It is in the US that the strong Jewish lobby has always been keen to engage with us, but we balked at responding to these gestures. Now that has changed because our needs have changed," said a foreign office official who has served in the US.
Sources close to the President say that General Musharraf did comprehensive "listening sessions" on the issue of making contact with Israel. "The Americans, the British, the Saudis, the Turks, the Jordanians, and the Palestinians were all on board when the President took the final decision. He had spoken to his corps commanders and a comprehensive study, highlighting the pros and cons of the decision has been done that puts the whole issue in regional and global perspective," says an insider.
The Foreign Office denies that there is a "roadmap" for forward movement with Israel. However, diplomatic sources say that, barring any major upheaval in the fragile Israeli-Palestinian equation, two years is the time by which "major players of the Islamic world, including Pakistan should be diplomatically engaged with Israel."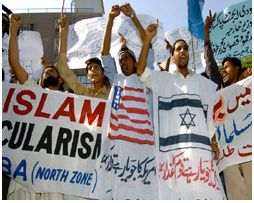 It is unclear whether domestic considerations have pulled any weight in the President's final decision to declare contact with Israel kosher. Those involved with the decision-making process, emphatically deny that Pakistan's domestic politics ever came up in meetings where the subject was intensely debated.
"The only time we debated this side of the issue was when we looked at the possible backlash from different quarters at home; otherwise, nobody ever considered, or submitted for consideration, the possibility that this would translate into a domestic advantage for the President," says a source in the presidency.
This could well be true, but domestic implications of General Musharraf's role as an international player are too obvious to ignore. The General's international goodwill and stature has meant a complete suppression of the opposition at home. By and large, the US and Britain have taken in their stride the local bodies election muck-up and verifiable charges of rigging. US diplomats now say that the only electoral activity to get a public assessment from their government will be the 2007 elections. And this despite the fact that only two months ago top-ranking American officials were talking about the critical importance of providing a "level playing field for the opposition in the 2005 and 2007 elections."
Peoples Party Parliamentarians, who have briefed foreign diplomats on what they call "unheard of rigging and subversion of the people's mandate," admit that they elicited a great deal of sympathy, "but little or no support in the form of commitment that their governments would take it up with President Musharraf. All they say is that they have to balance the centrality of President Musharraf's leadership role for peace in a turbulent world with the issue of the erosion of democracy in Pakistan," says a senior People's Party leader. This is not surprising. The operative word for Pakistan these days is "diplomacy," not "democracy."
This has fuelled the General's power and has fired his ambition. Cheerleaders and paid pen-pushers now openly encourage him to retain his uniform beyond 2007. "To follow through on his foreign policy initiatives, he requires the strength that his military post gives him," says a Muslim League leader. This sums it all up. Foreign policy may be an extension of domestic politics elsewhere; in Pakistan, foreign policy agendas often lead to the suppression of the political process at home. General Musharraf's case is no different.
The writer is former executive editor of The News and a senior journalist with Geo TV hosting a prime time current affairs program.
Next