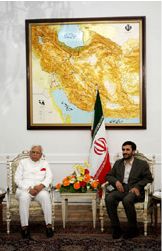 Despite the United States' looming threat of sanctions against Iran, owing to its nuclear ambitions and America's nuclear energy carrot to India which may be extended to Pakistan some time later, the two key South Asian neighbours still seem determined to go ahead with the long-term gas purchase agreement with Iran.
The 7.4-billion dollar Iran-India-Pakistan (IPI) natural gas pipeline project is seen as a vital energy link for the South Asian economies. In her last visit to South Asia in March and subsequent diplomatic interactions, Secretary of State Condoleezza Rice and her team have been telling India and Pakistan that any act which gave Iran a long-term role in international politics and offered monetary benefits would invoke American disapproval. The US has been using a variety of tactics to convey its displeasure not only to Pakistan and India but also to Iran. Washington is also perturbed over India's import of liquid gas worth 22 billion dollars from Iran.
In March, Dr Rice reportedly urged Islamabad to consider redirecting the pipeline to Qatar or the Central Asian Republic of Turkmenistan in order to bypass Iran. She also reportedly warned Pakistani Foreign Minister Khurshid Kasuri that the pipeline project could be in violation of the US, Iran and Libya Sanctions Act of 1996, which prohibits investments in the Iranian oil sector of over 22 million dollars.
Some observers believe that if the pipeline deal goes through, the US could impose sanctions on Indian companies involved in the project.
Pakistan and India have already gone into the details of the project after forming a joint working group headed by their oil ministry secretaries to assess the technical, financial, and legal aspects of the proposed 4 billion dollar Iran-Pakistan-India gas pipeline.
After the Islamabad meeting of the joint working group (JWG) in September, Pakistan and India are in the phase of conducting independent third party 'certification' of the hydrocarbon reserve in South Pars allocated by Iran to a gas pipeline for South Asia.
Iran has expressed its readiness to designate phase 9, 10, 15, 16, 17 and 18 of the South Pars gas field for the IPI project. Tehran claims that its gas reserves — to the tune of 14 trillion cubic feet — are enough to meet its export demands. Iran has the world's second largest gas reserves after Russia, but they have yet to be independently certified.
There are various international companies such as DNM, Ryder Scott, Schlumberger, PGS etc which have the expertise to carry out hydrocarbon reserve certification which involves geological, reservoir capacity and engineering aspects.
India and Iran have jointly indicated around 140-150 million standard cubic meters per day of gas but the final decision to firm up quantities is expected in the next JWG meeting in November.
Pakistan has indicated it would need 30 million standard cubic meters per day (mmscmd) of gas during 2010-11 which would go up to 60-70 mmscmd in 2014-15, while India has stated a minimum requirement of 90 mmscmd of gas.
Islamabad and New Delhi have also agreed to finalise the tripartite framework agreement on the Iran-Pakistan-India pipeline. In the mid-November meeting scheduled for New Delhi, the Indian side will provide drafts of the tripartite agreement. The second meeting of JWG concluded with the production of a joint statement, which noted that the Iranian side had provided the technical portion of the pre-feasibility report for the project.
Both the sides examined in detail the various technical, financial, commercial and legal aspects of the project. The JWG discussed the gas reserve certification and allocation, gas quality, system configuration and project structure besides other issues like pipeline routing, delivery points, transportation tariff, transit fee and operating costs and pipeline security.
"The IPI pipeline project should be a safe and secure world class project," said the joint statement. India and Pakistan agreed to "adopt the best international practices and standards." At the same time, the joint working group also agreed to adopt international standards relating to health, safety and the environment in the implementation of the project.
After the finalisation of the tripartite agreement, the work on the project would begin by June 2005 while the gas supply may resume by 2010, according to Pakistani Petroleum Secretary Ahmad Waqar. The responsibility for the security of the pipeline would be on the Pakistan Army, and Islamabad would charge an additional 100 million rupees for providing this facility. A decision may be reached on the entry point of the pipeline into Pakistan from Iran in the next JWG meeting in New Delhi.
In yet another forward move on the project despite US opposition, the Pakistan side will be soon appointing its financial advisory consortium for the project while the Indians have already appointed an international company, M/s Ernst & Young, as financial consultants and initiated action to appoint technical and legal consultants who would support the financial consultant.
The Pakistani government has also decided to join the Energy Charter Treaty as an observer while the Indian proposal for the same is under process of approval by the body concerned.
Pakistani Petroleum Minister Amanullah Jadoon said: "We welcome India in the project and sincerely hope that the project would be seen as the most credible CBM [confidence-building measure] between the two countries."
India has so far been hesitant to join the project because of its volatile relations with Pakistan, against which it has fought three wars since 1947.
The pipeline would extend over 2,758 kilometers across southwest Asia, including 755km of Pakistani territory. The international community has also shown growing interest in the Iran-Pakistan-India pipeline, with the World Bank and Japan's Sumitomo Mitsui Banking Corporation expressing their willingness to finance the project. It is most likely that the proposed multi-billion-dollar project will become a reality by 2010.
To this effect, a Memorandum of Understanding was signed between Iran and India in 1993 for a 4-billion-dollar pipeline from Iran's South Pars field to India, through Pakistani territory.
Subsequently, Pakistan offered security guarantees for the pipeline, vowing that gas flow will not be "switched off" even during periods of Indo-Pak tensions or hostilities.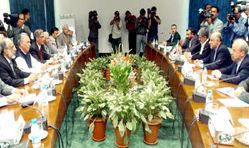 On a very positive note and taking advantage of US isolation in the project, the Russian firm Gazprom is sending a high-level delegation to Pakistan early next month, attempting to lead a consortium for the construction of the Iran-Pakistan-India gas pipeline. Gazprom Chairman Alexey Miller Borisovich will lead the delegation to Islamabad on October 6 to hold talks. Gazprom is the world's largest gas company with an over 20 per cent share in global gas production. The Gazprom chairman had to cancel his last visit to Pakistan in 2000 at the eleventh hour owing to strong opposition from India where President Vladimir Putin was paying an official visit at the time.
Gazprom, along with TotalFinaelf of France and Malaysian Petronas, is a major shareholder in the Iranian South Pars field, from where Iran would supply gas to Pakistan and India through the multi-billion dollar trans-national pipeline.
The Russian energy giant has already held numerous rounds of talks with authorities in Iran and India to lead or at least become an active player in the consortium to lay the gas pipeline from Iran to India through Pakistan. Indian companies like Indian Oil Company (IOC) and GAIL are also expected to join the consortium.
Besides the pipeline, Pakistan is also interested in involving the Russian firm in other oil and gas sectors, including petrochemical and other upstream and downstream activities. Gazprom is part of at least six of the 12 trans-national pipelines which Pakistan and India have selected as models for detailed engineering, pricing, transit fee and legal issues.
Iran and India are also holding talks over awarding Indian companies exploration rights for the Jofeir oil field and the Yadavaran gas field in Khuzestan province.
Indian Prime Minister Manmohan Singh recently said, "China is ahead of us in planning for its energy security — India can no longer be complacent." India, as the world's number six energy consumer, is in a desperate situation compared to its peers. For example, oil imports account for two-thirds of India's oil consumption while China imports one-third of its crude oil consumption. Furthermore, China's proven oil reserves stand at 18 billion barrels, compared to five billion barrels in India. The Indian-owned Oil and Natural Gas Company (ONGC) has invested 3.5 billion dollars in overseas exploration since 2000 while the Chinese-owned China National Petroleum Corporation (CNPC) has made overseas investments of an estimated 40 billion dollars. Indian policymakers have initiated numerous policies to address India's growing energy needs. For example, India is pushing for the creation of 15-45 days of emergency reserves in Rajkot, Mangalore and Vishakapatnam. India is also diversifying beyond oil to access other energy resources such as nuclear power, coal, natural gas and renewable energy resources as well as stepping up exploration activities within its borders. Nevertheless, for the short to medium term, India will have to rely on an increasing amount of imported oil and gas to meet its energy needs.
At the beginning of 2005, India also completed a 40-billion-dollar deal with Iran to import 7.5 million tons of liquefied natural gas annually over a 25-year period as well as obtaining stakes in the development of Iran's largest onshore oilfield, Yadavaran, as wellas the Jufeir oilfield. The Yahavaran oilfield is a Sino-Indian-Iranian collaboration with India holding a 20 per cent stake, China a 50 per cent stake and Iran 30 per cent. In exchange for Iranian gas, India is investing in Iran's ports and energy infrastructure. Iran and India have agreed to jointly develop the Iranian port at Chabahar as well as the road linking the port to Afghanistan and Central Asia, and grant India exclusive rights to the port.
Cooperation in the energy arena is mirroring relations in other arenas including trade and military cooperation. Bilateral exchanges of defence and intelligence officials are routine and in 2003 both states conducted joint naval exercises. These developments have not only concerned India's traditional adversaries, China and Pakistan, but also its newly found allies, Israel and the US, who fear that military technology supplied to India could be diverted to Iran.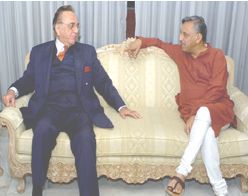 In an interview, Manmohan Singh told the Financial Times that "energy security is second only in our scheme of things to food security." Thus India's dependence upon secure oil and gas supplies represents a vital national interest, as manifested in its energy firms' quest for equity holdings in Russian, Angolan, Sudanese, Venezuelan, and, most of all, Iranian energy fields, or for major deals with states like Iran. Accordingly, in November 2004, India's state-run oil corporation announced a 3 billion dollar deal with Iran's Petropars. At the December 3-4, 2004, summit with Russia, India announced a 3 billion dollar Indian investment in the Sakhalin-3 oil field and the joint Russian-Kazakh Kurmangazy oil field in the Caspian. India's Energy Minister, Mani Shankar Aiyar has stated that, "what I am talking about is the strategic alliance with Russia in energy security, which is becoming for India at least as important as our national security."
There is no denying the fact that India's quest for energy is and would become an increasingly more assertive driving factor in its foreign policy not only in its relations with Pakistan and Iran but also with the Middle East and Central Asia and Caspian countries. The influence has mounted to such a degree that India has agreed to have the national oil and gas company ONGC enter what was a transparent dummy bid for the remnants of Yukos in Russia. Presumably, this favour will lead to enhanced access to Russian energy and heightened cooperation with Russian energy firms.
This strong Indian drive results from the realisation of its heightening economic vulnerabilities and the inherent dilemmas of the economic dimension of its ties with the United States. Many policy makers in India believe that New Delhi should balance its dependence upon Iranian and Russian energy with its need for US support.
Completion of these oil and gas deals with Iran would also enhance the already positive ties between New Delhi and Tehran and create a stronger community of interest between those two governments. But India's new drive for secure sources of energy in Central Asia and around the globe is based not only on its own needs but also on fears that China might be cornering the remaining markets that are not already captured. This India cannot allow if it is to be able to compete with China. India and China look to Central Asia for reasons of internal security against Islamic extremism, energy access, economic opportunities, and defence against foreign threats.
Stability in the energy market assumes a stable Middle East, a highly questionable assumption. If problems in the Middle East, in the bilateral Sino-Indian relationship, or with the United States preclude the Middle Eastern option, Indo-Chinese rivalry over Central Asia will grow. To a significant degree, the outcome of their current policies in Central Asia depends on factors beyond either of these states' control. In other words, the Indo-Chinese competition for energy sources that we now see taking shape will interact profoundly with local developments in Central Asia and no less profoundly shape the future politics and economics of both Central Asia, and Asia in general.
Analysts believe that Tehran has embarked on a 'good neighbour' campaign designed to highlight its role as a potential catalyst for peace and prosperity in the Caucasus and Central Asia. Even in nuclear programme-related talks with the European nations, energy has served as Khatami's calling card.
But on the other hand, as the EU3 (Britain, France, Germany) at the International Atomic Energy Agency (IAEA) push for sending the case of Iran's covert enrichment of nuclear fuel to the UN Security Council, Tehran has threatened to get out of the Non-Proliferation Treaty (NPT), restart enrichment of uranium, and use its oil to line up other states behind it.
The EU and its member-states have initiated energy investment and cooperation with Iran without regard to U.S.-imposed restraints on trade. There is modest progress, motivated mainly by Teheran rather than by the EU, in developing the project to take Iranian natural gas into Pakistan and across Pakistan into India. Of course, the United States would not allow its companies and banks to participate and similar conditions would apply to the British multinationals leaving great room for Russian, Chinese, Brazilian and other competitors in the world to be part of the consortium.
The pipeline will create a scenario for complex interdependence in a volatile region with Indian influence extending beyond Iran on one end and to the Caspian and Qatar on the other. The massive investment, according to some estimates, may soar to 7.4 billion dollars, and would surely affect foreign policies of all the primary players in the project.
However, the big power status cannot come easy. India will have to sacrifice something to get the best of both worlds. Doubtlessly, India gave priority to its new strategic relationship with Washington in the IAEA, voting over the Iran-Pakistan-India pipeline anda proposed LNG import deal, of which it would have been the ultimate beneficiary.
In a knee-jerk reaction, Iran has put India on notice over her controversial vote at the IAEA governing board meeting, saying that its offer to supply gas to New Delhi hinged on future behaviour.
Certain circles believe that the political, diplomatic and even commodity price for LNG import would soar for India to uncomfortable levels.
Meanwhile, the United States has termed India's vote in favour of an IAEA resolution on Iran's controversial nuclear programme "very significant."
The Indian newspapers suggest that her position on the Iranian nuclear question at the International Atomic Energy Agency (IAEA) appears to have been one of the key conditions to the successful negotiation of the India-U.S. nuclear deal on July 19.
The detailed transcript of the hearing of the House International Relations Committee (HIRC) on September 8, eleven days before the crucial IAEA Board of Governors (BoG) meeting, suggests this.
Notwithstanding the alleged remarks by the Indian External Affairs Minister, Natwar Singh, in Tehran in early September — which the Ministry of External Affairs (MEA) proceededto deny — the India-US nuclear deal seems to have been clinched only after India gave, inter alia, a "reciprocal" assurance — if not an absolute commitment — of its support at the IAEA on the Iran issue. The United States had categorically told India that it would not be willing to enter into an agreement without a visible and verifiable set of commitments from the Indian government.
On the other hand, Iran cannot afford to punish the 22 pro-IAEA countries, as oil accounts for 80 per cent of Iran 's export earnings. Tehran's threats, therefore, may be a negotiating ploy meant to force more countries to see things its way in the current fracas over Iran's apparent violation of NPT provisions.
Islamabad has not bent backwards with regard to the gas pipeline demand from Washington for a variety of factors, the topmost being Iran's clear warning of not allowing the Qatar pipeline project which would pass through its territorial waters if the IPI did not go ahead smoothly. Moreover, given the scant improvement in Afghanistan's security situation, the Turkmenistan-Afghanistan-Pakistan pipeline still remains a distant dream. For Pakistan, the IPI project offers a rare chance to gain due respect for its sovereignty and importance in the region. Not only would the Indian economy be greatly dependent on a peaceful situation in Pakistan but the business lobby would gain greater influence on New Delhi's approach towards Islamabad.
Next