A traumatised Zarina Akhtar had just gone to sleep after a hectic day spent lobbying for the life of her son, Sajid Naeem, when all hell broke loose. Thousands of miles away, Al-Jazeera broke the horrifying news of a militant group carrying out the execution of her son and another Pakistani held hostage in Iraq.
Akhtar couldn't believe it. "No, it's not true. It can't be true. How can they kill my son? What wrong has he done?" she cried out and fainted. Naeem's grieving father, Sardar Mohammad Naeem, tried to comfort his other children. The family of the other slain Pakistani, 49-year-old Raja Azad Khan, were also in a state of shock as their world crumbled around them. "He was the only bread earner of our family. Now we have no supporter, no bread-winner," said Kausar Parveen, Khan's wife, bursting into tears.
The two Pakistanis, Raja Azad Khan, an engineer, and Sajid Naeem, a driver, were declared missing in Iraq on Friday, July 23. On July 26, Al-Jazeera television aired a video showing the two men with several identity cards apparently belonging to them. A group, calling itself the Islamic Army in Iraq, said their hostages were employees of the Kuwait-based, Saudi-owned Al-Tamimi Globalgroup in Baghdad.
The kidnappers demanded that Pakistan not send troops to Iraq and that the Tamimi Group of companies, which employs over 16,000 people of 28 nationalities, suspend its supply operations to the US forces in Iraq. The group works in Iraq for the US firm Kellogg, Brown and Root, a contractor to the US military.
Al-Tamimi Global has recruited 8000 workers from Pakistan — around 5000 from Azad Kashmir — and its general manager, operations manager and three area managers belong to Rawalkot. "Our boys go abroad to earn a livelihood for us. They have nothing to do with politics or war," said Muhammad Ishaq, 75, whose son Muhammad Iqbal joined Al-Tamimi six months ago .
Most of the Kashmiris serving in Al-Tamimi Global were sent abroad by four Kashmiri overseas recruiting agents, who charge up to 120,000 rupees per person. "Half of them were sent by us, while the rest went on their own with visas provided by relatives," says Sardar Saghir Chughtai, a Kashmiri overseas recruiter. He maintains that the Al-Tamimi company is not yet convinced of the deaths of the two men and has to send its operations manager to Qatar to confirm that the bodies shown in the videotape sent to Al-Jazeera by the militants are indeed those of Naeem and Khan. Al-Tamimi has announced it will pay 7,800,000 rupees to each of the aggrieved families as compensation following confirmation of their deaths.
Raja Azad worked as a foreman while Sajid was a driver for the multi-billion dollar firm. The men came from two villages, Hurna Mara and Jandathy, in the Rawalkot district of Azad Kashmir.
On hearing news of their abduction, the families rushed to Islamabad to make frantic calls to the kidnappers to spare the lives of the hostages. "If they release him, he will leave Iraq. He will not work there," Sajid's father Mohammed Naeem, 56, promised the kidnappers. Kausar Perveen, Raja Azad's wife also pleaded for her husband's release. "He has done nothing wrong. He went to Iraq only to be able to feed his family," said a tearful Kausar. The families also appealed to President Pervez Musharraf and Prime Minister Chaudhary Shujaat Hussain to ensure that all possible efforts were made for the release of the captives. The Pakistani government and the National Assembly issued similar appeals, but all requests, aired by the local and international media, fell on deaf ears. The militants sent a video showing the executions to Al-Jazeera, which decided not to air the footage "out of respect for viewers' feelings," reported AFP.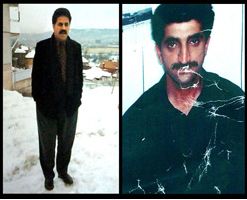 Within minutes of the newsbreak, the media descended on the hapless families to record their plight. A few hours later, footage of wailing women and sobbing men was seen in homes all over Pakistan, sending the entire nation into a state of shock. Everyone had expected that the two men would eventually be released, as Amjad Hafeez, the Pakistani abducted in June, had been. No one had thought the captors would actually carry out their grisly threat, and that too within a week of the abduction.
The next morning, the question foremost on the nation's mind was whether enough had been done to save the men's lives. Some argue that the government did not pay any heed to the secret message sent to Musharraf through Hafeez. It is speculated that the Iraqi militants had warned Pakistan to come out with a clear stance on sending troops to Iraq, but the government stuck to a non-commital, diplomatic statement, repeating that "no decision has been taken yet on sending troops to Iraq." Hafeez had also stated that the captors wanted a ban imposed on Pakistanis working in Iraq. Apart from issuing a few advisories to Pakistanis not to travel to Iraq, no other steps were taken by the government to bring back those already working there.
"I don't know who to blame, Muslims as a whole or the west," said a young student in Islamabad. His fellow students lay the blame squarely on General Musharraf's shoulders. "If he had made a clear statement that Pakistan would not send troops to Iraq, the men could have been saved." Raja Azad's brother, Raja Waheed, was extremely bitter about the Pakistan government's role in the entire horrifying episode. "They said they were doing all they could, but they did not. If they had, the situation could have been different," he said, his voice shaking. "We became victims of false promises." "They might have not killed our son, had President Musharraf declared in clear terms that Pakistan would not send troops to Iraq," said Sajid's father, Muhammad Naeem.
The Pakistani government does not agree. "All avenues were explored and all resources used, especially the media, since we too received their message through it," said Foreign Office spokesman Masood Khan. "We did whatever we could. We tried to assure them that Pakistan's policy of not sending troops to Iraq had not changed."
The executions coincided with Prime Minister Chaudhry Shujaat Hussain's visit to Saudia Arabia, where the two countries agreed to develop a consensus over the matter of sending troops to Iraq after consultations with other Muslim countries. Hearing this, the captors must have assumed that Pakistan was considering the dispatch of troops.
The U.S. has been trying to persuade Islamic allies such as Pakistan to send troops to Iraq, in the hope that a Muslim presence in the embattled nation will help quell the insurgency that threatens the month-old interim administration of Prime Minister Ayad Allawi and also take the pressure off US forces. U.S. Secretary of State Colin Powell also welcomed Saudi Arabia's effort to enlist Islamic and Arab military forces to secure Iraq, even though Allawi said they too face the possibility of attack.
The men's families are now looking for solace in the return of Naeem and Khan's bodies. Raja Azad's uncle, Muhammad Sadiq, echoed Naeem's mother's pleas when he appealed to the kidnappers to return the bodies. "This will give us some relief. We will be thankful," he said. The Pakistan government is making an effort to recover the bodies, but with each passing day it seems that it may not even be possible for the bereaved families to pay their final respects to their loved ones.
Next