A well-educated young man from a middle-class background, 28-year-old Mohammed Naeem Noor Khan hardly fits the profile of a hardened terrorist. A computer whiz kid who abandoned a promising career for the call to jihad, he is now being described as the crucial cog in Al-Qaeda's operation in Pakistan. A graduate from Karachi's NED engineering university, Naeem has allegedly played a central role in planning new terrorist attacks in the US and other western countries.
Naeem, who was arrested in Lahore on July 13, represents the new breed of Pakistani militants linked with international terrorist networks. This new cadre boasts highly qualified professionals and university graduates. Children of opportunity rather than deprivation, they are the masterminds behind many of the recent terrorist attacks in the country.
Naeem was lured into jihad by an Arab Al-Qaeda operative whom he met in Dubai in 1997 during a family wedding. The young engineer was dispatched to Afghanistan in 1998 to train in guerrilla warfare. On returning home Naeem, who is also known as Abu Talha, set up Al-Qaeda's communication base in Lahore, from where he relayed coded messages on the internet from Al-Qaeda leadership hiding in the tribal areas, to operatives abroad. "He became the bridge between Al-Qaeda leaders and their operatives," says a senior Pakistani official.
Naeem's arrest has exposed an intricate web of Al-Qaeda contacts in Pakistan, Britain and the United States. Computers and CDs seized from his base provided a"treasure trove" of information about the Al-Qaeda's terrorist plans. Information received during his interrogation not only helped in tracking down Ahmed Khalfan Ghailani, a Tanzanian national indicted for murder in connection with the1998 bombings of US embassies in East Africa, but also led to the arrests of several Al-Qaeda operatives in Britain.
Ghailani, who was arrested last month from Gujrat, is considered the most prized catch by Pakistani security forces, second only to Sheikh Khalid Mohammed, the number three in the Al-Qaeda hierarchy, who was captured in April last year. Ghailani, whose capture commanded a five-million-dollar bounty, had been hiding in Pakistan for quite some time and was a key link between the Al-Qaeda and local militants. " His arrest has helped us in breaking the terrorist network in Pakistan," said interior minister, Faisal Saleh Hayat.
Coming from a similar middle-class ground, Attaur Rehman is yet another face of the new Islamic militancy in Pakistan. A graduate from Karachi University, he was arrested in June for masterminding a series of terrorist attacks in Karachi. A tall and heavily built man in his early 30s, Rehman was associated with Islami Jamiat-Talba, the student wing of the Jamaat-i-Islami. He later broke away from the Jamaat to form his own militant group, Jundullah (Army of God), which draws its cadres mainly from the educated and professional classes.
According to police, Rehman is closely associated with Al-Qaeda's network in Pakistan, which has grown in strength despite the capture of hundreds of its operatives over the last few years. A well-knit cell comprising some 20 militants, most of them in their 20s and 30s, Jundullah is one of the new and, perhaps, the most fierce of the militant groups behind the recent spate of violence in Karachi. The group hit the headlines after a daring attack last month on the motorcade of Karachi's Corps Commander. The general narrowly escaped death, but 11 people, including eight soldiers were killed. It was the most serious terrorist action targeting the military since the two failed assassination attempts on President Musharraf in Rawalpindi in December last year. Jundullah has also been involved in attacks on rangers, police stations, as well as the twin car bombings outside the Pakistan-US Cultural Center last month.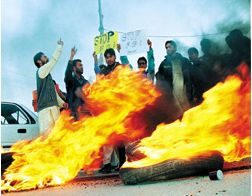 Jundullah is but one of several small terrorist cells that have emerged after the government's crackdown on 'jihadi' elements. According to police officials, some 20 cells, largely splinters of the banned militant outfits, are operating in Karachi, which has become the main center of terrorist activities in recent months. "Many of those involved in the recent terrorist attacks in the city received training in camps in Waziristan," says Tariq Jamil, chief of the Karachi police. "Jundullah has close ties with Al-Qaeda." These splinter groups are trying to cash in on the rising popular disaffection against Musharraf's domestic and foreign policy actions, particularly his pro-American tilt. Musharraf's overtures for peace with India and stopping the infiltration of militants into Indian-controlled Kashmir is another thorn in their side.
"As external avenues for waging jihad are being closed down, the militant Muslim youth are turning inwards and targetting the military or the state," says Riffat Hussain, a leading defense and security analyst. Thousands of Islamic guerrillas trained by Pakistan's premier spy agency, Inter-Services Intelligence (ISI), to fight against Indian forces in Kashmir, are now frustrated by Musharraf's policies and provide ready recruits to these new terrorist cells. "There has been a tremendous upsurge in moral and intellectual anger among the radical Muslim youth in Pakistan against the military establishment for supporting the United States," says Hussain.
The rise of splinter cells has made the task of the security forces increasingly difficult. According to a senior police official, terrorist groups are multiplying as the crack-down intensifies. Some of these militant groups have been involved in sectarian attacks, but others are targeting western assets and security forces. " Most of these cells have just four or five members, making them much more effective. Suicide bombing does not require big organisation," says Tariq Jamil. There is no central command, but some of the groups are coordinating with each other. Recently, five such groups forged an alliance under the banner of Brigade 313.
Others arrested in the latest crackdown also have close associations with the Jamaat. Doctor Akmal Waheed, a cardiologist, and his brother, Dr. Arshad Waheed, an orthopaedic surgeon, who have been charged with providing medical assistance and protection to local and foreign militants, are associated with the Jamaat-supported Pakistan Islamic Medical Association. Both members of Jundullah, the two brothers have also been to Afghanistan to provide medical help to the militants. Though Jamaat leaders have denied that their organisation has any links with the militants, they have conceded that some of their supporters may have joined terrorist groups. A senior police official said the fact that the Jamaat is involved with terrorist elements is indicative of a trend. "Jamaat cadres have fought in Kashmir and Afghanistan, and it is not surprising that they are angry with the military establishment," says Khalid Rehman, executive director of the Institute of Policy Studies. "There is a complete leadership vacuum and there are many who can exploit their frustration."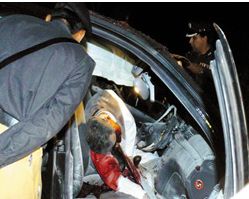 However, of even more serious concern to the authorities is that some of these new terrorist groups have penetrated into the ranks of the military, police and intelligence agencies. Several military personnel were arrested earlier this year for their involvement in the attack on President Musharraf and on suspicion of having links with pro Al-Qaeda Islamic militant groups. Some analysts maintain that the influence of the Islamic militants is now extremely deep-rooted, particularly among the soldiers and junior officers.
The growing influence of militant groups within the police force has also got alarm bells ringing. At least three policemen acted as a suicide bombers in the attacks on Shiite mosques in Karachi and Quetta, which have also been hit by the spate of sectarian violence. A security officer posted at the Punjab chief's minister's house has also been arrested for his links with Al-Qaeda.
Pakistani authorities describe the capture of some high profile Al-Qaeda operatives like Ghailani , Musaad Aruchi and Dawood Badani as a major success in the war on terrorism, but that has not stopped the violence. Al-Qaeda and its supporters struck back by targeting top military and civilian leadership. Terrorist groups responded to the latest crackdown with a suicide bomb attack targetting prime minister-designate, Shaukat Aziz, during his election campaign in Attock. The Finance Minister escaped unhurt, but his driver and eight others were killed. The failed assassination attempt came hours after Pakistan announced Ghailani's capture. "The bombing carried the Al-Qaeda hallmark," says a senior police official. An obscure group, the Islamboli Brigade — a group that officials allege is linked to Al-Qaeda, claimed responsibility for the attack. In a message posted on an Arabic news website, the group warned of a series of retaliatory strikes if the government handed over detained Al-Qaeda operatives to the United States. "One of our blessed battalions tried to hunt down the head of one of America's infidels in Pakistan, but God wanted him to survive," said the message, which also warned of a series of violent strikes if Musharraf did not change his pro-US policy.
Pakistani security officials believe the attack on Shaukat Aziz was part of a terror campaign whose strings are being pulled from the Waziristan tribal region on the Afghan border where security forces are engaged in fierce fighting with Al-Qaeda linked foreign and local militants. However, fighting in the lawless tribal belt is far from over. Troops are facing stiff resistance from the militants and their tribal supporters and regularly come under rocket attack. Wana, the region's headquarters, is a town under siege. Thousands of heavily armed army and paramilitary troops are deployed on the rooftops and surrounding mountains, while residents are under curfew after dusk when militants launch attacks with rockets and heavy machine-guns on army posts. This week the militants blew up a radio transmission station in Wana which was commissioned only a week ago.
More than 30,000 army and paramilitary troops — more than double the US troops in Afghanistan — were deployed in South Waziristan when Pakistan launched the hunt for Osama bin Laden and his close associate, Ayman al Zawahiri, in March this year. Pakistani intelligence officials believe that Waziristan has become the main base for the remaining Al-Qaeda and Taliban fighters. Despite the huge deployment of military force, Pakistan appears to have achieved little success in capturing any high-value Al-Qaeda operatives from the area. Pakistani forces have so far lost more than 150 soldiers in fighting against foreign militants and their tribal supporters. Most of the 500 Al-Qaeda fighters who were holed up in the area around Wana and Kaloosha are believed to have escaped. According to some local sources, most of the militants have escaped to the thickly forested region known as Bush Mountains, along the border with Afghanistan.
A botched-up operation and mishandling by the military leadership has further exacerbated the situation and alienated even those tribesmen opposed to the militants. What has infuriated the tribesmen most is the closure of their business and the demolition of their houses as part of the army's collective punishment for the defiance of some of their fellow tribesmen. "Growing anti-government sentiments among the tribesmen has made the situation much more explosive," says Nisar Lala, a local political leader. "The situation may lead to an armed rebellion."
The fallout of the Wana operation has already spilled over to other parts of the country. Pakistani officials believe that the recent increase in terrorist activities in Karachi and other cities is a direct result of the latest campaign against the Al-Qaeda. Many political observers believe that the botched military operation in Waziristan may lead to an escalation in terrorist activity in the country.
Senior government officials, however, maintain that the recent upsurge in terrorist activities is a sign of desperation on the part of the terrorists. "They are on the run," says federal home minister Faisal Saleh Hayat.
The writer is a senior journalist and author. He has been associated to the Newsline as senior editor at.
Next