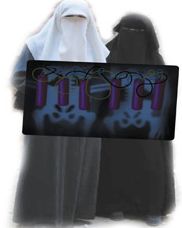 The Pakistan police have failed to ascertain the whereabouts of two sisters who have been identified as potential suicide bombers. Security officials disclosed that 20-year-old Arifa and 18-year-old Saba, have been missing since July 1, after they left home telling family members that they would soon embark on a "divine mission." There has been no trace of them since.
The girls are nieces of Gul Hasan, who has been accused of masterminding two deadly suicide attacks in Karachi in May. Both suicide bombers involved in those attacks, Mohammed Ali Niazi and Mohammed Ali Khatri, an under-training police constable and the owner of a medical store respectively, were residents of Lyari. They were allegedly prepared for their 'divine' task by Gul Hasan and a local mullah at a mosque in the vicinity.
For militants like Niazi and Khatri, the west and anyone sponsoring western interests, are prime targets. Next on their hit list are local officials who are involved with the US war on terror, and the Shiite minority group who orthodox Sunnis denounce as 'kafirs' (infidels) — in their view a legitimate target for 'jihad.'
The Pakistani security agencies learnt about the would-be women suicide bombers after they arrested Gul Hasan for his alleged connection with Niazi and Khatri. During interrogation, Gul Hasan, a hardcore activist of the outlawed Lashkar-e-Jhangvi — a Pakistani orthodox Sunni militant outfit linked to Al-Qaeda and accused of masterminding the slaying of Wall Street Journal reporter, Daniel Pearl, as well as carrying out several suicide attacks across the country — told interrogators that his group had "prepared" at least two girls for a suicide mission. "Both girls are in touch with senior party leaders who are in the process of selecting a target for them," said a police official quoting Gul Hasan.
Hasan told interrogators that the girls belong to a deeply conservative and religious background and needed just a little persuasion to offer themselves for the job. Hasan and his wife were largely responsible for indoctrinating them.
Hasan also maintained that he could not identify any possible target the girls may select for their suicide operation it. "It could be any place at all, from the diplomatic missions to important government buildings to Shia places of worship." "The girls are reportedly supposed to strap deadly explosives on to their bodies, make their way to the site selected, enter the premises on one pretext or another, seek out the human target, if there is a specific one, and when in close enough proximity, blow themselves up," Hasan is reported to have said.
Sindh's Inspector General, Police Syed Kamal Shah disclosed that it was likely the girls would don burqas or even school uniforms as they embarked on their mission, thus making them appear unlikely terrorists.
Given this situation, for the first time in the history of the country, women police personnel have been stationed at the gates of all important buildings in Karachi. They are seen frisking women entering the premises and inspecting their belongings. However, police officials acknowledge that these security measures are not enough to prevent a suicide attack. "Increasing the number of forces or introducing women police at high-risk locations might act as a deterrent, but it won't stop bombers from carrying out suicide attacks if they are determined. So it is imperative we apprehend the two girls, who are currently like loose cannons or walking time bombs," said a police official.
The sisters, who have both received an education up to the tenth grade, are residents of Lyari — one of Karachi's largest slum areas. "They come from a conservative, religious family and one of them has performed Umra," said Farooq Awan, a senior police official in the investigation wing. He added that the girl's father is a senior banker and is cooperating with the police in the latter's efforts to apprehend them.
The girls' family members told police they have had no contact with them since they left home. "They left home immediately after they received a call on their cell phone, apparently from their aunt who is Gul Hasan's wife," the girls' father told police. He believes she was instrumental in convincing his daughters to offer themselves for a suicide mission.
Investigators traced the call made to the girls and learnt it came from a phone booth located in the Cantt. Railway Station — a major railway artery which connects the port city of Karachi to the rest of the country. "This has further complicated the matter because it has raised concerns about whether the girls are still in Karachi or have left for some other city," said a police official. Gul Hasan's wife, who is also missing, is believed to be accompanying the girls.
Police investigators disclosed that what makes the situation even more tricky is the fact that since these girls come from a deeply religious background, their family members do not have any photographs of them, given the view in orthodox Islamic quarters about strictures on human images in Islam.
"There was one picture available of one of the girls taken last year when she needed it for her passport in order to perform Umra, but she tore the photograph out of her passport before embarking on this mission," disclosed a police official. "We have obtained rough sketches of them but this is not enough to identify or track them down," he adds. Another investigator disclosed, "we have been told the girls are fair complexioned with large eyes and long hair, and both are good looking." The problem of identification is further exacerbated by the fact that a substantial segment of the women in Pakistan don burqas and the culture makes it next to impossible to frisk all the likely candidates. Security agencies have raided a number of sites which were believed to be potential hideouts for the girls, but they proved to be dead ends.
The rising incidence of suicide bombings has shaken the police administration to its very core. Over a dozen suicide bomb attacks have occurred within the span of less than two years across Pakistan. Although several networks of potential suicide bombers have recently been busted in a series of raids, officials admit that they are facing a threat they are ill-equipped to combat in terms of infrastructure, expertise and training.
This is, however, the second time that Pakistani security officials have raised alarms about the presence of potential female suicide bombers, admitting that such missions are no longer the preserve of young men alone.
Only two months ago, a report submitted to the interior ministry said an Uzbek woman named Aziza was engaged in training women suicide bombers at a location in the north of Pakistan. The widow of Obaidullah, an activist belonging to the Islamic movement of Uzbekistan, who, it is believed, was killed in the army operation in South Waziristan in January 2004, Aziza reportedly told her relatives that she intends to avenge her husband's death by committing terrorist acts in Pakistan. "Important personalities or important offices could be targeted by trained female terrorists," says the report, warning the officials to increase security at sensitive locations.
Demonstrating how seriously the authorities were taking the recent threat, soon after they learnt of the sisters alleged mission, the British and US consulates in Pakistan were closed for an indefinite period. Officials maintained the British High Commission closed all its offices after an official in the education and culture section in Islamabad received an anonymous telephone call from Peshawar. The man at the other end threatened to carry out a suicide attack at one of the High Commission's offices in the country.
In light of the situation, the British and US missions are increasingly among the most heavily guarded diplomatic missions in the country, surrounded by fence wire, fortified gates, several police-manned check posts, and protected by paramilitaries permanently camped around the buildings.
Pakistan's Prime Minister Chaudhry Shujaat Hussain met with British Deputy High Commissioner, Mark Sedwill, soon after the latest threats to assure him that foreign diplomats in Pakistan were safe and secure. Nonetheless, following this, the Saudi Consulate in Karachi asked its 40 employees to return home and closed down its mission in Karachi for an indefinite period.
It is unclear if these missions have shut down their operations specifically because of the threat emanating from the girls alleged mission or some other unreported warning. "Since the girls' target has not been ascertained, it is certainly a cause of concern for everyone," says a senior police official. "Furthermore, because we still lack state-of-the-art security arrangements, it is difficult to prevent such attacks." And given the uncertainty regarding targets and the scale of previous attacks, this means no one, anywhere, is safe.
Next