Mohsin Sayeed reveals the big trends from Fashion Pakistan Week 2010 in Karachi.
Textile-led Fashion:
Several designers experimented and created their own canvas to paint their expression. The most progressive and heartening trend to emerge during FPW 2010 was the use of specially created textiles for collections. Most designers including Deepak Perwani, Shamaeel, Umar Sayeed and Trial & Error, relied on digital printing, while Sanam Chaudhri, with the advantage of being a textile design major, used clamp-resist dyeing and tie-dye techniques to create her own material.
This indicates a move away from the readily available fabric in the markets and shows that fashion in Pakistan is moving in the right direction. Designers the world over create their own material and then structure them into garments which becomes their signature style. In Pakistan designers have now turned the table on cloth retailers, taking control of production and creativity.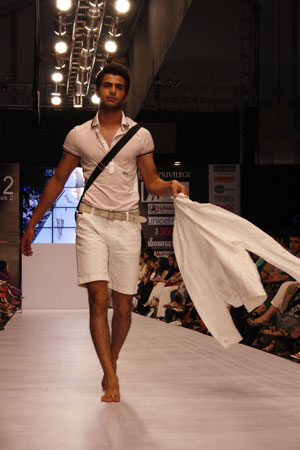 Menswear
FPW 2010 boasted 11 pure menswear collections. Several hybrid collections featuring men's outfits were also a part of this week. The trend shows that the demand for menswear is increasing and that men in this country are becoming fashion conscious. Although, the look and quality of most menswear collections left much to be desired, and showed near-complete lack of creativity, little market research and mostly an incorporation of international trends, the sheer rise in number of collections does point towards a significant increase in the retail business.
If the trend continues — which seems likely — in the coming fashion weeks Pakistani menswear will find its focus and progress the way its female counterpart has.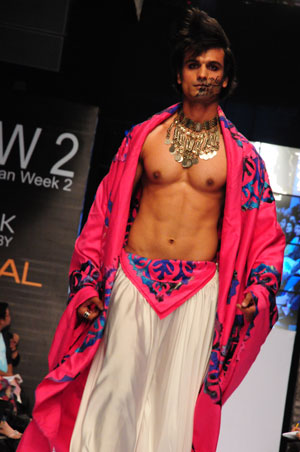 Homoerotica
Most menswear collections seemed to symbolise suppressed sexuality. Closeted sexual desires found a way of fulfillment in sartorial expression. Unnecessary display of brawn and bare chests — badly and hurriedly shaved — and misplaced vibrancy of colour did not augur well for tasteful menswear. Weird cuts and over-the-top accesorising seemed to have been incorporated more for sensational value than showing wearable, practical clothing.
The male models were reduced to mere sex objects. This was evident in the styling by Khawar Riaz. The kohl-rimmed eyes and pink lips harked back to more rural cultures, projecting repressed sexual desires for make-up. At times, the make-up and styling made the models look fit for a drag queen film rather than the ramp. Under the pretext of fashion, this unrestrained expression of Pakistani society's suppression of sexuality makes for an interesting study for an anthropologist.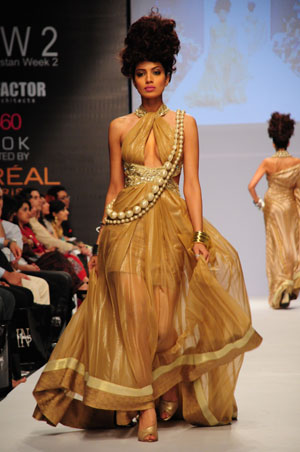 Westernwear
Most collections were either completely western or contained strong western influences either in the shape of solid numbers or silhouettes. Kooki Concepts, Zaheer Abbas, Umar Sayeed, Aesha Varsey, Adnan Pardesy and Fahad Husayn among others were those who showcased entirely westernised collections, while Sana Safinaz with their kaaftans and togas, and Shehla Chatoor, Ali Xeeshan and Deepak Perwani with long dresses, gowns, togas and tops mixed both eastern and western.
The most salient number was the iconic shift dress. This surfaced mostly in the collections of Huma Amir Adnan of Funk Asia, Pashmina and Faatina of Trial N Error and Malaysian designer Eric Choong. Choong incorporated a bubble at the hips in his black-and-white mini line of shifts that evoked a sense of grandeur in the simple garment, while adapting it perfectly to camouflage the South Asian woman's bête noire — pear-shaped hips. Ayesha Tahir Masood's collection of trendy and chic bags complimented her varied line of shift dresses well. Seemingly simple, a shift is extremely difficult to cut to flatter the female form; a slight miscalculation and it can turn out to be a disaster. That was the best part about Ayesha's shifts as they seemed deftly cut and skillfully sewed.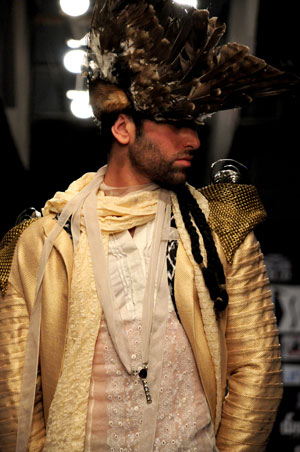 Animalistic Streak
FPW 2010 will always stand out in memory for the designers' wild and animalistic streak, which played various games on the ramp. Snake, zebra and wild cats, all danced on the ramp in different colours and shades. Shakil Saigol, whose theme was zebra and man, let loose the wild pack in the form of full garments or minimalistic finishing, or simply as borders and backgrounds to accentuate. Shamaeel chose a fine snake print while Zahid Khan's collection sported the black-and-white zebra print which he used for framing floral and abstract prints.
Another interesting expression of animals was evident in accessories. Shehla Chatoor used crocodile skin to accessorise her tiger prints. Nauman Afreen's self-explanatory collection 'Raven' made liberal use of feathers and wings. Yousuf Bashir crafted Mohawk headgear for Saigol's zebra prints. Inspired by Sadequain's crow series, Umar Sayeed's collection was accompanied by black feathers and crows as headgear. Much to the horror of Sadia Shepard and Carla Powers, writers from the Indian and American Vogue respectively, Kooki Concepts sent heads of stags and antlers down the ramp as headgear to heighten the aphrodisiac powers of their collection. But Aly Xeeshan beat everyone hands down when a frightened, harassed looking cat appeared on the ramp with Nadia Hussain, taking the term 'catwalk' literally to another level!
This post is part of a larger article. See En Route Glamour.
Next