In 2008, police raided a house in Karachi, to stop the marriage of a five-year-old girl to a seven-year-old boy from taking place. The parents were arrested but later released on bail. According to the parents, the wedding had been arranged to settle a dispute between the two families.
In 2009, Ismayil Thekedar, a man in his late 30s, informed the police about a 10-year-old girl being given in marriage to a 16-year-old boy in Mehmoodabad. When contacted by Newsline, Thekedar says the family took the girl away and he has no idea of her whereabouts. "They have been out of touch and I didn't go to their place after that incident, so I can't really say whether the girl was eventually married off or not."
Both these incidents made headlines in local publications and on TV channels, but nobody knows where these children are now.
Child marriages continue to take place in both the urban and rural areas of the country, despite the fact that Pakistan is a signatory to the 1990 UN Convention on the Rights of the Child as well as a later UN Convention on the Elimination of all forms of Discrimination against Women (CEDAW), signed in 1996. Only a few cases make headlines or are reported; most go unnoticed.
At the tender age of 12, Sonya's hand was given in marriage to Nabeel, a 40-year-old man. Despite resistance from the entire family, Sonya's father forced her into the marriage.
Sonya's frail mother, Zahida, is overcome with grief as she struggles to put into words the horrors of her daughter's initial three years of married life: she has been subjected to a beating every day by her in-laws and husband, for being unable to bear a child.
Zahida says that she has not heard from her for a year now. "I was against this marriage from the beginning but her father listened to no one. Her in-laws paid Rs 25,000 before the marriage took place," she says, wiping her tears with the corner of her chadar.
She says her sons did everything in their power to stop the marriage from taking place, but could not prevail upon the father, Abid Ahmed. Unemployed on top of being a heroin addict, the family has to put up with his abuses on a daily basis. But no one dares to confront him.
Asked if she is aware that it is a crime to marry girls under the age of 18, she simply stares blankly at you. Zahida herself was married at the age of 12 to Abid, who is twice her age, to settle a dispute of sexual harassment in the family. "Even if it is a crime, I don't want to go to a police station to file a report. I have left it to God now," she says dejectedly. She worries about her daughter nonetheless, who is presently in Muzaffarabad with her in-laws and can't be brought back as the family doesn't have enough resources.
Zahida works in the neighbourhood houses for Rs 200 a month, struggling to put bread on the table for her five children. Though she married her three sons "at the right age" so that they could support themselves, their financial situation remains the same. The sons only add to Zahida's burden as they too earn only Rs 200-300 a month by running errands for people.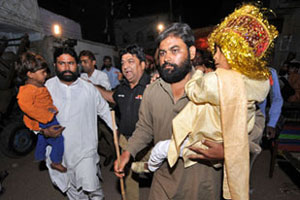 Abject poverty and unemployment force many to sell their daughters in 'marriage' to older men. And not unoften, young girls resort to desperate measures to earn some easy money, forcing their parents to marry them off at a young age.
Residents of a close-knit neighbourhood of an Urdu-speaking community in Orangi Town, Naseem's is a heart-wrenching story. The sole breadwinner, Naseem runs errands in the neighbourhood which fetches her a monthly income of Rs 150. Being away from home for several hours and with no fixed time of returning, in her absence Naseem's two daughters, 13 and 14 years of age, provide sexual services to boys in the neighbourhood charging Rs 50-100.
Looking down while speaking, Naseem says that she connected the dots when every few days boys would come to the house, asking for the girls. Once, she saw candy floss in her daughter's hand the day she hadn't given her any money, as there was none to give. Crying, Naseem says that the girls are at a menstruating age and it scares her that one of them will become pregnant. "I cannot stay at home to look after them, as someone has to earn the bread and butter." Their father, she says, keeps leaving home from time to time and comes back only to create a ruckus, "so it is better that he stays out."
The circumstances, according to Naseem, have forced her to look for proposals for her adolescent daughters and she wants to send them as far away as possible. "I hope they remain happy; I have had enough of this shame and embarrassment."
In another home, two blocks away from Naseem's place, a 13-year-old girl eloped with a 20-year-old boy and they both got married in court. At age 16, the same girl (now a mother of two) is sitting in her parents' home seeking a divorce from her husband, alleging that he frequently beat her over small mistakes.
It is getting increasingly difficult for the parents to make ends meet, as they have to take care of their daughter and her two children. "It will be difficult to get her married now as most men want virgins and ask for a huge dowry which we cannot afford," says Rashida, the girl's mother. What worries her more than the economic burden is that the boys in the neighborhood are unemployed and may sexually abuse or rape her daughter.
"Parents fear that their girls will be kidnapped, raped or used for prostitution, which forces them to marry them off as early as possible," says Shahida Jamil, a well-known lawyer and a human rights advocate. It comes as no surprise, she adds, due to high illiteracy levels and Zia-ul-Haq's Hudood Ordinances. "Education and humanity were thrown out the window to accommodate the agro-technical system, and this is the repercussion of that system. A majority of our population is illiterate and lacks social and ethical orientation at all levels," says Jamil.
In all the cases mentioned above, none of the families went to the police station to register an FIR because of a general mistrust of the system, in which offenders are known to use their influence and power to keep families from seeking help from the police. Even when cases are registered, it only leads to exhaustive searches and rare arrests.
In 2009 alone, 895 cases of child marriages were reported from different parts of Pakistan, according to the 10-year statistical data provided by Madadgar helpline headed by advocate Zia Awan, president of the Lawyers for Human Rights and Legal Aid (LHRLA). Statistics also reveal that child marriages are more prevalent in interior Sindh than in other parts of Pakistan.
As people cannot be asked to wait for social reform to resolve their problems, Jamil says that unless the mafia is kept out of the law-enforcement system, such violations will continue. There is also a need to sensitise the police to the matter and the judiciary must ensure the effective implementation of laws.
"Making the punishment more severe is not going to solve the problem. Effective implementation of the law is what's needed instead of beating up people in thanas, which turns them into hardened criminals," remarks Jamil.
However, Iqbal Detho, national manager of child rights at the Society for the Protection of the Rights of the Child (SPARC), points out that a multi-dimensional approach is needed in the case of child marriages. The role of the judiciary is important as they have the required training and laws at hand. However, they "don't have the required wisdom to address such issues, as many judges have a conservative mindset of their own." He adds that the role of the police, as pointed out by Jamil, is important indeed, but some basic issues need to be addressed first.
"By law, the police is not authorised to take action on its own. It is illegal. A magistrate has to issue an order, only then can the police act," says Detho. Unfortunately, a lot of magistrates fail to realise that child marriages, too, are illegal, and others are readily won over by bribes.
Secondly, the law itself is contradictory. The Child Marriage Restraint Act of 1929 and also Article 1 of the UN Convention on the Rights of a Child, defines a minor as a person below the age of 18. Under Pakistani law, the permissible marriageable age for women is set at 16, whereas for men it is 18. The difference in the age of a male and a female in the act are discriminatory, says Detho, and in contravention of Article 1 of the UN Convention on the Rights of the Child and CEDAW.
Because of this dichotomy, he adds, our female mortality rate stands at 28,000 a year, out of which 60% of the deaths are of girls under the age of 18. "More importantly, no specific era can be blamed for the practice of child marriages. It is a hybrid of cultural, social, economic and religious aspects that we got in succession after the partition in 1947." He says that education can no doubt play a vital role, but what's needed is an effective mechanism to monitor the implementation of the law in areas where the practice is rampant, taking the people into consultation, listening to their problems and seeking to address them, in addition to following up cases as a routine matter.
Next