From Runway to the Red Carpet
Karachi's second fashion week saw veterans and debutante designers dazzle audiences with flair and finesse. Here is a look at the collections from Fashion Pakistan Week 2010.
Shakil Saigol
Shakil Saigol is primarily an artist and his 'East by South East' debut menswear collection, announced yet another medium of his artistic expression. Flowing angarkhas and kurtas were worn over a take on jodhpurs (chooris on calf and ballooning on top), dhotis and chooridaars. For drama, he added his signature Zebras, either sparingly as edgings, or on billowing robes that were worn over the multi-kali kurtas. Crisp, white muslin among a range of other materials used by the designer, not only looked comfortable were also an elegant canvas for his artistry. Saigol's turned out to be the best menswear collection shown throughout the fashion week. I would even declare it as the best collection shown in all the three fashion weeks held till now. While remaining true to masculinity, his clothes redefined menswear by taking off rough edges and adding softness and grandeur in terms of silhouettes and embellishment.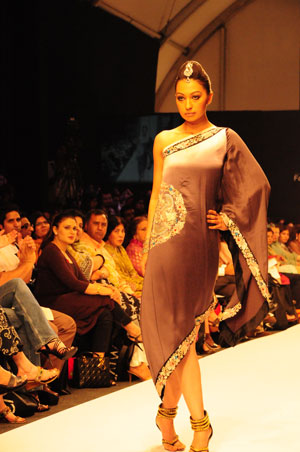 Shehla Chatoor
Shehla Chatoor was the fashion industry's best kept secret. She has been on the fashion scene for a long time, but finally decided to step out of her cocoon and dazzle fashionistas with her modern, glamorous and intricately embellished ensembles. Her line was divided into two parts: luxury prêt and the trousseau collection. The luxury prêt line comprised tops, cocktail dresses and gowns. She used a lot of leather and gold to accessorise the western silhouettes, which added an edge of fun and frolic. High on the glamour quotient, this line boasted huge export potential. The trousseau line displayed Chatoor's expertise and finesse in eastern and wedding outfits. Soft, beautiful colours in luxurious laces and silks created an exquisite impact, while intricate embellishment in resham and zardozi, added glamour and glitz.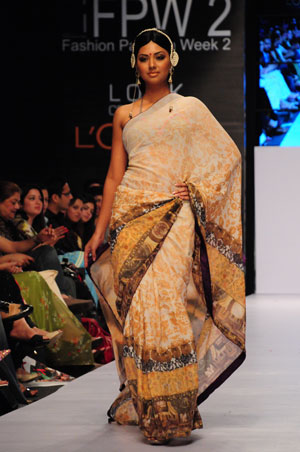 Deepak Perwani
Deepak Perwani paid a beautiful tribute to the legendary painter Amrita Shergil through his collection. Taking elements from her era and from portraits of her Hungarian, Polish and Indian contemporaries, he dexterously blended them to produce digital prints that captured the essence of Amrita Shergil's style: boldness, sensuality and effortless sophistication. The tone of his collection was deliberately kept sepia to preserve the look and feel of antiquity, but he added hints of browns, blacks, golds and maroons as highlights. Modern twists on silhouettes from a bygone era, Perwani's collection was aesthetically unique as well as chic, wearable and appealing to today's individualistic times.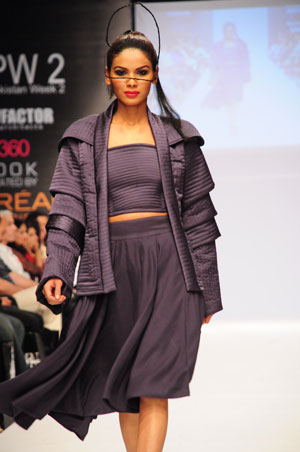 Adnan Pardesy
Adnan Pardesy wowed everyone with his 'Chthonic' collection. His chosen palette reflected the title with colours like grays, navy blues, browns, charcoals and autumn reds. The outfits were brilliantly constructed with architectural details and origami folds, which were inspired by the Guggenheim. The collection announced the maturing of Pardesy as a designer, as he displayed complete control over garment construction and patterns. A line sans embroidery, Pardesy opted for quilting and top stitching, which enabled the line to stand out for its clean and flawless construction. Fusing wearability and comfort with high art and creativity, Pardesy's hallmark was definitely his sense of originality.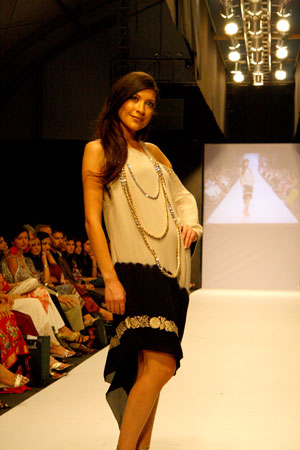 Sana Safinaz
The most sought-after, elegant designer duo showed their sexy, urbane line. The opening four numbers were beautifully draped dresses in classic paisley and polka dot prints. The ensembles boldly stated chic sensuality and confidence, which are terms synonymous with Sana Safinaz. Minimum embellishment and elegant simplicity truly made the four outfits deserving of any classy international ramp. The rest of the collection comprised of the understated glamourous Sana Safinaz creations we are used to seeing.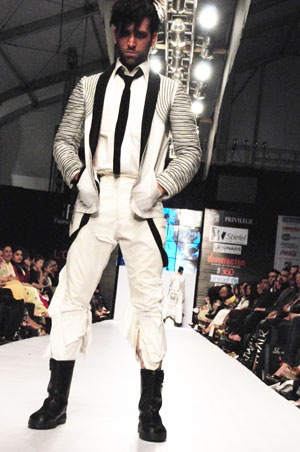 Rizwanullah
This budding designer remains consistent in his originality and wit. Rizwanullah's line titled 'Depression Chic' was a tongue-in-chic commentary on current social affairs and the financial crisis — but not without added optimism. Inspired by Rumi, he displayed voluminous black-and-white robes in cottons and chiffons, which looked comfortable and were statement-oriented. His use of stripes and chessboard patterns worked well alongside the Islamic architecture depicted in his clothes. A quirky sense of humour was evident throughout, particularly when Feeha Jamshed walked the ramp in a billowing white outfit with chessboard patchwork, which she later shrugged off to reveal a sexy number. However, aside from the stylish and socially relevant aspects of his outfits, the finishing left a lot to be desired and stood out as an eyesore, tarnishing the overall quality of the collection.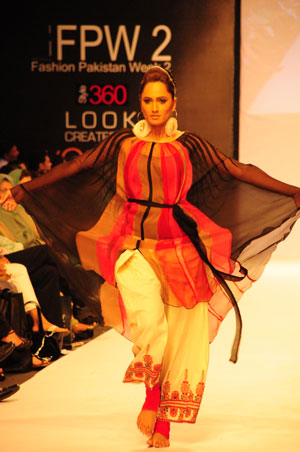 Sanam Chaudhri
Sanam Chaudhri presented a line inspired by Indonesian culture. She incorporated comfortable and airy yao pants with robes and long, flowing jackets that are indigenous to the country of a thousand islands, but work very well in our culture and environment too. The young textile-graduate-turned-designer's study of the culture was thorough down to the silhouette and her collection showcased tasteful pieces made using the clamp-resist dyeing technique, and traditional batik wax and starch to create patterns. Since her first showing at FPW, Chaudhri seems to have taken a giant leap forward. Her current collection boasts all the elements of a ready-to-wear line and with a little tweaking, it can be sent to any prêt fashion week in the world.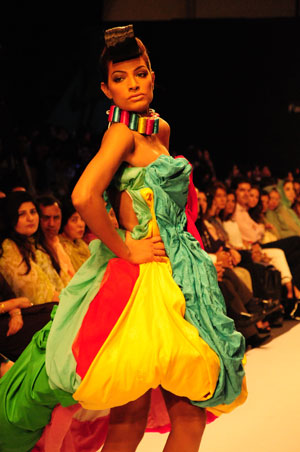 Kooki Concepts
Zahid Khan surprised everyone with his womenswear collection, 'Aphrodisiac.' A riot of naughty hues such as aqua blue, tangerine, fuchsia, yellow and bright green took centre stage in his collection, and played together to create a summery, breezy and exuberant line. Khan strictly avoided embellishment in this western line, which comprised of cocktail dresses and ball gowns in a range of luxurious fabrics. By using an assortment of floral, animal and abstract prints, he created a world of psychedellia, which made the garments absolutely irresistible.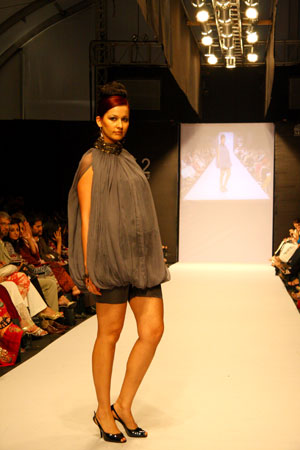 Zaheer Abbas
With his 'Lady Unveils' collection, this debutante designer showed great potential. Zaheer Abbas chose the geometrical and symmetrical elements visible in Islamic art as his inspiration. He translated this inspiration into deep jewel tones and created a stunning line of western clothes in the form of bubble dresses, short dresses, jumpsuits and hoods. By using ruching, cinching, pleating and drapery, he created unusually sexy silhouettes in chiffons. The use of bronze ghungroos to accessorise the outfits, which according to Abbas were "the highlight of 'Lady Unveils,'" actually marred the simplistic allure of his line, but luckily didn't keep it from being chic or original.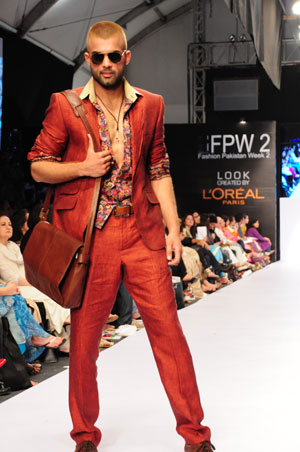 Fouzal Hameed
Sri Lankan designer Fouzal Hameed, displayed 'FH 2010 — Dress to Kill,' a line comprising sporty, fun and casual menswear. Hameed's brilliant use of flambouyant colours made the casualwear smart, witty and lively. Melon checkered trousers and a fuchsia jacket superbly complemented shades of white and beige. Summery linen suits were worn over bright-hued shirts injecting a dash of colour into menswear. The sharply tailored and seemingly comfortable line emerged as a true winner. However, he failed in his attempt to create a dark-glamour eveningwear line, showing tasteless shiny suits, tailcoats and Mafioso jackets instead. Hameed should really concentrate on his strength in the sporty/casual department.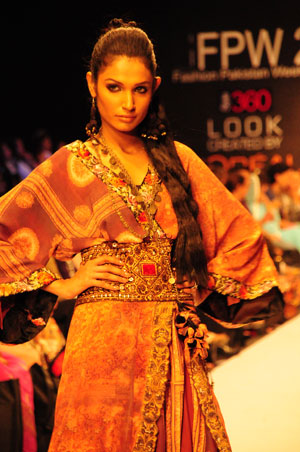 Shamaeel
With her line 'Vintage Rhapsody,' Shamaeel took us on a grand tour down memory lane. By using miniature art on fine muslins, cottons and chiffons, she designed her collection solely on colours exclusive to traditional vegetable dyes: ochre, burnt orange, brick reds and beiges. From flowing, voluminous numbers to short, Rajasthani angarkhas, the collection evoked images of various regions and cultures, which form a strong part of the entire design career philosophy. The collection struck a sense of déjà  vu — the kind one would love to see over and over again.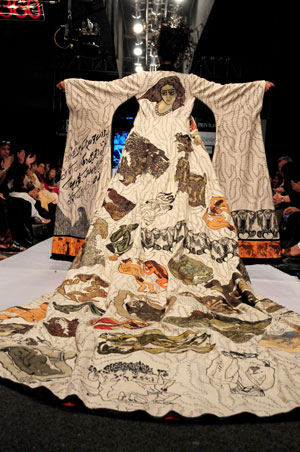 Umar Sayeed
Fashion Pakistan Week 2 closed with Umar Sayeed's line, 'Ode to Sadequain.' In this dark and almost gothic collection, Sayeed presented a tribute to one of the greatest artists of Pakistan. Deeply inspired by his style, strokes and subject, the collection included almost all the elements of the artist's tremendous body of work, even his depiction of various social conflicts. Specially designed digital prints in fine satins based on elements from Sadequain's work — such as cacti, crows and limbs — were constructed into ballooning long and bubble dresses. The outfits were further enhanced by Sayeed's stunning embroidery, and the collective impact was splendid. Organza and chiffon ruffles were used on black-and-white dresses to mirror Sadequain's own bold and striking work. The final piece cast a spell: a flawlessly structured jacket with a 12-metre train and streamer-like sleeves that sported a variety of Sadequain's artworks. Squaking crows, the recital of Sadequain's rubaiyat and the rendition of Ghalib's ghazal by the artist's favourite singer, Begum Akhtar, playing in the background as the models walked down the ramp, made for a befitting and breathtaking finale.
Next