"Martyr, accused, saviour" flashing on the screen in the trailer were just a warning of what was to come.Bhutto felt like a 'Goebbelsian' production. If not for its directors Jessica Hernandez and Duane Baughman any viewer would be forgiven for thinking the film was state sponsored. Both Hernandez and Baughman are award-winning filmmakers — Bomb It, Hernandez's second feature-length documentary, was honoured by The New York Times as its critics' pick and was the official selection for The Tribeca Film Festival 2007. Even the other key players behind the film generate high expectations. Johnny O'Hara (writer) was also the screenwriter on the documentary Fuel, winner of the 2008 Sundance film festival best documentary prize and shortlisted for best documentary at the Oscars 2009. Mark Siegel, the inspiration behindBhutto, was a close friend and a political adviser to Benazir Bhutto. His earlier work on BB, Daughter of Destiny and the international best selling book Reconciliation: Islam, Democracy and the West, made him a good candidate for producer, but his fondness for her more than filters through in the narrative.
When writing a movie review it is easy to worry about spoilers. But Bhutto spares that — there are no spoilers because there are no surprises. For Pakistani audiences, Bhutto is a boring re-run of our history. As for BB's story, it is told strictly from her perspective and those on team Benazir, sparing any of the controversy or corruption scandals that plagued both her tenures. The audiotapes included in the movie are the only bits of fresh insight into the Bhutto legacy. Siegel discovered these "never heard before" tapes in Linda Bird Francke's basement as she had helped write Daughter of Destiny and conducted her research with a tape recorder — you can hear BB reminiscing about her father, missing her children and even crying after the death of her youngest brother Shahnawaz.
Other interviewees included journalist Victoria Schofield, a close friend of Benazir's, famous writer and activist Tariq Ali, Pakistan's current ambassador to the US, Husain Haqqani, senior US diplomat Peter Galbraith and former US Secretary of State Condolezza Rice. Former President Pervez Musharraf was also interviewed, but he was cast as the villain in the film, loudly daring anyone to challenge his security arrangements for BB when she returned from exile. During a preview of the film, Musharraf's son accused co-director Baughman of portraying his father unfairly.
The Bhutto family is also interviewed, including President Asif Ali Zardari. Asifa and Bakhtawar, BB's daughters share the spotlight in the documentary to describe their painful time away from their mother and how it felt to be raised without their father for over a decade. Fatima Bhutto, Benazir's niece and biggest critic, was allowed a disappointingly short stint on screen, sharing screen time with her aunt Sanam and filmed standing outside her house in Clifton at the site of her father's murder. Other critics were simply left out all together. The screen time of co-chairperson of the PPP Bilawal Bhutto was another big disappointment. It is easy to imagine that many in Pakistan are eager to get some insight into the elusive Oxford student who has spent most of his time outside Pakistan, away from public scrutiny. But the filmmakers give us a few seconds on the young man slated to take over.
The insatiable appetite of the Pakistani audience for any new Bhutto story would have been served well with glimpses into the private world of 70 Clifton or at least some investigative work into the series of murder mysteries in the Bhutto family — after all the directors did say they wanted to inject "commercial value" into this film — but there was none of that. Bhutto even flouted common knowledge, by alleging that Zardari's label, "Mr. 10%" had nothing to do with his corruption but was entirely a conspiracy by his opponents and enemies of democracy to malign him. It went further to portray President Zardari as a hero and a martyr, wilting away in jail, seperated from family and friends. There were episodes of the president of Pakistan crying, his children crying, Seigel crying and one was almost swept away with all the emotion.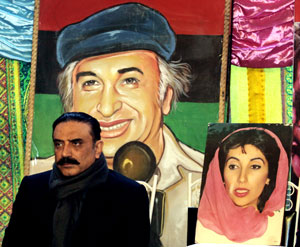 The gaps in the historical portrayal of Zulfikar Ali Bhutto and his daughter's tenure are astounding. While describing ZAB's career, the filmmakers forget to mention ZAB's refusal to accept the 1970 election result and his demands for the victorious Awami League to form a coalition with the PPP — famously promising to "break the legs" of any elected PPP member who dared to oppose him. Alleged detentions of Bhutto's opponents or anyone who dared to threaten Bhutto's power, mass arrests of loyal workers and his commonly observed paranoia of losing power were all conveniently left out as well.
What the film did capture was the plight of a nation struggling with poverty, militancy and illiteracy along with multiple military coups. Three million dollars were spent on making this 120-minute documentary. The cinema in Karachi, on Bhutto's opening night, was bustling, but the crowd was seen heading towards the new Indian flick, in hindsight, the right choice.
Maheen Bashir Adamjee is an APNS award-winning journalist. She was an editorial assistant at Newsline from 2010-2011.