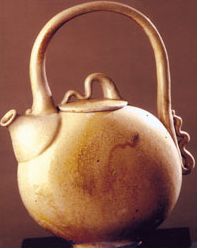 When Ishrat Raza Suhrwardy says, " I play with clay," it goes deeper and beyond the playful pleasure clay gives her in creating with abandon. It would not be wrong to say that this show is dedicated to the clays of Pakistan, because it is this natural diversity that the ceramist has explored with inventive skills. Along with the gritty clay of Mianwali to the smooth kaolin from Swat, she has brought under extensive use the polychrome clays chickni matees from all over the country.
Her repertoire of skills is impressive as the collection varies from classic forms to purely gestural sculpture. It is the unusual combination of clays that have a distinctly different behaviour when fired in the kiln that engage the visitor and the vessel-inspired forms like bowls, platters, and pots are rescued from the monotony of their familiar shapes. The 'altered' form is also present as sections are cut away, folded and reassembled for a striking outcome. This impulsive 'reconstruction' resonates with a ceramist's need to expand the pot — which is his/her canvas — to new limits and is very much an expressionistic exercise inspired by the spontaneous gesture of the painter who seeks freedom on the two-dimensional surface.
Unwilling to steer too far from the moorings of the classical form, a group of masterfully wheel-thrown teapots are a personal interpretation of the ceramist. The meticulous ornamentation on their graceful bodies finds links in nature.
Her early training in painting and deep affinity to nature surfaces often in Ishrat's oeuvre.
A landscaped relief from layering textured clays combines an unprompted response to the properties of her material. This kind of interactive dialogue is also present in Mian Salahuddin's work when he let clay take the initiative and allowed the inherent properties of his medium to participate. It is only when an artist reaches a deeper understanding with the material that this kind of confidence to accept clay on its own terms emerges in the work.
Ishrat has exhibited several large functional pieces like lamp bases and tables. Except one, they remain safely within the realm of convention. The decorative collage of coloured clay on these bases does display an interesting potential.
Impressive in size and mastery, the large bowl crafted from an amalgam of polychrome clays and designed to nestle in a hollow in the center of a square of a table- top despite its utilitarian purpose keeps the focus on the medium successfully.
Decorative foot scrubbers have become Ishrat's signature form over the years. In this show they become a reminder of Ishrat's intense and adventurous journey with clay.
A restless experimenter, Ishrat has gained experience not only from the classroom, both as a student and faculty member at NCA, but also through her work with craft potters in Sindh and the NWFP. As a craft consultant with Sanghi, an NGO working for grassroots development, she was involved with communities in mountainous villages to elevate the quality and design of pottery for the urban market. This gave her a rare opportunity to explore the clay found in natural caches in the mountainsides and learn of the local techniques to work it.
As a ceramic designer at various tile and crockery industries in Karachi, her exposure extended to industrial clay bodies and glazes. All these trajectories converge at the ceramist's first comprehensive solo show.
Ceramics, unlike painting, is the art of gestation in the kiln. Any experiment with new clays and glazes needs dozens of experiments before results can be predicted to some degree of accuracy. This partnership with nature is symbolic of life un-encroached on by excessive technology. In many countries precision has been achieved by sophisticated temperature-controlled kilns and perfected glaze recipes. Without doubt this has simplified the process, but for the innovator it has somehow taken away the adventure from the medium. As pots are midwifed by fire, the intervention of nature factors have kept the potter humble and his/her feet firmly on the ground.
To recreate the challenge of uncertainty, many well- known ceramic artists have begun to look at alteration in clay to reintroduce unpredictability as the new frontier in their field.
During my meeting with the famous British ceramist Hewn Enderson, he explained how he was using bones from an old cattle graveyard in his clay and other natural material rather than depending on glazes for surface colour and texture.
In her innovations with local clays both in building and surface decoration Ishrat Raza Suharwardy has not only achieved an important breakthrough, but also strengthened her dialogue with a medium that the sufis remind us is 'one with us.'
The writer is an art critic and curator. Her work covers art criticism, art history, curatorial projects, art education and art activism. She has been regularly contributing to national and international journals since 80's.